Racing Cockpits
---
I have recently purchased a PS3 and looking forward to Gran Turismo 5. I got a Logitech Driving Force GT steering wheel setup, along with a copy of GT5 Prologue from ebay for around 1/2 the retail price. I am now interested in building a cockpit setup. I was wondering if anyone else here may have done this and would care to share some pics. Also if anyone knows where I can get some diagrams that show how to build different setups would be very helpful. I am simply looking to mount some sort of bucket seat and have an area to mount the wheel and pedals. For versatility, I would like to find a way to make the wheel mount area adjustable for different drivers.
---
2006 Cobalt LS 2.2L Ecotec
Show Off Thread
hailcesar quote - "I think you got the best transformation from Ls to badass!!!!!!!!!!!!!!"
Cobalt Master
Join Date: Aug 2009
Location: Bk, NY- USA
Posts: 1,648
i think a couple of celebs have done it

Join Date: Jan 2006
Location: Michigan
Posts: 750
well im not looking for a pro setup or anything fancy like a real arcade setup. Im leaning more towards some sort of plywood construction similar to a desk of sorts with adjust ability for the wheel and then a seat from the junk yard or something. I have been tossing around the idea of getting racing seats for my cobalt and then use one of the stock seats for this setup.
The only plans I have found online was for a setup that looks like this. I would not have the TV mounted to it and debating the center console setup due to not having the G25 setup with the 6 speed shifter and clutch pedal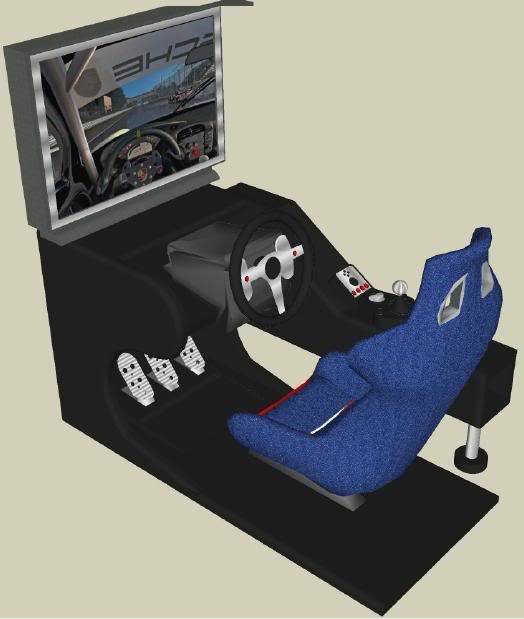 ---
2006 Cobalt LS 2.2L Ecotec
Show Off Thread
hailcesar quote - "I think you got the best transformation from Ls to badass!!!!!!!!!!!!!!"
Thats sweet! I to have the Logitech steering wheel.
---
2006 Cobalt: Bolt On's
i had the stearing wheel and peddles back in the day for PS1...

this is a great idea tho
---
mods... tinted taillights, 1000 watt alpine mono amp, 2 10 inch alpine type "r" subs, basspro slot ported box, xm radio, alpine 6x9 rear speekers, alpine 6.5 front speekers (both type "s",09SS front bumper and lip,black factory headlights, 12k foglights, 10k headlights, slp catback,fe5 suspension with sportlines,black carpet, painted plastics (black) huge custom pink monster sticker... and ofcourse.... BLACKED OUT!
Quote:
Damn thats hardcore, I've seen it on youtube. Idk the first thing about it, but good luck!
ROFLMAO...that's the funniest use of treadmill on your sig
---
Famous last words..."I'm just going to change the wheels and tires...I promise"
Cobalt Master
Join Date: Aug 2009
Location: Bk, NY- USA
Posts: 1,648
Posting Rules

You may not post new threads

You may not post replies

You may not post attachments

You may not edit your posts

---

HTML code is Off

---