Seen this on T.V. Can you Believe This???
---
Ford is stepping up there game. 365 HP Taurus. Who knew they would do something like that. The SHO Models engine is Twin Turbo. Here is the specs of the SHO Model
Introducing The All-New 2010 Ford Taurus - Videos, Pictures, Specs & Pricing on the official site of the 2010 Ford Taurus
2010 Ford Taurus Models | Official Site of the Ford Taurus | FordVehicles.com
The 3.5L EcoBoost™ is the first North American production twin-turbocharged direct-injection V6 engine. And Taurus SHO is the first and only vehicle in its class* to feature the EcoBoost engine. This engine provides better fuel economy** and fewer emissions than a V8. EcoBoost combines two different technologies – turbocharging and direct injection – to deliver the performance of a much larger engine with the fuel economy of a smaller engine.** It churns out 365 horsepower and 350 lb.-ft. of torque across a wide 1,500 – 5,000 rpm range. And it does all that with an estimated 17 city/25 highway fuel economy.** Compared to a naturally aspirated engine, the 3.5L EcoBoost twin turbocharged direct injection V6 engine provides higher performance, better fuel economy** and fewer CO2 emissions: • Improved transient response enabled by the direct injector reduces "turbo lag," overcoming the traditional disadvantage of downsizing and boosting • More efficient fuel consumption is the result of a high compression ratio enabled by direct injection, which provides air charged cooling *Class is five-passenger Large Car. **EPA-estimated 17 city/25 hwy (AWD).
---
More Twisted then a Purple Nipple
Check out my Ride
https://www.yourcobalt.com/forums/veh...in-afb-fl.html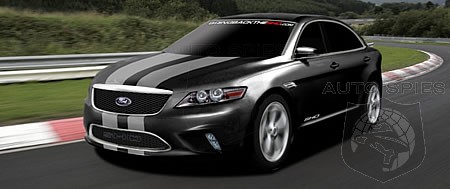 ---
More Twisted then a Purple Nipple
Check out my Ride
https://www.yourcobalt.com/forums/veh...in-afb-fl.html
Quote:
Its like 40 K for a TAURUS!!!!!!!!!!!!!!! Its a TAURUS lol
well that's true, but i didnt say i would buy it! hahahaha i'd look at it as it drove by, that's about it... most fords dont even get that from me...lol
Pretty bad ass! I gotta admit!
---

"A wise man speaks because he has something to say,
A fool speaks because he has to say something"

OBZ's showoff thread!
awww how cute are those turbos?
anyone know how much that thing weighs?
Quote:
hahah. Id have to drive one to respect it. I just wanna laugh when i think of a taurus turbo charged. Thats like turbo charging a Ford Focus or Geo Metro lol
well, the way Car & Driver talks, the SHO is a big deal to alot of ppl... i guess from the SHOs in the past... there's a black SHO around here & i laugh every time i see it, i guess back-in-the-day it was alright, but... yeah, hideous... reminds me of my parents Taurus (91) from a kazillion years ago, they bought it brand new, we still have it, but its kinda just sittin up in the woods behind the house, hahaha... it died forever ago...
Posting Rules

You may not post new threads

You may not post replies

You may not post attachments

You may not edit your posts

---

HTML code is Off

---