Mitsubishi Mighty Max Project.
---
Hey guys and gals. thought id share some pics of my latest project vehicle. A 1990 Mitsubishi mighty max. It has a 5 speed manual and 2.4L motor. Its in beautiful condition. No rust at all. Its hard to find old jap trucks in this condition anymore.
Anyways.... Its getting a motor swap soon. A 4G63T swap. I'm sure you've heard of it. If not, Its the motor from a Lancer Evolution. It produces about 290 hp/290 lb ft torque. Its only 2wd, which i didnt want 4wd lol. Its raised up 3 inches on the body for some reason and has excessively large mud tires on it for no reason. Its going to be lowered to stock height for now. Gonna find some toyota rims from and old toyota to just slap on there for now. but whatever. Heres some pics.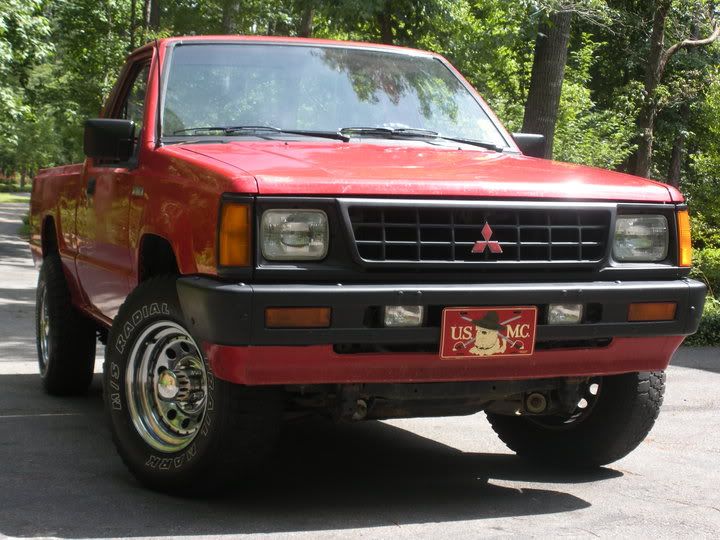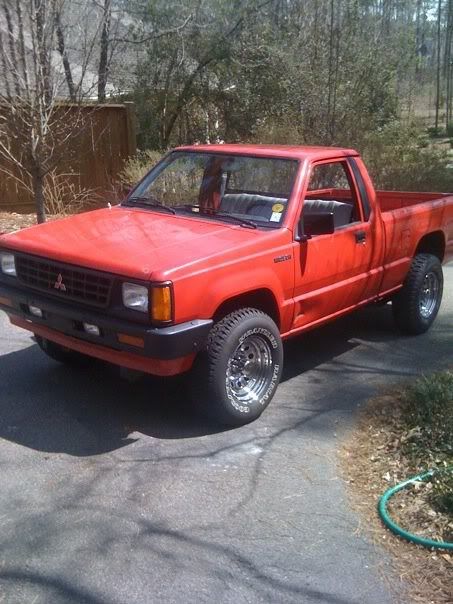 The 2.4
EDIT. The wheels and tires and the lift are for sale. The lift is universal and the rims will fit just about any small truck. And the motor. The motor is in great shape. It spits a bit of smoke on startup but its a good motor. PM me for pricing.
This is kind of what i want it to be like. except higher off the ground and red lol
YouTube - Turbo Mighty Max
Video of the 4G63T in a mighty max.
---
Slammed to the ground, yo.
Quote:
Remember 3rd gear is the money shot, once you pass him just yell "Ecotec just kicked in yo!"
---
Last edited by That5Speed; 06-14-2010 at

09:18 AM

.
niccce... my buddys got a ran 50... same truck
---
mods... tinted taillights, 1000 watt alpine mono amp, 2 10 inch alpine type "r" subs, basspro slot ported box, xm radio, alpine 6x9 rear speekers, alpine 6.5 front speekers (both type "s",09SS front bumper and lip,black factory headlights, 12k foglights, 10k headlights, slp catback,fe5 suspension with sportlines,black carpet, painted plastics (black) huge custom pink monster sticker... and ofcourse.... BLACKED OUT!
Cobalt Specialist
Join Date: Jun 2009
Location: eastern PA
Posts: 1,286
that truck has a lot of potential - fun one to work on. g'luck and keep us updated!
Newcomer
Join Date: Jun 2010
Location: Pittsburgh
Posts: 16
How long do you think the swap is going to take? That looks like it will be a fun truck.
wait your from blairsville???? I go to school at IUP




noone cares^
---
My sig thanks to Gcobalt
i knw im only kidding thats like hmmm 30 mins from me i think
---
My sig thanks to Gcobalt
Posting Rules

You may not post new threads

You may not post replies

You may not post attachments

You may not edit your posts

---

HTML code is Off

---