Yep, I'm One of Those Members Now! :D
---
well, I never posted it up in here so I figured I should keep you all up to date!
I sold my murdered out LT on April 7th, totally parted it out the day before on April 6th. It was a good run I had with her! I bought it when I was 16 years old on March 4, 2009 with 9000 miles on it as a salvage title, and I sold it with 57,000 on it for what I paid for it 3 years ago. Getting your money back out of a car is something that you never hear happen (especially with cobalts and in my case, a salvage title). I cant say I really miss her that much, the new owner loves it so thats all I could ever ask for
the last picture I have of her!
so that left me car-less, which I wasnt going to let happen for long.. I went straight to a dealer and found exactly what I was looking for and LOCAL TO BOOT! so I really couldnt go wrong. I paid a little more than I had originally wished to but none-the-less I'm happy as hell with the purchase. I ended up writing a check out for it and driving it home on April 9th!
2009 Cobalt SS/TC sedan, Victory red (1 of 36), G85, 41000 miles, Black seats with gray inserts, 25% tint all around w/ strip above windshield, all stock except tinted tails, black front bowtie, and fart cannon by previous owner
first pictures from the lot!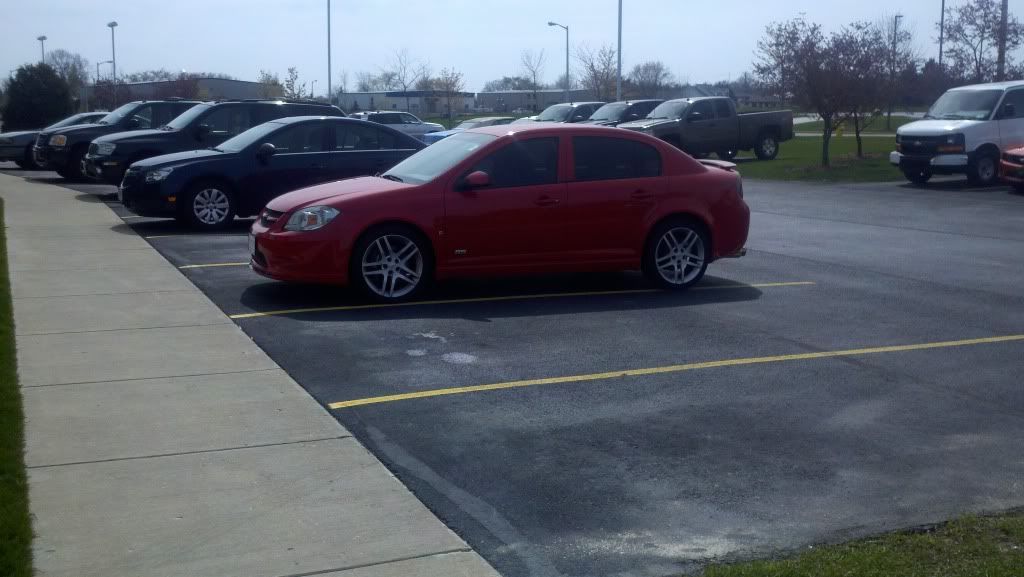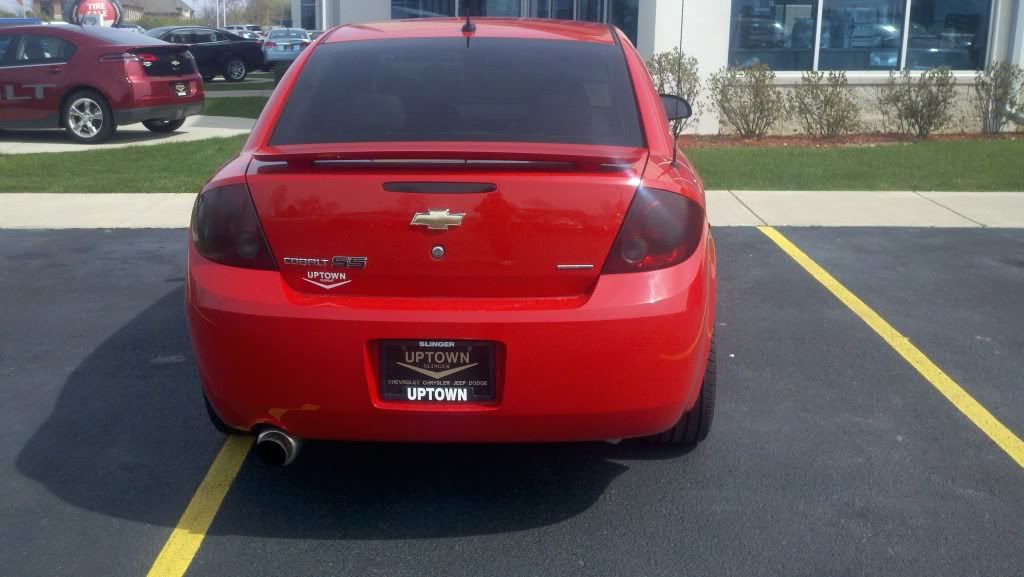 within a week I had it looking like this..
removed the ugly tint, dealership stickers, SS inlays and fart cannon.. replaced the fart cannon with a muffler delete.
half way through the untinting process which took 4 hours!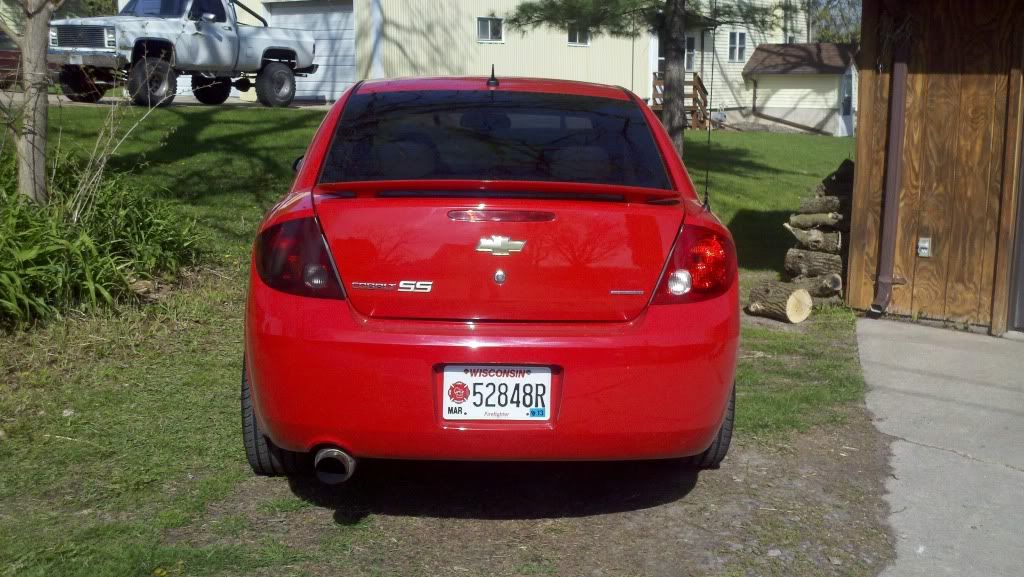 no more fart cannon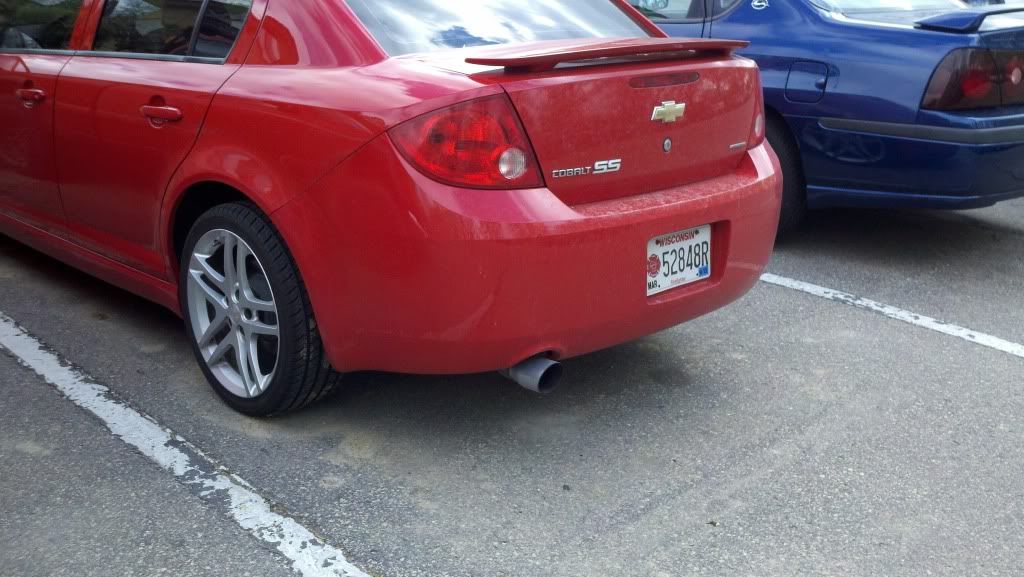 and of course I couldnt go without my retrofits (its the little piece of my LT I still have)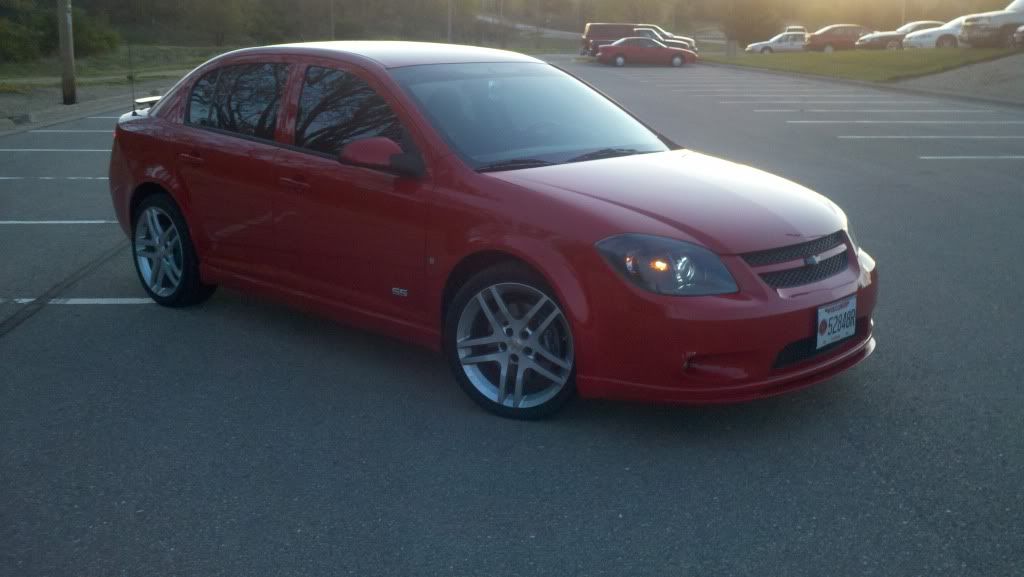 so there you have it! I'm just another one of those base model to SS members and I'm loving every minute of it
---
Looking good, wish mine was supercharged.
---
Every minute spent angry is a happy minute lost for ever and ever!!!
Drives 2016 Cocoa Buick Encore 1.4L Turbo auto KL4CJDSB2GB652675
Drives 2016 Sunset Orange Trax LT1 1.4L Turbo auto 3GNCJPSB8GL142716
Never drive faster than your guardian angel can fly
nice car. what are you planning to upgrade on your car?
---
K&N CAI - Vibrant Catback 2,25" - 17" Voxx Wheels - Gen 2 Projector - 30,000k HIDs (Purple) - 3,000k HIDs Fog lights (Yellow) - 5% tinted windows - Eibach Sportlines - Front SS Bumper - Rear SS Bumper.
Showoff tread:
https://www.yourcobalt.com/forums/veh...ec-canada.html
Cobalt Master
Join Date: Feb 2010
Location: Middletown, PA
Posts: 1,928
Nice 4 door mod.
I'm going to be doing the same thing due a baby on the way. But i'm going to try to get a 2012 Malibu.
That's a great upgrade congrats! And I made $500 on my cobalt when I sold it
Felt awesome! haha
Cobalt Master
Join Date: Feb 2010
Location: Wisconsin
Posts: 1,545
Quote:
Looking good, wish mine was supercharged.
yea, it wasnt worth it to supercharge my LT in my eyes.. the turbo is more fun imo anyways haha
Quote:
nice car. what are you planning to upgrade on your car?
uhm.. well I got a warranty on it until sept 2013 so I'll probably hold off on a majority of the performance things until then.. I need to figure out a winter tire/rim setup and clean up a few more exterior things before I worry about modding it further (not to mention I need to desperately save up some money cuz buying it outright took a hit on my savings haha especially as a college student)
---
Liked the lt better. New one is kinda cool but it's 4 door so that kills it for me also the red but it's your car and you like it. All that matters
Forum Regular
Join Date: May 2011
Location: Virginia
Posts: 218
Rare!!


Now you're part of the club! :D
Contributor
Join Date: Apr 2011
Posts: 425
Sweet!!!
---
Future mods:
chevy 572 c.i. motor insatall
Nice one!
---
My car showoff

Want nice deal on Aftermarket parts? Pm me for price from my sponsor!
Posting Rules

You may not post new threads

You may not post replies

You may not post attachments

You may not edit your posts

---

HTML code is Off

---