03 MazdaSpeed Protege *RIP 2005*
---
This was my first huge horsepower car that ran for about a year. On the track with Nevada SCCA courses at Sam Boyd Stadium and Pahrump Speedway, this thing ran like a champ. I had Mental Addiction Motorsports (Bo who built it) build the engine all the way up to handle and pull for this type of racing. At the Las Vegas Motorspeedway dragstrip, ran a 12.82 E.T. with trap speed of 129MPH, not a bad car, but blew the block later on from a wastegate actuator leak that ran the car @ 26 PSi boost. People's Mazda dealership were amazed at how I blew it on cylinder 3 leaning out.
Here is a few pics of it: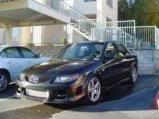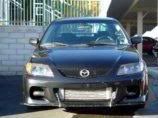 Sorry for the small pictures, but this was taken in 2004. Nevada's fastest protege.
Here is the mod list to run 286whp/242lbs tq:
ARP head studs, factorX engineering intercooler and 2.5" hardpipes, Mustang Cobra MAF, RC Engineering 550cc injectors, walbro 255lph fuel pump, megan racing fuel pressure regulator, AEM Engine Management System, Venom fuel rail, ported intake manifold and cylinder heads, Wiseco 8.0:1 forged dish pistons, eagle crankshaft, mazda 6 2.3L connecting rods, Wiseco oil rings, racing beat stage 2 camshafts, AEM tru-time cam gears, Mazda Familia harmonic balancer, Garrett T-28RS turbo, HKS wastegate actuator, HKS fuel cut defender, upgraded valve springs and lifters (forgot who made them), Mental Addiction 3" turbo back exhaust system and tubular header, Apex-i Turbo N-1 muffler, JT Autostyle stabalizers, Wings West carbon fiber eyebrows, Carbon Creations front wind splitter, RGM carbon fiber rear diffuser, Tein Basics dampner coil over system, Stop tech slotted 12.2" front, 10.9" rear rotors, Hawk FP pads all around, Momo shift knob, fidanza short shifter, fidanza 10lb flywheel, ACT Stage 3 clutch, Phantom Grip LSD, Energy Suspension motor mounts, Progress 28mm front and 25mm rear sway bar, moog end link bushings, Blitz SSBC-1 boost controller, Apex-i Turbo Timer, Apex-i AVC-R, Autometer dual gauge pod, Autometer air/fuel sport comp gauge, Autometer Boost sport comp gauge, Autometer mechanical oil-pressure gauge (mounted below stereo), Audiobahn 12" competition 800watt subwoofer, kenwood 100X4 amp, Planet Audio 600watt Mono-D class amp, Kenwood 6.5"3 ways door and rears, kenwood 45X4 CD player/Mp3 disc, rockford fosgate .5 farad cap, and a few other goodies.
---
2009 Cobalt LS XFE U74
Mods: K&N Typhoon Intake, Option Cat-Back Exhaust, Cosmo Short shifter, Maxxim Ahead 17X7's, MPx shorty antenna, FE5 Strut/shocks, Tein S Techs, Moog endlinks, Moog spring seaters, ZZP shorty header, LSJ downpipe, LNF front grille
Levee

Join Date: Aug 2009
Location: Battle Creek, MI
Posts: 3,210
Nice! Get a sc or tc on your car and you will be able to get more out of it. or just get an ss/tc and a tune and push over 300whp.
---
'09 SS/TC - Stolen
Mods
- Injen CAI, CIA MAF Relocate CP's, Dejon FMIC,
Custom 3" DP, 3" Exhaust, GT3076R, Pioneer AVH-4100DVD, Hurst STS, ZZP triple pod, Autometer Cobalt boost/DPIC/WB gauges, Nitto NT05 245/40/18's, H&R Springs, 80:20 Meth Spray
Future - KSport Kontrol Pro Coilovers, 10% Tint, FMIC spray
538whp/501wtq @38 psi on meth and 93 oct on stock ish motor
06 EVO IX MR/SE - Sold
Mods
- *Updated 10/6/13* AEM TRUboost EBC, 4in custom TBE, SD dual 93/e85 tune, ETS 4in Race Core FMIC, Dual Aeromotive 400lph Fuel Pumps, T4 Tubular Manifold w/ dual WG's, FP Super99HTZ DBB Turbo, GSC 274 mivec cams, ARP headstuds/rod studs, FIC 2150cc Injectors, Aeromotive FPR, Aeromotive Fuel Rail, catch can, Mini Battery Kit, Slim Coolant Fan, Kiggly Racing high pressure valve Springs/Titanium Retainers, Supertech Stainless Steel Valves, Dual VTA Tial 44mm WG's, 4g64 Stroker Manley Pistons, 155mm 2.4 LR Manley Turbo Plus I Beam Rods with ARP 625 Studs, 100mm forged non-billet Manley Crankshaft, Full H/E PNP with Port Matching, Kiggly Racing Girdle, Dual Tial 50mm BOV's, Excedy Triple Disc Carbon HD Clutch, AEM EMS
'95 Ram 2500 Diesel
Mods
- 5in TBE, Boost Elbow set to 28psi, Adjusted fuel pump, Open Turbo.
Future Mods- Super Street Clutch (rated @1400ftlbs tq), 67mm turbo, 160lb valve springs, added timing, tubular exhaust manifold, larger injectors, possible 6 spd swap.
Master ASE Certified Gasoline/Diesel Technician since 2004
Speed Junkies Social Group
Yourcobalt Official Facebook Page!
Syndicate of Tuners Official Page! Up and going again as of 1/11/13
Click here to PM me if you have questions or issues!
Posting Rules

You may not post new threads

You may not post replies

You may not post attachments

You may not edit your posts

---

HTML code is Off

---