Veteran
Join Date: Jan 2007
Posts: 673
Audi unveils R8 V12 Diesel Concept at the NAIAS
---
WOW! The car I'm already dangerously close to being a fanboy of just got better. At the Detroit Autoshow Audi Unveiled it's R8 V12 Diesel concept.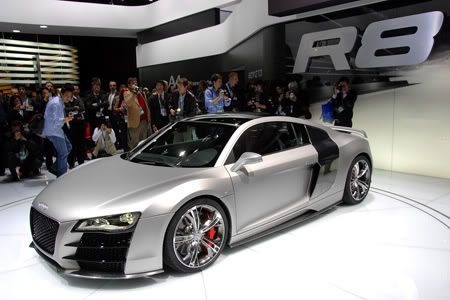 It's been rumored to be coming for a while but finally we get to see a real one. Other rumors say it will see production in 2009, because we know Audi plans an R8 diesel for then but until this week it was thought to be the V8. Also a V10 R8 is rumored for later this year, but it will be a gas burner. So it looks like we may get our choice of a V8, V10, or V12 R8.
The stats for the V12: hp 500. eh that's ok I guess, pretty par for the course for a supercar. The torque 738. OH YEAH AWD burnouts anyone? lol The base R8 with the V8 gas starts at 100k so I'm sure this will be much more then that, oh and if you are wondering it gets 23mpg. Not bad for a 200mph rocket?
Aside from this just being a seriously cool car I think it's important because hopefully this brings more diesel awareness to America, which is why the prototype was released here. Most people think of diesels as big noisy black smoke spewing hogs of a vehicle. Audi is out to change that and I'm all for it. Maybe eventually cars like this will help break down the stereotypes of diesel and show America that diesel and biofuels can help us get away from Arab oil and support the American economy by supporting American farmers and fuel.
I'd love to GM do a diesel Vette or Camaro. How about Dodge doing a diesel Viper? That would really help break down the barriers.
Anyway, I'm sure most people on this board don't care because I realize I'm one of the few here that is into German cars but I think this car is significant even though it's still a concept.
Holy shit that's sweet. 700+ torque in AWD? Nasty haha
"Sweet I'm gettin an Audi!"
"Uhhh peter that says audit"
"noo Brian it's a foreign car, the T is silent.....Sweeet I'm gettin an AUDI!"
"I've got an Inni!"
I love family guy
---
2V Mustang GT - Cammed/Sprayed - The "Mustake" - Sold
2010 Cobalt 2LT - SOLD!
Chrysler 300C Hemi K&N & Tune
2005 Cobalt SS Supercharged - E85 TVS 2.9 - SOLD!
2001 Corvette C5 6MT
All I have to say about that car is......................................WOW!!!!
---
Forum Regular
Join Date: Nov 2005
Posts: 111
Forum Regular
Join Date: Dec 2007
Posts: 162
wtb test drive XD.

Cant wait til motor trend auto show here in baltimore in the second week of feb. Hopefully will be a good one.
OO! OO! OO! im going to get to see this up close :D
I hope it will be at the NY auto show.

I love American and German cars.
Posting Rules

You may not post new threads

You may not post replies

You may not post attachments

You may not edit your posts

---

HTML code is Off

---