Newcomer
Join Date: Jan 2010
Posts: 4
Switched it up and thought that this would look alot better and just put it right in the pipe. I figured out what they mean by the cuts at the bottom of the 90degree base by the TB. I think everyting worked out great i feel like it would hit the hood but it shuts fine and if anything it just touchs. What have you done for your mounting bracket i rigged something up not sure how well it will hold but its pitch black i will get a pic of it tomorow here is how i did my MAF.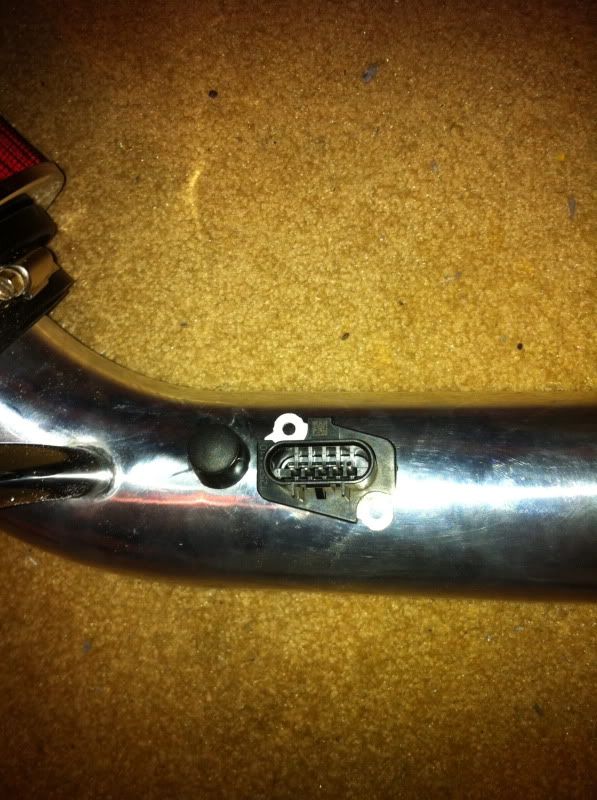 i am doing this tommorrow. i am gonnna post pics aand or maybe a video.
i started it yesterday but muffed up on the sensor cause i bought one of the mount pieces and lined up the wrong screw holes. long day at work so i was really tired lol......for any newbies doing this do not put maf sensor in wrong way or backwards... the way you take it out is the way it goes back in.... if not you car will idle rough and stall out...mine did it last night
I currently have a Spectre tube utilizing stock airbox. Thought about getting the Alum Kit (8219 unless reusing current tube, 9405 MAF adapter and whatever filter.

1. Doesn't the MAF adapter feature various adapter kits w/o dremeling the part?

2. Where do you mount the bracket holding the intake?
---
2010 Cobalt 2LT Victory red Coupe
Mods: Tinted 50% ceramic all around, factory spoiler, 2008 LE5 2.4 Throttle body, GMPP Intake, Walker stock exhaust system (back to silence), TruBendz/MBE 2.5" catted Downpipe, HP Tuners by Chenry Motorsports, Alpine CDE-151 with USB port, Rockford Fosgate 300-10
Contributor
Join Date: Apr 2011
Posts: 425
I've been thinking about doing this to my car also, except using a k&n filter instead of a spectre but still keeping the spectre pipping
---
Future mods:
chevy 572 c.i. motor insatall
Join Date: Feb 2010
Location: Fairbanks, AK
Posts: 787
I just realized that i havent posted a new pic of my intake since i did the heat shield it looks a little odd, but the shield works both as a bracket and air funnels directly to the filter because of the bends on the sheet metal i made.
Posting Rules

You may not post new threads

You may not post replies

You may not post attachments

You may not edit your posts

---

HTML code is Off

---