Strut Bar installation
---
Installing a strut bar is very straight forward and easy to do. The advantages of bracing the struts with a bar is that it stiffens up the car helping to eliminate the side to side movement of the body in corners which can greatly improve handling.
The first order of business, after opening the hood of course, is to remove the two strut bolts on the strut towers. I highly suggest doing the driver side first as it's a little more cramped then the passenger side. The bolts you need to remove are circled in green.
The MRZ bar that I have purchased is a three piece unit so you will have to assemble it before installing it to the car. It comes with all the hardware and tools needed to assemble the bar. Here is a pic of the three bolts used to assemble the feet of the bar.
Now you need to carefully feed the bar behind the fuse box cover and under the hood strut support to the strut tower. The feet should line up with the bolts but if they don't simply jack the car up just enough to get some weight off the wheel and it will slide on over the bolts.
Next you need to do the same thing to the passenger side of the car. Simply remove the two bolts and install the feet of the bar over them.
Again for reference here are the two bolts.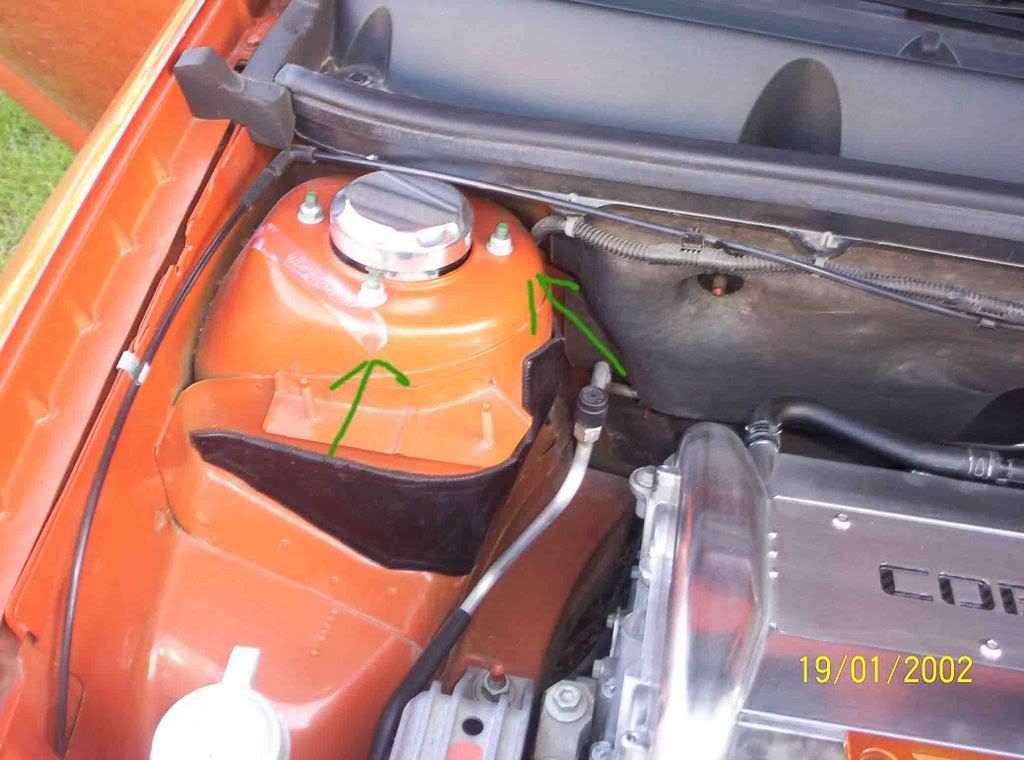 Now you need to tighten both ends down. BE CAREFULL!!! The studs have been known to snap (thanks GM for putting quality parts on our cars). Tighten them down carefully and don't over tighten them. Then won't go anywhere if you have them fairly snug, but just to be sure check them again after you've taken the car for a test drive.
Here is the finished product.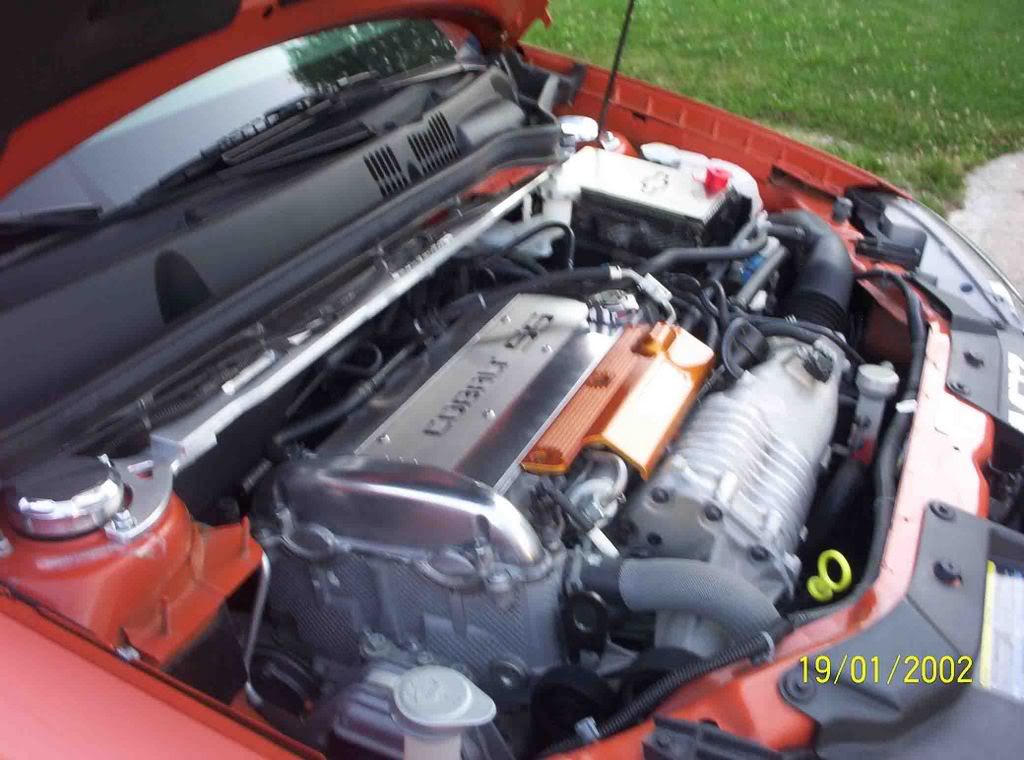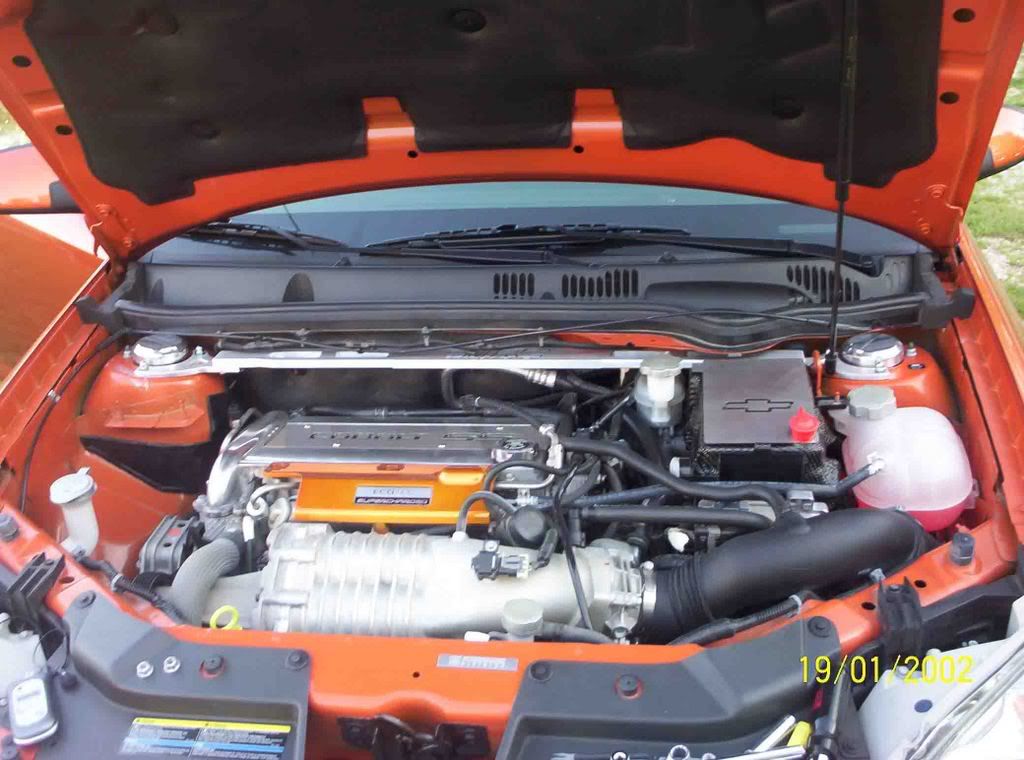 Now go hit up the twisties and enjoy your new strut bar!
---
Repopulating yourcobalt.com one post at a time.

Once again, thanks Ima for the great contribution...I can hear M4 yelling at me through his computer for not saying the same thing in his DIY...lol
---
IS it a good investment?
---
WHEN YOU TURN YOUR CAR ON DOES IT RETURN THE FAVOR ?

Car: 2006 Chevy Cobalt LS
Mods: Apex N1 Muffler,Debadged,New pedals

Coming soon: 17" Proline alloy rims and Performance tires,35% tint,Louvers,SS/SC spoiler, and lots more
Quote:
IS it a good investment?
You'll notice a small difference. I have the DC one. I think you'd notice more of a difference with a rear sway bar.
---
| 2006 Cobalt LS coupe | AEM intake | custom 2.25" exhaust w/ Magnaflow muffler | GMPP extrude honed manifold | SS/SC downpipe | Eibach Sportlines | Ingall's torque damper | eBay short shifter | DC Sports strut brace | black projectors | 17" MB Motorsports Drift wheels | 225/45/17R Kumho Ecstas | front Recaro seats from Ion Redline | 35% front sides; 20% back sides and rear tint | ARK shorty antenna | Niteshaded side markers and 3rd brake light | Beltronics Express 795 radar detector |
How much does a descent strut bar cost?


well whats the range?
not too much above $100, $110 I'd say. I don't remember how much the DC one was that I tried (and failed) to get.
---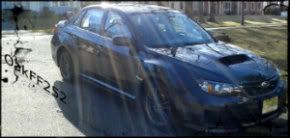 RIP Cobalt Totaled Sept. 2011
Current Car 2011 WRX
Project Victory_Red_SS
Keep the dream alive.
Forum Regular
Join Date: Oct 2008
Location: kingsville, texas
Posts: 109
what would be the best brand to get
Cobalt Specialist
Join Date: Nov 2007
Location: Sunshine State
Posts: 1,250
It's really a personal choice...don't think any brand is better than another. Depends on what you like. DC Sports and C-A strut bars are round tubes and MRZ has square strut bars with etching available. Powder coating or painting them, plain or polished changes the way your car looks with the hood up.
https://www.yourcobalt.com/photoplog/index.php?n=359
---
Ex-Cobalt Owner
Nice write up. And good job on the install.




Posting Rules

You may not post new threads

You may not post replies

You may not post attachments

You may not edit your posts

---

HTML code is Off

---