Mirror Covers
---
can some one photo shop the red covers that match my car over my chrome wanna see what they would look like,and can u remove the chrome trim on the door? thanks..
---

haha ik i dont know what i was thinkin
found this pic of when i first got my car
what yea think?
---

---
Last edited by vgalluzzo; 09-23-2010 at

07:22 PM

.
Decided it needed to be lowered as well.
---
1986 Chevrolet Camaro IROC-Z
- Wrecked/Sold
1998 Chevrolet Cavalier
- Wrecked/Donated
2007 Chevrolet Cobalt LT
- M62 Supercharger, Ported Throttle Body, 42 lb/hr Injectors, Intense 2.9" Pulley, Cobra Heat Exchanger, SS/TC Exhaust, TTR Engine and Trans Mounts, Trifecta Tune, ZZP Header and Downpipe, '08+ FE5 Struts/Shocks, SSC Springs, FE5 Control Arms, SS/SC Front Swaybar, Powell Hardcore Rear Swaybar, 18" MSR 045s, Dunlop ZIIs, Nightshaded Tails/Side Markers, Shorty Antenna, Black Bowties, Black Grilles, Black Headlights, Dual JL 12" w1v2 Subs, A/D/S Front/Rear Speakers, Pioneer 7" Touchscreen, G85 Recaros, Leather Rear Seats, 160 MPH Cluster.
2014 Chevrolet Cruze Diesel
- 17" MSR 013s, Black Bowties, UR Rear Lower Bar
1981 Chevrolet Camaro Z28
- JVC Ribbon Tweeters, SEAS Mids, Pyle Woofers, Kenwood Tape Deck, Zapco Amp/Equilizer, Ceramic-Coated Longtubes, 2.5" Pypes Stainless Exhaust, Bilstein B6 Shocks, GW U/L Control Arms, Hotchkis Springs Sway Bars, DD HDX Cluster
2017 Chevrolet Volt LT
- Black Bowties
sweet thanks took my chrome mirror covers off just waiting 4 the color matachin 1s 2 come in the mail! and it looks way better lowered gotta order my springs!
lol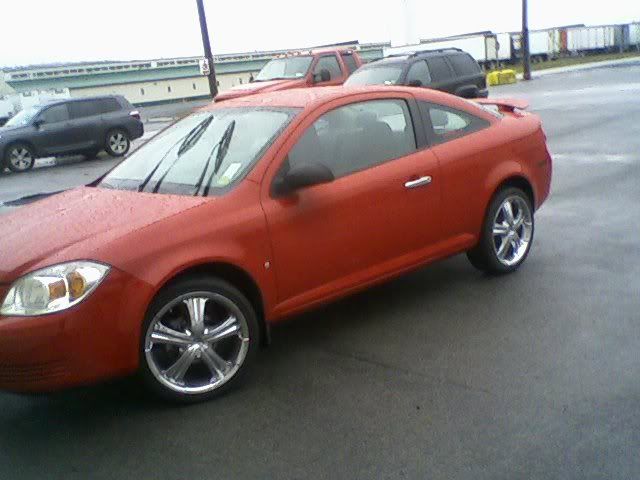 ---

Quote:
imo Chrome is awesome... If you are driving a 1957 Chevy.
okay.. u dont gotta bash on me dude every one has different taste i argred with everybody that the mirror covers and chrome trim was tacky so i took it off but the rims and door handle are stayin cuz i think it looks good
---

Posting Rules

You may not post new threads

You may not post replies

You may not post attachments

You may not edit your posts

---

HTML code is Off

---