Suspension Problem: Control Arm Bushings?
---
Hello! Iím new to this site, but Iím hoping someone can help me out. Iíve searched for a bit but havenít found the answer to my exact question. So, here it goesÖ I took my Cobalt in because of a clunking noise (from the front end) it had going over bumps. Anyway, when the car was up on the lift, the mechanic showed me that he could easily move the stabilizer bar up and down. He told me that I needed to replace the control arm bushings. I just bought this car (used with 80K) so Iím not too familiar with its suspensionÖI know control arm bushings are a common cause for the clunking noise on Cobalts, but would bad control arm bushings really cause the stabilizer to be loose? Or, is it more likely that the bushings on the bar itself or the end links are bad?

Any input is appreciated, or even a good diagram of the front suspension? The one in my repair manual was not much help. Thanks!
welcome to the forum!
to answer your question, yes control arm bushings are a known problem. The best fix would be the prothane control arm bushings from
Never Enough Auto
As for your stabilizer bar, it could be likely that the end link bushings are shot. Check out powergrind endlinks....little pricey but well worth it. Or you could just go with OEM end links
hope this helps.
---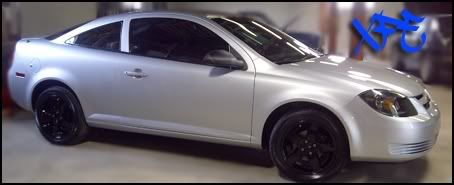 If you don't have the dough for the Powergrid links, try the Moog ones from Napa.

Also, i do not like the use of prothane as a CAB, simply because it does not work well with the high amount of cross-axis motion it's subjected to. Works great as a motor bushing, but a control arm has far to great a range of motion. The prothane dries up and becomes brittle, then fails entirely, causing potentially dangerous situations.

OEM is best, or upgrade to FE5 FLCA's and OTTP Bushings.
---
Cobalt Specialist
Join Date: Mar 2010
Location: Wisconsin
Posts: 1,437
Thanks for the info, I'll look at my end links sometime soon......
Newcomer
Join Date: Apr 2009
Posts: 1
You can see if your control arm bushing is bad, it is about a 2 1/2 inch bushing and you should see the rubber has slipped out of its place. I replaced one two years ago, did not eliminate all my noise, two days ago I found other side contrrol arm bushing bad, 35.00 at dealer, also felt end link and making noise. Moog 38.00 at Auto zone I think, replaced control bushing and link on one side and it quieted but did not end noise, went and bought link for other side and wallla no more noise after about two years!!!!!. Hope this helps you. Pretty easy job unless control armm bolt freezes to bushing then becomes a little more of a challenge. Silence is Golden
Cobalt Specialist
Join Date: Mar 2010
Location: Wisconsin
Posts: 1,437
Quote:
You can see if your control arm bushing is bad, it is about a 2 1/2 inch bushing and you should see the rubber has slipped out of its place. I replaced one two years ago, did not eliminate all my noise, two days ago I found other side contrrol arm bushing bad, 35.00 at dealer, also felt end link and making noise. Moog 38.00 at Auto zone I think, replaced control bushing and link on one side and it quieted but did not end noise, went and bought link for other side and wallla no more noise after about two years!!!!!. Hope this helps you. Pretty easy job unless control armm bolt freezes to bushing then becomes a little more of a challenge. Silence is Golden
How could you put up with the noise for two years?! I've been driving mine for 2 weeks and its already driving me crazy, lol. Thanks for the info
Posting Rules

You may not post new threads

You may not post replies

You may not post attachments

You may not edit your posts

---

HTML code is Off

---