Newcomer
Join Date: Feb 2010
Posts: 20
Squealing Rear Disc Brakes
---
The dealer tells me they replaced the rotors, but not the pads on my car with 480 miles on it, were badly grooved and squealing loudly. Rear only.
Anyone find a fix to this problem ? 2009 SS 480 miles I feel the pads should have been replaced too.....
Only had 2 vehicles with squealing disc brakes 1974 Chev Vega and a 2008 HHR SS and now the Cobalt SS....Any suggestions for the warranty work ?
Newcomer
Join Date: Feb 2010
Posts: 20
Rear Disc Squealing ?
---
No one else having this problem ? 2009 SS 700 miles new rotors still squealing
Ummm....we i do not have an SS but i do believe from what I have read on other sites is they alot of new SS owners have the same problem. I think the dealer was fixing them. I not sure tho. I would suggest maybe contacting your dealer.




---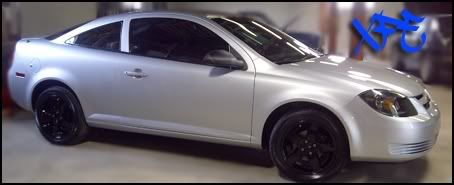 Forum Regular
Join Date: Sep 2009
Location: buffalo, new york
Posts: 104
There is a spray u could try. At auto zone or something like that. Its disc brake squeal or anti squeal or something like that but when I was in my auto class last year in school they had a few cans of it. Its lik spray paint cans and u just spray it on your rotors and it eleiminates the squeal. My ls was screaming bad so I sprayed it and problem went away in like half a mile. I would try finding some before going and dealing with the stealership. I mean dealership.
yeah this is huge with the 09 ss cars.... we R fixing them so just bring it in... hell weve got cuts on there 4th set of brakes ... my bet is even if u replace them, itll keep on comming back.
---
mods... tinted taillights, 1000 watt alpine mono amp, 2 10 inch alpine type "r" subs, basspro slot ported box, xm radio, alpine 6x9 rear speekers, alpine 6.5 front speekers (both type "s",09SS front bumper and lip,black factory headlights, 12k foglights, 10k headlights, slp catback,fe5 suspension with sportlines,black carpet, painted plastics (black) huge custom pink monster sticker... and ofcourse.... BLACKED OUT!
Cobalt Specialist
Join Date: Mar 2010
Location: Pittsburgh, Pistolvania
Posts: 1,218
The rear SS/TC brakes are problematic. As far as squeeling goes, chamfer the pads.
---
GM Stage II | 2nd Gen Projectors | 5000K Low Beams | 3000K HID Fogs | LED Tails| SS/TC Seats
▲RIP 2007 G5: Totalled 1/26/10▲
Posting Rules

You may not post new threads

You may not post replies

You may not post attachments

You may not edit your posts

---

HTML code is Off

---