Where is My Brake Fluid Going?!?!
---
I keep losing brake fluid and theres no evidence of it leaking anywhere and everytime i step on the brake to put it in drive, park or reverse it makes a clicking noise... any clue whats wrong ???? And i recently changed my brake pads and rotors but i never bled the breaks .. could this be why???
---

I do not know where your brake fluid is going.


The clicking is normal, that is the more than likely the "release" to let the car know you pushed in brake so you can shift out of park.




---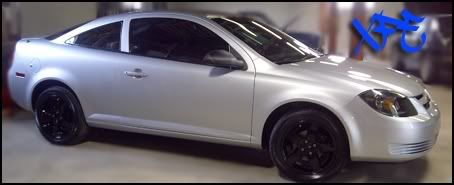 gotta be a leak somewhere. if the fluid's disappearing then it's leaking. could have damaged a caliper or something doing the brake job. the rear calipers tend to seep when they get old, unless you have drums. did you check your wheel cylinders? pull off the drum and pull back the little booties on the wheel cylinders. if there's any fluid in there you've found your leak.
---
But why so loud tho? Never did it be4 the brake job. Iam gonna have too check the rear drums for leaks but i never see any thing on the ground
---

You might have a damaged Caliper, Only other thing would be what drift said, unless you have a break in the line somewhere.
---
2006 Cobalt: Bolt On's
okay so i checked 2day again and its low from when i filled it on last sunday..i checked both my front calipers and there bone dry..and all the lines look dry..the only thing else it could be is the rear drums right?..iam gonna take it the dealer on friday iam still under warranty i think i have 34k on it now...i think its over at 36k...
---

Expert
Join Date: Aug 2010
Location: Yarmouth, Nova Scotia
Posts: 911
the clicking u hear is called the BTS sensor...its supposed to ONLY do it when u press the brake to shift out of park...if it does it everytime u press the brake, u need to get the BTS replaced...does it click when u press it and then again when u let off the brake? Mine did that and after I replaced the BTS its never done it again...by the way BTS stands for Brake To Shift (thats the actual name for it)
---

Magnaflow Catback, Jet Performance Chip, B&M Shift+, 8000k bi-xenon H.I.Ds, and more

yeah it only dose it when i press the brake to shift out of park but its really loud. was not that loud before i did the brake job..

---------- Post added at 04:32 PM ---------- Previous post was at 03:35 PM ----------

bump! helpp plz!
---

help please!!!
---

okay so i went 2 the dealer and my brake master cylinder is leaking bad and its gonna cost me $620 to get it fixed!!!(witch i think is a rip off i could probly fix this my self if they would let me get my car out of there) and my warrantee was up 2 months ago!...they wouldn't let me leave with the car said it was not safe at all..so now i gotta wait intill monday when the part comes in...they gave me a free loner car tho..dont even ask what it is hahaha!..they also said my front sway bar link was loose he said thats gonna be another $112 bucks to fix! but he said i can wait on that..so iam gonna just order Eibach Sway Bar Kit..will that fix that problem or is the sway bar link different?

---------- Post added at 04:28 PM ---------- Previous post was at 03:11 PM ----------

please help how hard is to change the master cylinder?!?!!?
---

---
Last edited by vgalluzzo; 12-10-2010 at

03:16 PM

.
Posting Rules

You may not post new threads

You may not post replies

You may not post attachments

You may not edit your posts

---

HTML code is Off

---