P0442....Evaporative Emission Control System Leak Detected (small Leak)
---
I've been away for a bit, but now must come humbly crawling back looking for help.
'07 LT coupe, just so you don't have to look all the way down at my signature. No mechanical mods whatsoever.
I just got my car back from the shop
last
Monday (13th) after getting transmission pan replaced (had an "oops" moment with the fill caps where the fuel trucks fill the underground tanks). I did not drive the car again until I took it to work and back on Friday the 17th. No issues. Took it out Friday night and the dang CEL comes on. Have a code scanner at home and wasn't far away so brought it on home. It gave P0442....Evaporative Emission Control System Leak Detected (small leak). Before we even pulled the code I checked the gas cap and it was on tightly. However, this is an aftermarket replacement cap bought a few years ago after the stock one came apart.
So now I have questions:
1)could the dealer have screwed something up when they looked at the transmission? I wouldn't think that transmission and emissions were relevant, but it seems rather convenient that I would have another problem within the same week I just got it back. Called them and politely asked about CELs and they said this particular problem wasn't covered under engine warranty.
(I had to check, ya know?)
2)how do I
fix
the problem? Cleared the code Friday night and drove the car every day since. It just came back on today. I'm female and usually driving alone- I don't want the CEL staying on if it's caused by something minor that most folks would ignore. I am mechanically ignorant, but my bf can fix stuff if he knows what to look for.
starting to wonder if I am a victim of "
car
-ma", LOL. I was thinking of selling the car anyway, but then all of this crap started happening so I guess I'm stuck with it for now.
---
White '07 LT coupe with lotsa purple stuff.
Check all of your vaccumn lines, especially coming off the airbox and brake booster. Also the EVAP lines coming off of your charcoal canister could cause this as well. If you have access to a smoke machine this could help tremendously to show where the leak is coming from
---
Mod's So Far: AEM CAI, C.A. Header, 2.50 Magnaflow Catback Exhaust , ZZP Catless Downpipe, DC Carbon Strut Bar, Dropped on Progress Springs. Tinted, Fully Debadged, Custom front SS bumper,2 Audiobahn 10" w/JL amp, Lower Billett Grille, Sengen 18 x 8 rims wrapped in Capitol Sport UHP 225/40/18.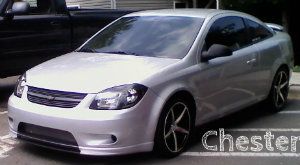 ---
Last edited by Chester; 07-13-2011 at

09:12 PM

.
I can't tell you how many times my engine light has come on because of my "emission" leaks. Usually when it comes on, I reset the battery. That does the trick.. until I let my husband drive it & he doesn't put the gas cap on tight enough. I've found the problem to be the rubber line that connects the gas cap.. usually I twist my cap 15 times & before ya know it that line loosens it. If resetting the battery doesn't work, I'd definitely take it somewhere to be looked at.
well I finally got around to getting a new cap yesterday and resetting the code. It takes a few days for the CEL to come back, so we'll see. I am having other issues at the moment so if I end up taking it to the dealer I'll ask about it, even though this problem isn't covered under warranty.
---
White '07 LT coupe with lotsa purple stuff.
going to the dealer this weekend to repair cracked fuel thingamajig. Might be what was causing the code, although the code actually reset itself when I changed the battery trying to fix the other problem. "I swear I was getting a CEL...honest!"
---
White '07 LT coupe with lotsa purple stuff.
Veteran
Join Date: Sep 2009
Location: maryland
Posts: 745
I have the same issue. i had a leak-down machine handy, and i did the leak test and nothing. ive checked everything else including getting a new gas cap, it maybe that the evap solenoid is bad and opens when its supposed to be closed but the new evap solenoid is only 30$ from the dealer
---
Posting Rules

You may not post new threads

You may not post replies

You may not post attachments

You may not edit your posts

---

HTML code is Off

---