Prospect
Join Date: Oct 2009
Posts: 21
Rear Shock Replacement Trouble
---
Hi,

I screwed up trying to replace my rear shocks, perhaps one of the easiest maintenance items! I bolted on the top of the shock but did not tighten fully. Then I squeezed the shock until the lower end matched the opening, a threaded opening in the frame, and then pushed the bolt through the shock and into the frame threads. I turned a little but then it got hard, so I had to use both hands. This meant stopping to try to hold the shock in place. So i guess the downward pressure on the shock helped to make the bolt go in wrong, and it stripped badly.

I went for a test drive and the rear end was clanking badly. I removed the bolt and it had stripped the threads in the frame. Worse yet, the dealer mentioned they were a weird size (bolt is M14x2x75).

So be extra careful when you replace your shocks. I think the design sucks, much preferring a bolt that goes through the frame and a separated nut to attach it.

I'm either going to have to buy the right sized tap/die, or drill out the hole and try to buy a new bolt that will fit...

Gre

Greg
try to retap it... did you start it with your fingers? you must have some strong ass hands to cross thread a big bolt like that with your bare hands
Prospect
Join Date: Oct 2009
Posts: 21
No, not strong at all. But I used an 18 inch breaker bar and my body weight to turn the bolt, which was enough to strip it.
Unlucky for me, I can't find a local supplier for this sized bolt. But the real problem is the stripped threads in the frame, need a tap/die(?) or take it to the dealer.
Greg
yeah always start it with your fingers, that way you know that you wont cross thread it. i hope you get it fixed soon
Prospect
Join Date: Oct 2009
Posts: 21
I got it back together and the bolt is holding, but it's not solid. I am debating buying a helicoil kit for M14-2.0 threads, or taking it to the dealer. Will probably do the latter.

I'm wondering whether some of the rear clunking noises other people experience might be due to this issue. It's clearly a bad design.

Agreed that it's always best to start a bolt with your fingers. However, this bolt is big and requires more effort to turn than can be done by hand. I tried screwing it in after the shock was out, still needed a wrench to turn. So you are left having to use lots of strength to raise and hold the shock in the perfect position over the frame hole in order to insert the bolt. Alternatively, you could use a jack to lift the shock, but my jackstand was in the way...

Greg
I haven't heard of anyone else doings this... I think its a pretty simple design I had no issues when i took mine off... I think your just frustrated with the car since you have a hard time working on it. Ie the belt and the drum brakes. Both of which I replaced on my 07 and had no issues. The helicoil idea might work. Give that a try before taking it tongue dealer.
---
2009 Imperial Blue Metallic Cobalt SS/TC Sedan - "Stock":
2008 Victory Red HHR SS - Stock
2005 Chili Pepper Red Ion Redline - Stock
2007 Sunburst Orange Metallic LS Coupe - Sold
You should have run your bolt under a wire wheel and
always use anti-seize on threads for next time.
---
Last edited by Coby7; 10-09-2011 at

06:24 AM

. Reason: correction
Prospect
Join Date: Oct 2009
Posts: 21
Coby7, bru3v1p3r,

You are both right. I should have cleaned up the bolts/threads, and I shouldn't work on cars when frustrated! At least its back together.

Greg
Prospect
Join Date: Oct 2009
Posts: 21
Hi,
To follow up, I took the car to the dealer, who diagnosed the threads in the frame for both lower shock bolts to be stripped (really only 1 was stripped as I suspected and found out later on). His repair option was to replace the rear axle and frame assembly at a cost of $1,700. When questioned about just repairing the threads instead of replacing the frame/axle, he said that would compromise the structural integrity of the frame. I found that interesting since thread repair is often performed for many automotive applications, but did not push the issue and just got my car back. (I wonder if I ever stripped a spark plug if they'd recommend replacing the engine!).
Below is how I repaired the threads using a Time-Sert thread repair kit, which claims approval for use by general motors and claims to be better than new once finished. I finished the job for ~$200, saving $1,500. Of course, this wouldn't have been necessary if I hadn't stripped the threads in the first place!
1. Thread repair kit: for 14M x 2.0 threads:
Mechanics Tools & Bits - Wholesale Tools - Home of the Thread Doctor
, catalog TS1420. This kit comes with a drill bit, a countersink drill, an insert tool, and 5 inserts.
2. Another drill bit. The drill bit from the kit had a square shank at the end that was the diameter of the drill bit (37/64" inch), and I was confused how to use. Turns out you can use by hand with a t-wrench? So I bought a different 37/64" drill bit from ace tools that had a reduced shank (1/2") so that it would fit into my power drill.
3. Replacement bolts (also bought a bunch of washers, nuts, and 1/2 width nuts in case I needed to get creative):
Bolt Depot - Nuts and Bolts, Screws and Fasteners online
. The bolt I actually used was product #6788, zinc hardened 10.9, 14mm x 2.0mm x 70mm.
Below are some pictures of the process. I did not have clear access to the hole because the drum brakes/backing plate was in the way, so I had to remove the brakes. I did this by removing the 4 nuts holding on the hub, and placed the hub/brakes up and out of the way. I had to use a pry bar to raise the spring a tad to get access to both of the lower nuts on the right hub, but that worked ok. I was lazy and did not disconnect the brake line, but fortunately did not kink it so all was well.
Below are some pics of the process. Note that the repaired threads are in the frame, but actually consists of a nut that is welded to the frame.
I really hope that I'm the only one stupid enough to strip out these threads while replacing shocks, but who knows? If anyone hears clunking after having their shocks replaced, check your threads, they may be stripped.
Greg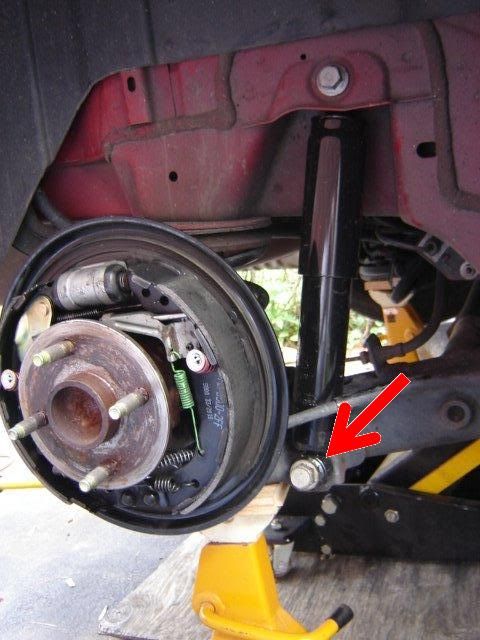 [/IMG]
[IMG]
[/IMG]
[IMG]
[/IMG]
[IMG]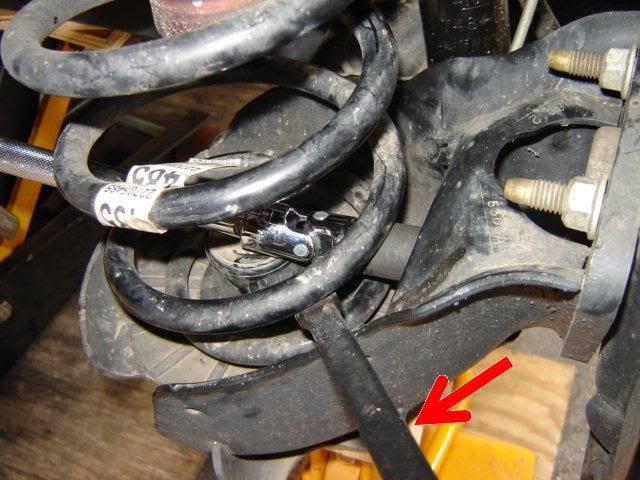 [/IMG]
[IMG]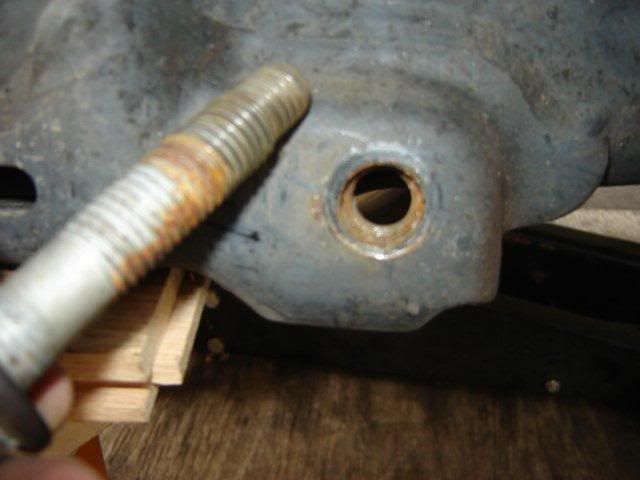 [/IMG]
[IMG]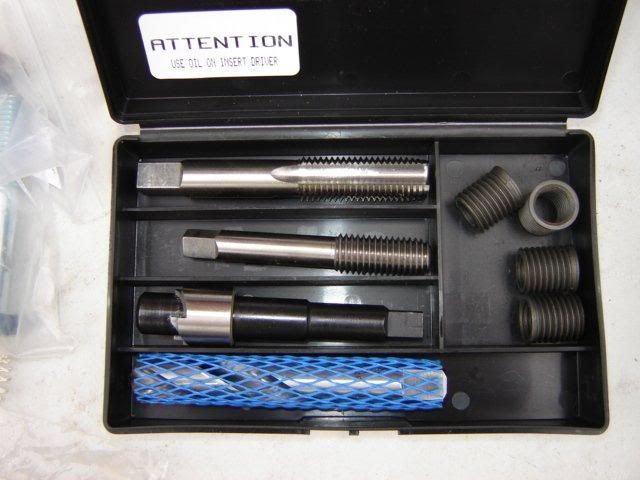 [/IMG]
[IMG]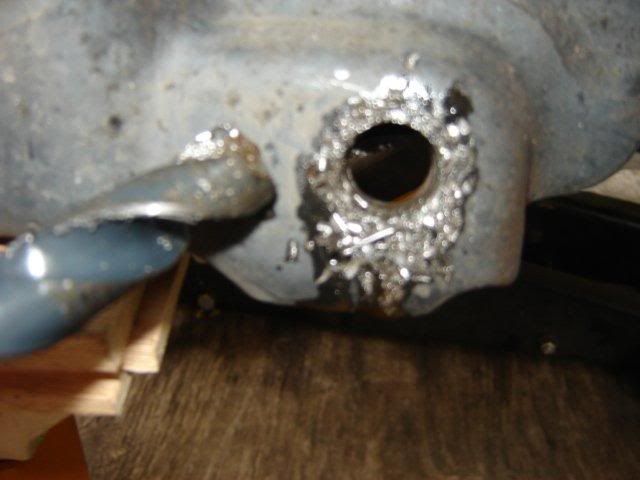 [/IMG]
[IMG]
[/IMG]
[IMG]
[/IMG]
[IMG]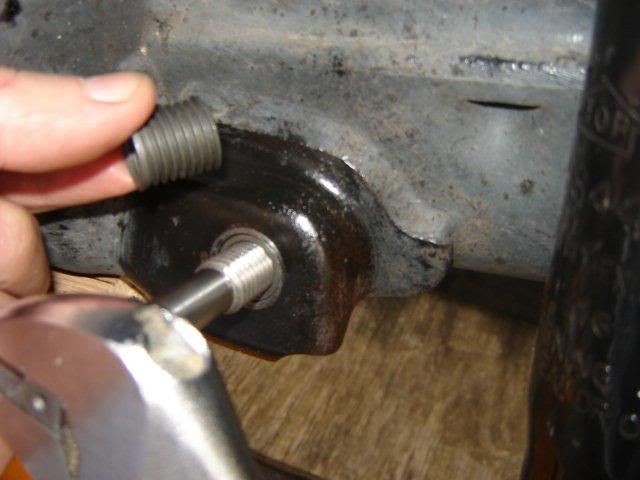 [/IMG]
Posting Rules

You may not post new threads

You may not post replies

You may not post attachments

You may not edit your posts

---

HTML code is Off

---