Newcomer
Join Date: Mar 2013
Posts: 6
06 SS/SC 80k Kms Not Starting Weird Situation
---
Just bought a not running 06 SS/SC.
The previous owner claims that he was driving along when he heard a knocking sound. Car was turned off and towed home. At home, the car still started and it ran for a brief moment before dying on its own. Each time however, the car would run for a shorter duration than before, before dying.
Right now, the car is to the point where it will not even fire. It does crank but does not turnover.
What I have checked so far:
-Fuses all appear to be good. I pulled each one out and visually inspected them.
-The car is getting fuel. I undid the big 24mm nut on the fuel rail and pointed the line into a can. Fuel came gushing out at an appreciable rate (in my opinion). In addition, the cylinders stunk of fuel when I pulled the plugs out and the plugs were wet with fuel as well. Perhaps it was flooded?
-There are no codes being thrown according to my OBD scanner. I might have done this wrong though as I scanned it immediately after the battery was unplugged for 12 hours. I did not crank motor after connecting battery, only turned key to run.
-I popped off the valve cover. Everything looks good. Engine is very clean and I don't see any bent valves. Timing chain had a good amount of tension in it and it does not look like it slipped.
-Ran a compression test when it was outside in -10 deg. C weather. Cylinder was low at 140 PSI compared to the others at 165 - 180. Put car inside heated garage (20 deg. C), re-did compression test, and got between 170 - 180 across in all cylinders.
-I jacked up the car and removed the lower splash shield to access crank pulley. Tried turning engine with a ratchet by hand in a clockwise manner but it was extremely difficult, got maybe 5 degrees before i couldn't turn anymore. Sparkplugs were out during this time. Accessory belt was still in tension though, so that could be why.
-Throttle body looked good. Responded to the pedal.
-Sparkplugs look like this: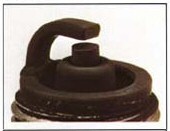 which corresponds to a condition called dry fouling.
-Had the cobalt connected to a corolla with its engine on. + on corolla battery to cobalt's remote + and - on corolla battery to strut tower nut. It sounded like this while cranking:
VID_20130227_230249 - YouTube
Not too sure, but compared to my LT, it sounded a bit weak.
-I tried roll starting it on an incline but that did not work. Popped clutch while car was in 2nd, didn't hear any intention to turn over from the motor.
Any help offered is greatly appreciated. I will grab fresh sparkplugs today and check for spark.
---
Last edited by Coby7; 03-02-2013 at

10:58 PM

.
06 SS/SC 80k Kms Not Starting Wierd Situation
---
You may not be getting any spark. Change your plugs and wires. That would've been one of the first things I would've tried.
Sent from
AutoGuide.com App
Newcomer
Join Date: Mar 2013
Posts: 6
Ok so i got the car running. Plugs were changed and so was the fuel relay.

Problem now is there is a huge oil leak in the timing end of the engine but I cannot locate the source. Ive dropped the motor mount already in hopes of locating it but havent had luck. Any ideas?
06 SS/SC 80k Kms Not Starting Wierd Situation
---
Levee

Join Date: Aug 2009
Location: Battle Creek, MI
Posts: 3,210
Timing cover gasket more than likely.

You said you got it running.. Is it running good or no?

Can you take a pic of your timing side (front) of the engine so we can see to try and help figure out where your oil is coming from?
---
'09 SS/TC - Stolen
Mods
- Injen CAI, CIA MAF Relocate CP's, Dejon FMIC,
Custom 3" DP, 3" Exhaust, GT3076R, Pioneer AVH-4100DVD, Hurst STS, ZZP triple pod, Autometer Cobalt boost/DPIC/WB gauges, Nitto NT05 245/40/18's, H&R Springs, 80:20 Meth Spray
Future - KSport Kontrol Pro Coilovers, 10% Tint, FMIC spray
538whp/501wtq @38 psi on meth and 93 oct on stock ish motor
06 EVO IX MR/SE - Sold
Mods
- *Updated 10/6/13* AEM TRUboost EBC, 4in custom TBE, SD dual 93/e85 tune, ETS 4in Race Core FMIC, Dual Aeromotive 400lph Fuel Pumps, T4 Tubular Manifold w/ dual WG's, FP Super99HTZ DBB Turbo, GSC 274 mivec cams, ARP headstuds/rod studs, FIC 2150cc Injectors, Aeromotive FPR, Aeromotive Fuel Rail, catch can, Mini Battery Kit, Slim Coolant Fan, Kiggly Racing high pressure valve Springs/Titanium Retainers, Supertech Stainless Steel Valves, Dual VTA Tial 44mm WG's, 4g64 Stroker Manley Pistons, 155mm 2.4 LR Manley Turbo Plus I Beam Rods with ARP 625 Studs, 100mm forged non-billet Manley Crankshaft, Full H/E PNP with Port Matching, Kiggly Racing Girdle, Dual Tial 50mm BOV's, Excedy Triple Disc Carbon HD Clutch, AEM EMS
'95 Ram 2500 Diesel
Mods
- 5in TBE, Boost Elbow set to 28psi, Adjusted fuel pump, Open Turbo.
Future Mods- Super Street Clutch (rated @1400ftlbs tq), 67mm turbo, 160lb valve springs, added timing, tubular exhaust manifold, larger injectors, possible 6 spd swap.
Master ASE Certified Gasoline/Diesel Technician since 2004
Speed Junkies Social Group
Yourcobalt Official Facebook Page!
Syndicate of Tuners Official Page! Up and going again as of 1/11/13
Click here to PM me if you have questions or issues!
Newcomer
Join Date: Mar 2013
Posts: 6
From my research, it seems like the culprit is the crank seal.
I'll see if I have time tomorrow to jack the car up and remove the wheels for a few shots.
In the mean time, I offer this photo:
http://i.imgur.com/v8p9DXJ.jpg
Valve cover gasket maybe
---
Every minute spent angry is a happy minute lost for ever and ever!!!
Drives 2016 Cocoa Buick Encore 1.4L Turbo auto KL4CJDSB2GB652675
Drives 2016 Sunset Orange Trax LT1 1.4L Turbo auto 3GNCJPSB8GL142716
Never drive faster than your guardian angel can fly
Posting Rules

You may not post new threads

You may not post replies

You may not post attachments

You may not edit your posts

---

HTML code is Off

---