Power Window Won't Go Down
---
So to make a long story short i have a 4 door LTZ with power windows. non of the windows will work from its own door switch except the front passenger side. The driver side switch wont do anything for any to any of the doors not even the front passenger.
I tried replacing the fuse, reseating the RAP relay, replacing the drivers side window switch.
And none of that has made any changes.
Any ideas what could be causing this?
i also tried pressing the switch's that are not working with the interior lights on to see if them dim and they don't.
noticed today when i unplug the drivers side switch the only working switch stopped working until i plugged it back in.
Does any one know which wires i can test for power with out having to remove my door panel?
---
Airbox MOD,
GMPP
Intake,
GMPP
Catback Exhaust, SS/SC Springs,
Tint
,
tinted
tails
, Painted headlights, debadged, and wheels.
Car Flicks
---
Last edited by typo13; 07-02-2013 at

08:57 AM

. Reason: addin info
Initiate
Join Date: May 2011
Posts: 45
Probably a bad window motor. My son's passenger side rear seat motor is bad. I opened the door panel, smacked it with a hammer a couple of times and it worked for a little bit, but now it is no longer working. Probably a "dead" spot in the motor.
I'd say check to make sure all the conectors are firmly put in, and If not Im guessing its a motor.
---
2005 Stealth grey metallic 2DR Standard Base Model
2006 Burnt Orange 2DR Standard SS
MY SHOWOFF THREAD
Forum Regular
Join Date: Jan 2013
Location: Phoenix, AZ
Posts: 60
I think it might be a cobalt thing. Mine work sometimes when they want to.
My friend has a Honda civic, and his had the same problem. Sometimes it worked. He got a new wijdow motor and now it works.

2005 cobalt base model coupe
theres some cheap ones on ebay
---
2005 Stealth grey metallic 2DR Standard Base Model
2006 Burnt Orange 2DR Standard SS
MY SHOWOFF THREAD
Yeah, I thinks it's kinda generally a car thing. I know it's worse for me in the heat, I can't roll my windows down all the way especially in 90 degree heat, they won't go up til the whole car cools down. Is the OP's problem intermittent or they just plain don't work, because that sounds like a different problem. And the door panel comes off really easy if you still just wanna test the wires.
---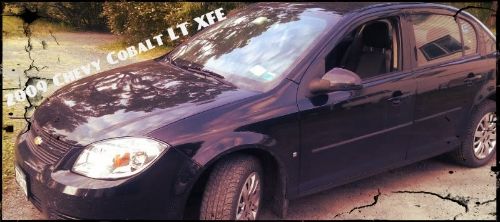 Posting Rules

You may not post new threads

You may not post replies

You may not post attachments

You may not edit your posts

---

HTML code is Off

---