Prospect
Join Date: Aug 2015
Location: Wilmington, North Carolina
Posts: 31
Cv Axle Wobble? Shakes Car!
---
~~~~06 Chevrolet cobalt ls~~~~
So, i got my car back from a piece of shit dealer that motor swapped my car. many many issues and problems, so i am stuck on this last issue. First, my car doesnt really shake going down the road, it just wobbles a little, no steering wheel shake. So i took my time to slow down the car and listen and all, figured out it was coming from the right side. (just going to skip the the juicy bits.) So i jack my car up, take off the tire and full strut assembly. I then proceed to grab the cv axle and wobble it up and down, and it DOES MOVE. Now this is where the cv axle connects into the transmission onto the spline shaft. This is where I am stuck at. I took the cv axle off, got a new one, running into same issue. So i started back over and yanked the axle back off. noticed the snap ring on the transmission shaft looked a little weird, so i took it off. Its not pefectly circular and it has flat parts and stuff around its circumference. This is where i am currently at and asking for anyone help, or more info. Wasnt sure if the Snap ring needed replacing or if i need that whole spline shaft drive thigamajigamabob or if anyone knows what it is! =D
(where the axle connects to the spline shaft on the transmission is what i could very easily move, up and down nonetheless, about a half of an inch. Just wanted to make sure that was clarified!)
I appreciate The reads and all info and replies in advance!
Thanks guys,
Pkerpure
---
Last edited by pkerpure; 11-24-2015 at

02:08 PM

. Reason: Left out info!
Initiate
Join Date: Nov 2014
Posts: 49
Do you have an intermediate shaft like this? IDK if manual or auto cobalts have these, probably manuals only.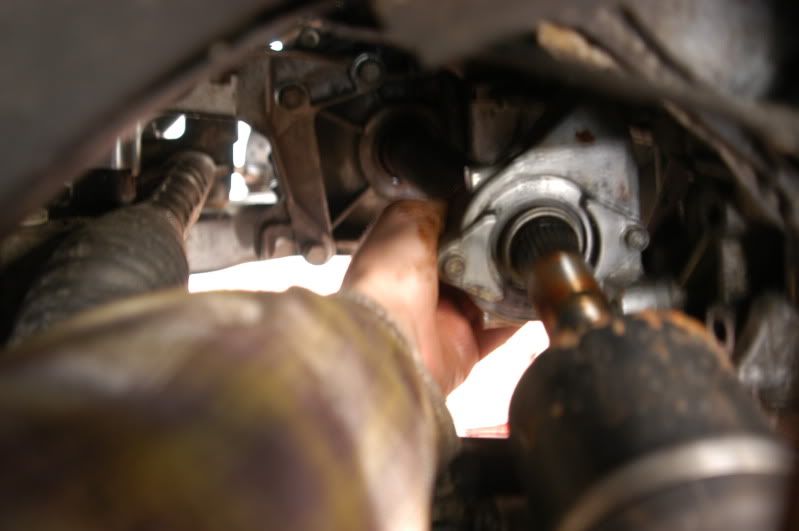 The intermediate shaft bearing must be bad, you could pull the bearing retainer and have a new bearing pressed in, or just pull a whole bearing retainer with bearing from a junkyard. These dont usually go bad.
Scroll down to the 2nd post here for a how-to on replacing the bearing in the retainer-
http://www.chevycobaltforum.com/foru...-replace-2680/
Also check the bolts that hold the bearing retainer to the block, maybe the whole retainer is lose?
---
Last edited by economichitman; 11-24-2015 at

07:28 PM

.
Prospect
Join Date: Aug 2015
Location: Wilmington, North Carolina
Posts: 31
automatic =\
---
Im pretty sure mine looks different. i found a haynes manual that says theres a tool i need to pull it out of the tranny. but im assuming its the same concept. =D will give it a try. worst comes to worst, i just get a new tranny lol
Prospect
Join Date: Aug 2015
Location: Wilmington, North Carolina
Posts: 31
Fixed it!!!
---
Was the little rubber ring and race that goes around the double sided spline shaft that sits in the tranny and snaps into the cv axle! Runs like a champ again.

Thanks again for all the info!
Pkerpure
Newcomer
Join Date: Jul 2014
Posts: 5
What did the part look like?
Prospect
Join Date: Aug 2015
Location: Wilmington, North Carolina
Posts: 31
Cant find a picture, but i do believe it is called an "axle shaft seal"
Posting Rules

You may not post new threads

You may not post replies

You may not post attachments

You may not edit your posts

---

HTML code is Off

---