Newcomer
Join Date: Aug 2009
Posts: 18
2005 LSJ Recall "ENG PWR RDCD"
---
Only administrators can post new threads in the recall section and I don't see one regarding this subject. So this is the most logical place to post until someone revises and reposts in the Recall Section.

I received a letter in the mail from GM stating that there is a recall on some (not all) 2005 Chevrolet Cobalt SS Supercharged (not SS sedans/coupes without the supercharger; only 2.0 LSJ). The recall is in regards to the CID displaying "ENG PWR RDCD." It claims to be due to the catalytic converter. They have not specified if it is the cat itself or the sensors. I scheduled my car for new cat/sensors this morning @ 7am. I should have my SS back by the end of the day. I'll let you guys know more about it when I pick it up this afternoon/evening.


But on a funny note regarding this, my service technician (Brian Kitchens @ Ivan Leonard Chevrolet) called me @ 7:45am (45 minutes after I left the "stealer"ship) to ask this:
"Hey, Mrs. Grammer; this is Brian at Ivan Leonard. I have a question for you. Could you remind me why you dropped your Cobalt off this morning? I haven't had my coffee yet and I can't remember."


Maybe my car won't be in pieces when I pick it up today, lmao.
*Moved to Recalls*


Please keep us updated!




---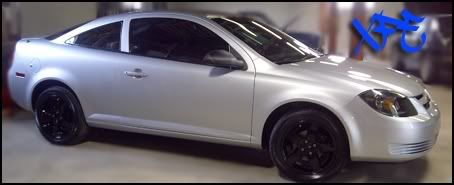 Contributor
Join Date: Jan 2010
Posts: 439
That's wierd. I have an 07ss/sc and i was fixing my cold air intake with this heat protection wrap stuff, used for heated p
pipes for the house. I had a small hole in the intake so u wraped it with this shit. Long story short I was driving one night and all of a sudden my car wouldnt go anymore. Everytime I hit my gas it will just quiver, looked at the dash and it said "engine power reduced". Im like wtf. Took my intake off and there it was. That wrap shit I used for my intake was stuck all over my throtle body and all around it. The wrap wasnt letting my TB go in or out. It almost got inside my supercharger. But yeah that was when I got this "engine power reduced" error on my car.
Veteran
Join Date: Jan 2009
Location: FL
Posts: 575
i got a notice in the mail about the converters as well.....im already on my third one so hopefully it wont happen again
Newcomer
Join Date: Feb 2010
Location: 413mass
Posts: 19
got that letter. already replaced the stock dp. was covered under warrenty before i go that letter..
---
06VictoryRedSS, Injen CAI, Intense Stage 3 ECU, 2.9 Pulley, Stage 2 Belt, 42lb Injecters, Flowmaster Exhaust, K-sport Springs.
I got the same thing in the mail, I think it was just a mass letter they sent out so people knew about the recall... and if they had any problems the dealership knew about it.
---
M62 Powered for Now
S252 Next (Car is gonna be fast and Sneezing, lots!)
Veteran
Join Date: Jun 2009
Location: Seattle
Posts: 600
Newcomer
Join Date: Aug 2009
Posts: 18
Okay, well, seems as though it was a mass letter sent to most 05 cobalt owners.
I had mine replaced last Friday afternoon. That was such a baaaaaad day, but nothing to do with the Cobalt.
They replaced the entire cat and now I sound a little different. No one else can tell, but I know when my baby sounds different, ya know? Anyway, haven't had one single problem with the "ENG PWR RDCD" coming back on the CID. Maybe it's fixed. IDK. But, if it isn't causing y'all many problems, it's really not worth bringing it in for replacement.
But since it's a recall, someone may be in my situation and have major issues with reduced power and this should be done. Otherwise, don't bother.
Newcomer
Join Date: Feb 2010
Location: Saint Cloud/Wayzata, MN
Posts: 3
I have had the dreaded "ENG PWR RDCD" on my cobalt ss so much this winter its not even funny, i bought a code reader just so i could keep clearing the codes. There is a K&N filter on my car that the previous owner put on so I'm assuming it has to do with that but not sure. I live in Minnesota so our temps are always all over the place. I have really only gotten the warning when it is at least -5 degrees. If the temp is warmer than that I have not noticed a problem, but if it has to do with the cat, I would like to get that taken care of as long as it's still under the cat warranty.
Posting Rules

You may not post new threads

You may not post replies

You may not post attachments

You may not edit your posts

---

HTML code is Off

---