Newcomer
Join Date: Sep 2009
Posts: 6
Socket size needed to remove rotors 2005
---
I need to change the rotors on my 2005 cobalt.

I don't have the size socket needed to remove the nut in the middle that holds the rotor on.

Any help on the size needed?
hope this helps
---
ehhh....i think your looking at the axle shaft nut and you dont need to remove that to change ur rotors. u just need to pull off the caliper. it should be two 15 millimeter bolts on the back side of the caliper the whole assembly will come off, then the rotor will just slide off the wheel studs... hope this helps....
Newcomer
Join Date: Sep 2009
Posts: 6
wow, really?

ok, I planned on changing the pads tomorrow and waiting on the rotors but if the rotors come off when i remove the caliper then that makes it much easier to do both
yep the calipers hold the pads inside the casting....i hope im not talking greek to u....
Newcomer
Join Date: Sep 2009
Posts: 6
no, I change all of it on my 94 cav. before. Just didn't know if it had changed in the 10 year difference in cars... guess not lol.

thanks for the help
and if its a little rusty a couple taps with a rubber mallet would do ofr that. and you have to break off the two little clips on two of the lug studs.
---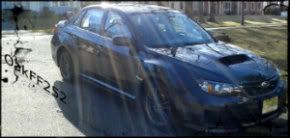 RIP Cobalt Totaled Sept. 2011
Current Car 2011 WRX
Project Victory_Red_SS
Keep the dream alive.
Yep pry them off with a flat blade screw driver, they will prolly break....
Newcomer
Join Date: Sep 2009
Posts: 6
a little high temp (copper) antiseize on the backside of where the rotor mounts is always a good idea as well..
I get to put my rotors and pads on this weekend...exciting...too bad I don't have tires for my MSR 045's so I can show off the rotors...oh well....Powerslot and Hawk FTW!
---
-Mike
|07' LS Sedan|Ultra Silver|Auto|MTX X Thunderlink|Debadged|35% Tint|Sportlines|Injen CAI|ARK Antenna|ARK STB| OTTP "Street" bar|Bridgestone Potenza RE960AS Pole Position 205-60-15|Hawk PC pads|PowerSlot Slotted rotors|

Not installed yet: Pacesetter Header|Exhaust Depot DP|LSJ Cat-Back|Injen Hydroshield|MSR 045 18x8 Black w/ Red Pinstripe
Posting Rules

You may not post new threads

You may not post replies

You may not post attachments

You may not edit your posts

---

HTML code is Off

---