Newcomer
Join Date: Mar 2010
Posts: 5
Best Replace Rotors and Pads for Ss 2.4l
---
Want are you guys finding to be a good performance auto-X rotor and pad combo?
Are there any big brake kits available?

Thanks in advance.
Newcomer
Join Date: Mar 2010
Posts: 5
Bump, no one can help? No one has upgraded? Come on someone has wanted their Cobalt to stop better.
If you wait until i can get home I'll get you some info and links. Im on my phone right now, it will be easier from my computer...lol




---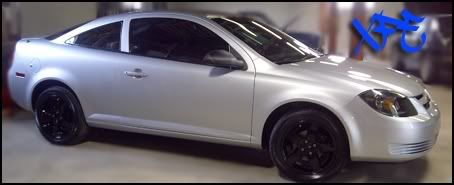 I'm sure you can find some cross drilled and slotted rotors. I'll take a look and get back to you.

---------- Post added at 05:35 PM ---------- Previous post was at 05:30 PM ----------

powerslot sells slotted rotors
rotora sells slotted and drilled/sloted rotors
SSBC sells teh big brake kit for the SS Cobaltmania has it listed at 845. You may or may not find it cheaped on other cobalt websites.

as for pads. I'm sure ceramic pad will work just fine for you.
Try Hawk or EBC
---
2009 Imperial Blue Metallic Cobalt SS/TC Sedan - "Stock":
2008 Victory Red HHR SS - Stock
2005 Chili Pepper Red Ion Redline - Stock
2007 Sunburst Orange Metallic LS Coupe - Sold
Newcomer
Join Date: Mar 2010
Posts: 5
Thanks guys. I wasn't sure if there was something that everybody used or not.
I'll ask some dumb questions at first. At least I don't get the SEARCH thing from this forum. The gto guys will flame you.
Cobalt Master
Join Date: Aug 2009
Location: Bk, NY- USA
Posts: 1,648
I just bought R1 Concepts premium double-drilled/slotted rotors and Hawk HPS pads. I got them through a group deal, which may still be going on. Paid $410 shipped for everything. Email
[email protected]
. He'll be able to let you know if the deal is still going, and answer any other questions you might have.
Posting Rules

You may not post new threads

You may not post replies

You may not post attachments

You may not edit your posts

---

HTML code is Off

---