Dropin My Car
---
Hey guys, First time poster :P

I have a 2008 Chevy Cobalt LT coupe and i recently just threw some 18's on her. But she is lifted in 4x4 mode. I was wondering if you any of you had some suggestions on what to do? I wouldn't mind another person's opinion. Thanks!
hey,
are you looking for performance upgrade or just the drop? and are you on a limited budget? there are several options. I just bought B&G lowering springs, which will give it a real good drop. I am going to buy some fe5 shocks/struts (cobalt ss turbocharged shocks and struts) to go with that so that I get a good drop and great performance. Should cost me around $600 when it's all said and done with.
Now, you can just buy some lowering springs and use them with stock shocks/struts, but it will increase the wear on them. Or, if you have lots of money, the best rout would probably be to buy coilovers, which are completely adjustable suspension. Those average around $1000 a set for our car, however.
Welcome, Bboy is right lowering springs would be the cheapest way to lower your car. I am on Eibach Sportlines and I love them. I am on stock shocks/struts and I have had no problems, but they will wear faster so I will be going with KYB shocks and struts eventually. Coilovers are the best way, but most people go with coilovers race. Like he said its depends on your money situation.
---
Injen CAI/SRI Intake/2.25" Custom Catback Exhaust/Eibach Sportline Springs/17" Drag Concept Rim/ARK Shorty Antenna/Black Out Tail Lights, Side Markers, 3rd Break Light
2006 Black LS
Forum Regular
Join Date: Mar 2010
Location: Miller Place, NY
Posts: 146
Well ya, money is always an issue haha im a college student, but do make a decent amount of money. But i want to treat my car good, dont want to put cheap parts on to ruin my car. Im looking around 200-500 range before installation

---------- Post added at 08:23 AM ---------- Previous post was at 08:22 AM ----------

and dont we all wish we had the money to buy coilovers? lol i would rather put on a catback first :P
ur best option is lowering springs. a quality set ranges from 150-300. some brands u can go with are Eibach, SSC, K-Sport, B&G, H&R, Tenzo-R...theres more but those are the popular ones
---
07 Laser Blue LT Sedan
My Car Domain:
http://www.cardomain.com/ride/3805600
4 Doors = More Whores
dont forget about pedders
mmmm rice<3
Join Date: Jul 2009
Location: State College, PA
Posts: 837
I'm ordering Tenzo-R Spings real soon, evenutally gunna get struts but that can wait for now.
---
2009 Imperial Blue Metallic Cobalt SS/TC Sedan - "Stock":
2008 Victory Red HHR SS - Stock
2005 Chili Pepper Red Ion Redline - Stock
2007 Sunburst Orange Metallic LS Coupe - Sold
I have the Tenzo R springs on stock struts/shocks.




---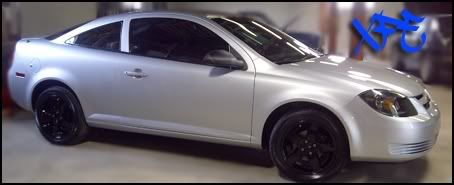 how much did the Tenzo's drop your car and hows the ride now?
---
2009 Imperial Blue Metallic Cobalt SS/TC Sedan - "Stock":
2008 Victory Red HHR SS - Stock
2005 Chili Pepper Red Ion Redline - Stock
2007 Sunburst Orange Metallic LS Coupe - Sold
Posting Rules

You may not post new threads

You may not post replies

You may not post attachments

You may not edit your posts

---

HTML code is Off

---