Forum Regular
Join Date: Dec 2007
Location: VA
Posts: 139
Need New Tires Soon
---
hey guys i tried to search around for a bit but i couldnt find anything so i'm gonna ask the general public. I have a set of 16x7 enkei wdm rims. I hit something in the road the other day, and still dont know what it was. but now i must get new tires. Before i stayed with the stock 205/55/R16 size tire, has anyone run a smaller size? maybe like 205/50 or 205/45? I'd like to see if it looks any better. I like the 16" size and thought id see if anyones running a different size. Thanks
here are my wheels and tires as is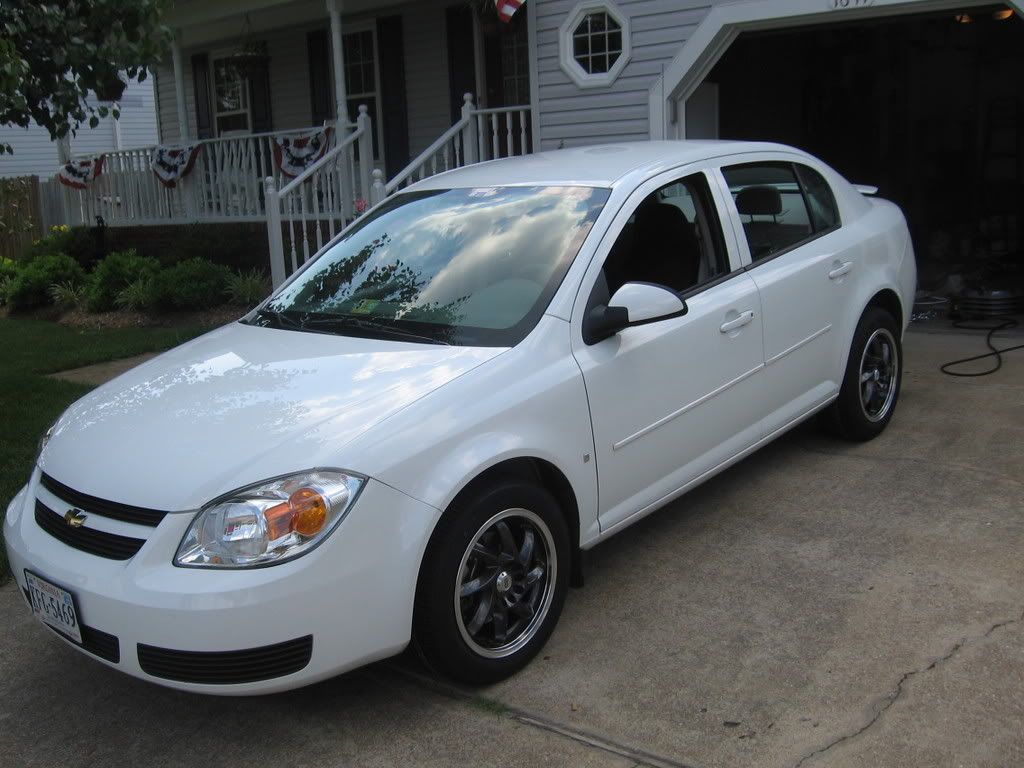 Forum Regular
Join Date: Dec 2007
Location: VA
Posts: 139
Cobalt Specialist
Join Date: Mar 2010
Location: Pittsburgh, Pistolvania
Posts: 1,218
It depends on what you're looking for. I had Kumho Ecsta's on my G5 and they did very well. I still have them sitting in the garage, but they're 195/60R15's on MSW Type 11's.

I'm currently running Cooper Zeon ZPT's on the Cobalt, but I won't get them when they wear out since they are not the correct speed rating for my car (They're only rated for 130mph, the SS can hit 158...)
---
GM Stage II | 2nd Gen Projectors | 5000K Low Beams | 3000K HID Fogs | LED Tails| SS/TC Seats
▲RIP 2007 G5: Totalled 1/26/10▲
Forum Regular
Join Date: Dec 2007
Location: VA
Posts: 139
I'm not looking for opinions on tires, im more looking on opinions of the height of the profile. should i stick with the 55 or go lower for a low profile tire? im not saying im gonna drop to like 40 but 50 might look better and i was seeing if anyone had that size tire. Just for a visual on a cobalt.
Cobalt Specialist
Join Date: Feb 2010
Location: Charlotte NC
Posts: 1,336
I wouldn't go any lower profile, it's just going to increase your wheel gap. I don't like the way 16s look with really low profile tires. i don't have a picture, but i've seen it on here somewhere.

why do you need to replace all 4 tires because you hit something in the road?

Also, lower profile reduces ride quality and I think life of the tire as well.
---

Forum Regular
Join Date: Dec 2007
Location: VA
Posts: 139
well i don't NEED to replace all four, but i will need to replace one because pretty soon the sidewall is gonna blow out, it got scraped up pretty bad, and my tires are pretty crappy anyways cuz i cheaped out on tires when buying my rims. dumb mistake, but i have learned from it now. I didn't honestly think about the wheel gap before, but graduation is coming up and will probably be putting my grad money to some new springs as well. Good info on ride quality and tire life too. Thanks guys, i'm thinking ill stick with the stock size. Love getting info from this site!!!
Posting Rules

You may not post new threads

You may not post replies

You may not post attachments

You may not edit your posts

---

HTML code is Off

---