Newcomer
Join Date: Mar 2010
Location: Albuquerque, NM
Posts: 48
White Rims?
---
i know a guy with a yellow lancer oz rally with white rims and i think they look pretty cool. anybody put white rims on the cobalt? opinions?

ive got a red 4dr cobalt
not yet. I like white rims but most people on here dont
Forum Regular
Join Date: Dec 2009
Location: New Orleans
Posts: 66
I like white rims too I'm getting me some rims in a few months then getting them powder coated white so I'll post it up when I do... but first priority is pay off car loan =P
---
Tinted windows (20%), Lowering springs, YC Decals, K&N Intake, DC Strut Tower, Borla Exhaust.
Forum Regular
Join Date: Aug 2009
Location: Miami, FL
Posts: 153
i wanted white rims but i figured black rims would flow better on the car but i wanna see an imperial blue balt on white rims, maybe ill change my mind
Contributor
Join Date: Mar 2010
Location: Portland, OR
Posts: 379
They belong on rally cars.
---
Portland's SS wannabe
'08 Cobalt LS coupe:
Check out my showoff thread!
K&N Typhoon Short Ram Intake
Raceline 17" Type 126 rims
Shift boot stitching mod

Unless it's a track car no.
---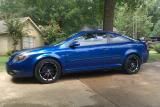 05 Cobalt LS 2.2
93 Turbo Supra
i was going to try it on my red coupe but then i ended up getting alloy wheels i would go for it
---
My sig thanks to Gcobalt
Veteran
Join Date: Sep 2009
Location: maryland
Posts: 745
ohhh my, me like!!! very nice
---
Posting Rules

You may not post new threads

You may not post replies

You may not post attachments

You may not edit your posts

---

HTML code is Off

---