215/45-17 Vs. ?? - Please Advise
---
Hey folks, I recently aquired a set of 17" x 7" rims for my LS sedan. I was looking for 16's but ran across a smoking deal on a set of 17's instead. What I've been trying to determine however is what size tire to run. From my research on here it looks like 215/45-17 is the one to go with. How does this tire work out with respect to not only rubbing but also filling the wheel well? I am considering a mild drop as well to go along with the new rims. I'm basically looking for the best possible tire size to choose based on all parameters and am hoping to get some advice from those who have been down this road before. Would 225's work/look good? From what I see and read on here, 205's may be a little too low profile unless a big drop is in order. Correct?

Thanks in advance.

J
Quote:
Hey folks, I recently aquired a set of 17" x 7" rims for my LS sedan. I was looking for 16's but ran across a smoking deal on a set of 17's instead. What I've been trying to determine however is what size tire to run. From my research on here it looks like 215/45-17 is the one to go with. How does this tire work out with respect to not only rubbing but also filling the wheel well? I am considering a mild drop as well to go along with the new rims. I'm basically looking for the best possible tire size to choose based on all parameters and am hoping to get some advice from those who have been down this road before. Would 225's work/look good? From what I see and read on here, 205's may be a little too low profile unless a big drop is in order. Correct?

Thanks in advance.

J
I would go with the 215/45/17 because I want a little less sidewall than a 225/45/17 and I dont think a 17x7 needs a 225 size tire. I dont like tires that buldge at all so for me 215/45 was the best. However 205/50/17 is what stock SS/NA comes with and that size would work too. The 205/50 actually has more sidewall and is comparable to the 225 in circumference. Out of the bunch the 215 has the smallest circumference.
i thought when it comes to the sidewalls it's the second set of numbers not the first.

it should go like Width/height (sidewalls)/rim size...? am i wrong here???
---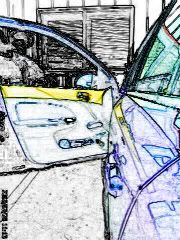 Cobalt Master
Join Date: Feb 2010
Location: Wisconsin
Posts: 1,545
215/45 is your best bet with 17's.. you could go with 225/45 if you wanted i suppose but the tire might buldge out a bit. i have also seen 215/50 on 17" rims which fills the wheel well out nicely and probably rides better but the speedo is then off by a little bit
---
205/50/17.... best all purpose size. Fit, feel. handling, looks. And NO spedo error issues or trans/emission probs.

423
---

If You're SCARED... SAY You're SCARED...
I still haven't bought tires yet. My local tire guy tells me he has a smoking deal on a set of 215/50-17's so I was seriously considering those. I'm guessing these will fill out the wheelwell nicely and not require immediate lowering to look right. Springs aren't in the cards yet as I have issues with my Avalanche and I'm trying to bring my YJ back from the dead (looking for a set of 35's for that to go with the spring-over lift and aftermarket springs). $$$$$$$$$$$$$$$$$$$$$$$$$$$$$$$$$$$$$$$
J
Cobalt Specialist
Join Date: Mar 2010
Location: Pittsburgh, Pistolvania
Posts: 1,218
Quote:
Just remember if you get a tire that is a different height(diameter) of your original tire, your speedometer will be off.
Tire size calculator
---
GM Stage II | 2nd Gen Projectors | 5000K Low Beams | 3000K HID Fogs | LED Tails| SS/TC Seats
▲RIP 2007 G5: Totalled 1/26/10▲
Posting Rules

You may not post new threads

You may not post replies

You may not post attachments

You may not edit your posts

---

HTML code is Off

---