Newcomer
Join Date: Jul 2011
Posts: 8
Help Please... Anyone Get FE5/LNF Struts from Rock Auto.com?
---
I see through the search function that the FE5 T/C struts are part# 19181044/19181043 for left and right sides. I also see that most members suggest ordering from CED.
The price through rock auto seemed so much cheaper until I realized that the part numbers come up differently as 19181251/19181631 for both CED and rock auto.
I'm just trying to upgrade to FE5 LNF struts and shocks. Anyone order struts from rock auto and get the right parts?
---
Last edited by ritchie; 01-07-2014 at

09:58 PM

.
Im going to get the FE5 shocks and struts from Rock Auto. Just go to the 2008 Chevy cobalt and do the 2.0 selection and buy those ones. They will be the right part.
I got mine from CED and I am assuming these are the FE5's, I have no clue...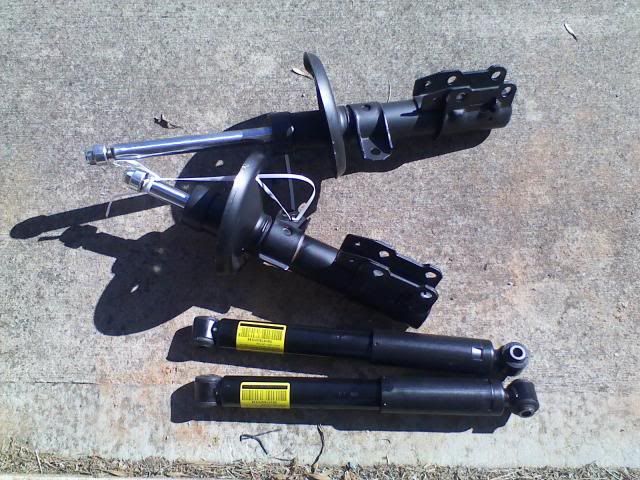 ---
2009 Cobalt LS XFE U74
Mods: K&N Typhoon Intake, Option Cat-Back Exhaust, Cosmo Short shifter, Maxxim Ahead 17X7's, MPx shorty antenna, FE5 Strut/shocks, Tein S Techs, Moog endlinks, Moog spring seaters, ZZP shorty header, LSJ downpipe, LNF front grille
I got my fronts from Rock Auto, as they were cheaper than CED at the time. I checked my records and those were the pn's I ordered.
---
"You all know I take great pride in my title as Mr. Positive."
My Showoff
Forum God
Join Date: Feb 2010
Location: KCMO
Posts: 2,204
Rock Auto is a legit source.

I wouldn't hesitate to order anything from them.
---
The Racekar - SOLD!
:
http://www.youtube.com/watch?v=fIW9XK_WMR4
2007 Cashmere Metallic Chevy Cobalt LT Sedan
...totaled 04/11/2011
2010 VR Cobalt 2LT Sedan
Debadged, ZZP Intake, Custom 2.5" Exhaust/Borla Pro XS, FE5 Bidnez with KSport Springs.
Previously dumped on BC Xtreme Low's...RIP LOWLYFE :(
Newcomer
Join Date: Jul 2011
Posts: 8
Thanks to all for replying. I am ordering the fe5 struts, strut mounts and Moog end links from rock auto, and ssc springs.
Everyone's expertise is greatly appreciated
Good choices.
---
2009 Cobalt LS XFE (F23) Victory Red
YYZ V.3 Springs, Koni shocks/struts, Powell XXX rear swaybar, Brembo brake swap, 5 lug conversion, Ion Redline wheels, SS/SC interior swap including power conversion, K&N intake, Trifecta tune, Ark Performance N-II catback, Ark shorty antenna, SS body kit, Powell F23 rotated mount, LNF rear mount, Powell CABs
Soon to come- EFR 6758 turbo kit and make Retro Headlights.
you will be happy with that setup, keep us posted!
---
WA636R - Switchblade Silver Mt
09 Sedan LT 2.2L LAP......Auto!
MODS:Fe5 TC Shock + Struts\Moog Endlinks\YYZ V1 Springs\SC Gunmetal Wheels. Badmab Shorty Header\GMPP Performance Exhaust\ZZP 2.5 Catted DP\K&N Drop-in filter\High Flow Intake Tube. Gen4 Headlights\6K Low Beam HID\LED 3rd Brake Light\LED Turn Signals,Plate,Trunk, Dome, Reverse, Side-marker\ Debadge "LT" & GM fender badges\Shorty Antenna
Join YC.com on Facebook!
Like YC.com on facebook too!
Posting Rules

You may not post new threads

You may not post replies

You may not post attachments

You may not edit your posts

---

HTML code is Off

---