Update on Overhaul FE1-FE5
---
Here is the current update on my suspension overhaul. Still waiting on front strut #2 boot, bellow, and strut mount. Hopefully these Moog parts will do better than OEM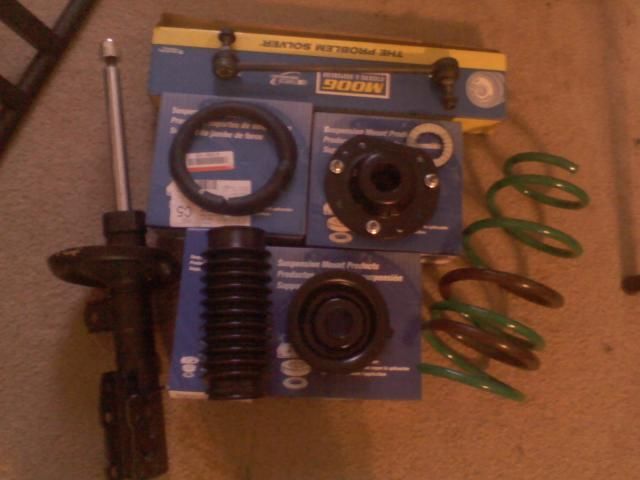 More to come
---
2009 Cobalt LS XFE U74
Mods: K&N Typhoon Intake, Option Cat-Back Exhaust, Cosmo Short shifter, Maxxim Ahead 17X7's, MPx shorty antenna, FE5 Strut/shocks, Tein S Techs, Moog endlinks, Moog spring seaters, ZZP shorty header, LSJ downpipe, LNF front grille
I have a lot of moog parts on my suspension overhaul too so far they have been good
Moog is really good. I had them on my Cobalt and about to order them for my G5.
Awesome, well next saturday after work, I have the shop to myself to work on my car
Throwing the front struts (complete) with endlinks and installing the ZZP shorty header then use our WinAlign aligment rack. I would need to order the rear shims for camber adjustment too.
---
2009 Cobalt LS XFE U74
Mods: K&N Typhoon Intake, Option Cat-Back Exhaust, Cosmo Short shifter, Maxxim Ahead 17X7's, MPx shorty antenna, FE5 Strut/shocks, Tein S Techs, Moog endlinks, Moog spring seaters, ZZP shorty header, LSJ downpipe, LNF front grille
Surprisingly even lowering my car my camber is still is the factory limits Im pretty sure.
Well ill do an alignment check with the shop's machine. Im almost certain I would need to adjust the eccentric bolt for camber.
---
2009 Cobalt LS XFE U74
Mods: K&N Typhoon Intake, Option Cat-Back Exhaust, Cosmo Short shifter, Maxxim Ahead 17X7's, MPx shorty antenna, FE5 Strut/shocks, Tein S Techs, Moog endlinks, Moog spring seaters, ZZP shorty header, LSJ downpipe, LNF front grille
Posting Rules

You may not post new threads

You may not post replies

You may not post attachments

You may not edit your posts

---

HTML code is Off

---