New wheels for the cobalt
---
Well I finally got some new wheels for the balt and I am pleasantly surprised with the results. They are Lexani R fives 18x8 with 235/40-18 kumho exsta ast, more pics to come
The box:
Test fit:
Right after I got them:
That night:
During the day: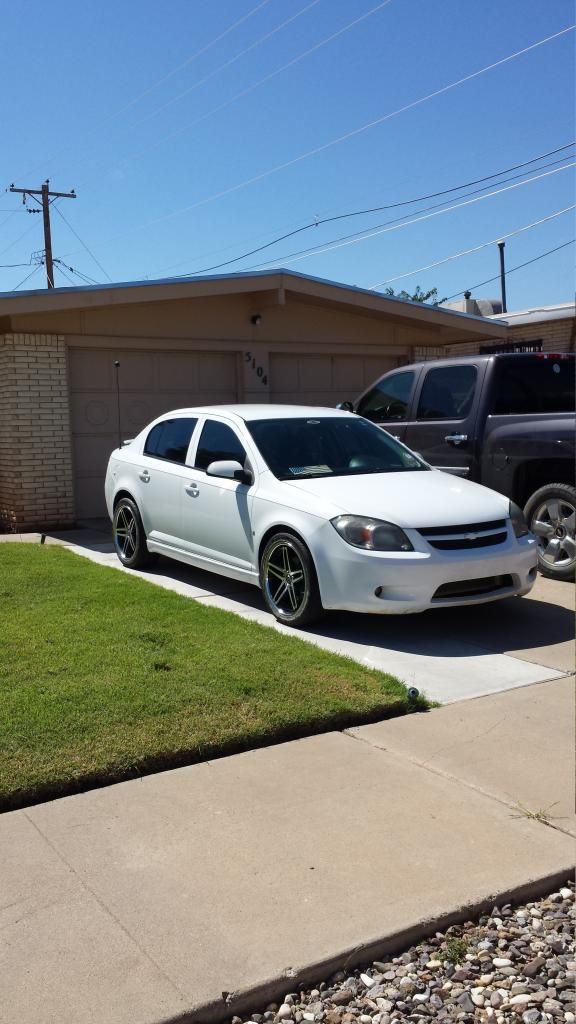 ---
Future mods:
chevy 572 c.i. motor insatall
Is insatall similar to an install?
---
Every minute spent angry is a happy minute lost for ever and ever!!!
Drives 2016 Cocoa Buick Encore 1.4L Turbo auto KL4CJDSB2GB652675
Drives 2016 Sunset Orange Trax LT1 1.4L Turbo auto 3GNCJPSB8GL142716
Never drive faster than your guardian angel can fly
Contributor
Join Date: Apr 2011
Posts: 425
Insatall? I don't get ya coby
---
Future mods:
chevy 572 c.i. motor insatall
i think he meant your signatures type lol, and i think those wheels look pretty sweet
---
WA636R - Switchblade Silver Mt
09 Sedan LT 2.2L LAP......Auto!
MODS:Fe5 TC Shock + Struts\Moog Endlinks\YYZ V1 Springs\SC Gunmetal Wheels. Badmab Shorty Header\GMPP Performance Exhaust\ZZP 2.5 Catted DP\K&N Drop-in filter\High Flow Intake Tube. Gen4 Headlights\6K Low Beam HID\LED 3rd Brake Light\LED Turn Signals,Plate,Trunk, Dome, Reverse, Side-marker\ Debadge "LT" & GM fender badges\Shorty Antenna
Join YC.com on Facebook!
Like YC.com on facebook too!
Very nice! Plan on getting some rims eventually. Kinda just waiting until my tires are more worn out tho. Debaiting on 17s or 18s.
What do you plan to do with your old rims?
How much did those rims cost ya?
Contributor
Join Date: Apr 2011
Posts: 425
Thanks everybody, they ran me $1100 for just the wheels, yeah a little pricy but well worth it, and as for my old wheels I plan to save them for a future project
---
Future mods:
chevy 572 c.i. motor insatall
Posting Rules

You may not post new threads

You may not post replies

You may not post attachments

You may not edit your posts

---

HTML code is Off

---