Forum Regular
Join Date: Jan 2008
Posts: 106
brake sounds
---
Car is 3 days old with 100mils on the clock. When I step on the brakes, it makes a sound exactly like this: woo...woo....woo...The sound is not metalic, like brakes sqeeking. It just goes woo....woo...woo.... as I'm coming to a slow stop.

Is it brake dust? Is it the roters? Brakes are consider wear and tear so is it under my 3/36 warranty?
---
2008 Cobalt Sedan LT automatic
i would take it right back to the dealer a.s.a.p and tell them it's doing this. if it's something other than pads that is defective then it may be warranty issue. but they might still try and screw u like they are me with my defective pressure plate issue, but i'm talking with the district GM REP. so yeah take it back asap iwould
---
yeah i mod, it's called having style.......
it is under wear and tear, but if the car has the original set on it still, and hasnt been driven all that much, it should be covered still
exactly so get back to the dealer! otherwise they'll eat u up and spit u out and tell u that u beat on your car, lol thats all they tell me. but they stink like liers.
---
yeah i mod, it's called having style.......
Brand new car with brake noise, I'm guessing it sat on the lot and got rust on the rotors. Take it back just like cobalt-z suggested. They can't deny anything on a car that new with that low of mileage.
---
2006 LS coupe, manual, Victory Red
Sportlines, FE5 struts, shocks, front swaybar, Progressive 22mm rear swaybar, Airlift load assist rear airbags, TWM ST shifter, smoothed TB, LSJ exhaust, debadged, demudflapped, Yokohama AVID Touring P195/60R15's. Soon to come 17x7 Motegi Tracklight 1.0. Best to date 15.402 at 90mph

"No friend ever served me, and no enemy ever wronged me, whom I have not repaid in full."
Lucius Cornelius Sulla
My '07 Cobalt had the same problem and I took it back to the dealership and my rotors were warped and it only had like 10miles on it. And now....16,500miles later not even a yr yet and my rotors are warped again and the brakes are almost gone due to the rotors. It sucks. I'm going down and raise cain about gettin them fixed again cuz that's ridiculous. It's not even a yr. Do you think the dealership would warranty that out?
---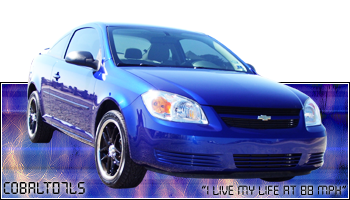 dude alls i have to say is the dealership 90% of the time will try and get out of helping you, if it doesn't help them. they probably will tell you that its from wear and tear and theres nothing they can do but CHARGE U! so if they give u crap when u take it back let me know and i'll get the number that you'll need to put up a fight and get ahold of the gm rep. in your area.
---
yeah i mod, it's called having style.......
Look at the brake rotors, if they appear rusty or rough where the pads go, thats most likely your noise. Its commonly called "lot-rot". I know it sucks, but you need to wait till youve got 200 miles before you go to the dealer, otherwise unless your dealer is AWESOME they wont cover it. GM recommends dealers not do warranty brake service for corrosion on vehicles with less than 200 miles. Its to cut back on costs and force dealers to drive the cars so they dont get lot-rot. I would call your dealer, and make an appointment, let them know how pissed you are, that way A: its documented before you even show up, and B: you'll have a chance to put some miles on it so they wont pull the 20 mile rule out on you, that and the rust may get burnished off by them. If you are concerned its a safety issue, OBVIOUSLY DO NOT WAIT> GO TO YOUR DEALER NOW>
---
ASE Certified master Technician
ASE Certified Advanced Engine Performance Specialist

GM Certified Technician
GM Mark of Excellence Winner(Top Honors, Engine Repair)
---
Last edited by Maven; 01-30-2008 at

05:45 AM

.
Forum Regular
Join Date: Jan 2008
Posts: 106
My dealer told me it will make noise for like the first 300-400 miles, and ask if it's metallic in sound. I said no. Is that what "lot rot" sounds like? It does sound like a roter because it goes like woooo....wooo.... woooo... as I'm coming to a rolling stop, while stepping on the brakes.

My appointment is tomorrow. I should have about 180 miles then.

The hard part will be, it only make "noise" some of the time. But now, when it does, it's louder than it was 3 when I first heard it a few days ago.
---
2008 Cobalt Sedan LT automatic
Does the steering wheel vibrate as well? Mine did well still does and I think it's the rotors..I swear it does. I look at it this way...if they don't replace it it's the 2nd time this has happened. And isn't there a rule if a problem occurs 3 times then it's a "lemon" and you can get a new car?
---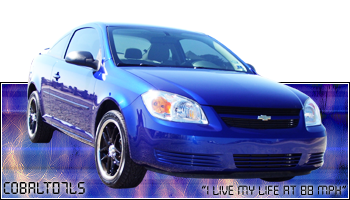 Posting Rules

You may not post new threads

You may not post replies

You may not post attachments

You may not edit your posts

---

HTML code is Off

---