FE5 Cobalt SS
---
Hey everyone,
So I've been autocrossing my cobalt LS for going on 2 years now. I'm looking to upgrade my suspension. So 2 questions, first the FE5 suspension which is on the cobalt SS, can they be used on the cobalt LS? Is it a direct replacement part? Second part of the question, is this suspension worth the money? I have found them on createenginedepot.com for right around $250 for the fronts and the rears. If you compare these to aftermarket struts they are MUCH cheaper but again are they worth it. If any of you have done this swap or have the SS model please tell me what you think.
Thanks
i would go with aftermarket
Cobalt Specialist
Join Date: Nov 2007
Location: Sunshine State
Posts: 1,250
FE5 springs are stiffer than the LS versions. I had an 06 LS and now have an 07 SS/NA -- the difference in ride is very noticable, my SS/NA suspension is a lot stiffer.

I also installed the FE5 rear springs on my 06 LS -- it dropped the rear end about .25" that's all -- but it evened up the look of the front and rear wheel wells, which is what I wanted it to do.
---
Ex-Cobalt Owner
well i dropped my LS ....i didnt do it for performance reasons really...i just wanted the look....how ever if you are going for the performance and look of a dropped ride Eibach is made to lower your car for looks and adjust to your car if your driving it hard for performance ..another way to stiffen up your suspension is by buying the DC Carbon Strut bar. Some people think it is for looks but after i installed it i felt a difference in cornering and body roll. Another aftermarket part you can buy is the Progress Rear Anit Sway Bar i belive it is 22mm and will help you as well with cornering. There are a few other odd and end things you can do such as a camber kit but the problem with the cobalt is that it has a solid rear axel so it is a bit rough...coilovers wont be worth it . With the Eibach lowering springs you CAN use the stock struts...however if you want i believe Koni is a company who is quiet reputable for an aftermarket replacement shock....and if you really want i believe 07bluegranite is selling his coilover setup for a decent reasonable price...check here.......
https://www.yourcobalt.com/forums/sal...vers-sale.html
---
Mod's So Far: AEM CAI, C.A. Header, 2.50 Magnaflow Catback Exhaust , ZZP Catless Downpipe, DC Carbon Strut Bar, Dropped on Progress Springs. Tinted, Fully Debadged, Custom front SS bumper,2 Audiobahn 10" w/JL amp, Lower Billett Grille, Sengen 18 x 8 rims wrapped in Capitol Sport UHP 225/40/18.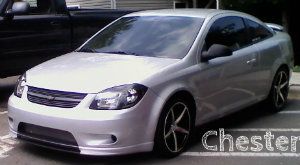 ---
Last edited by Chester; 02-23-2008 at

05:57 PM

.
Thanks Red that is totally what I was looking for. What do you think of your cat-back from createenginedepot.com? I just put one on my LS a couple of weeks ago. It sounds sweet but don't know if I'm getting all the promised horses and torque. I really should have dynomed it before and after the install.
Cobalt Specialist
Join Date: Nov 2007
Location: Sunshine State
Posts: 1,250
I was happy with the GMPP performance Cat-Back on my 06 LS. I had the GMPP Touring exhaust on my 07 SS/NA but felt it wasn't helping to make the most HP so I went with CED's Random tech 2.75" cat back exhaust -- it is louder then the GMPP perf and I feel it "freed up" a few more ponies. No dyno graphs to back it up though.
---
Ex-Cobalt Owner
cratenginedepot also has a suspension kit, which is a complete FE5 kit. However I would recommend what I did and just get the struts, shocks, and front swaybar components. Then go aftermarket for a good set of lowering springs and the Progress rear swaybar. At the moment the current 22mm rear swaybar from Progress is not enough to overcome the FE5's 24mm front bar. They are currently in the final testing stages of a new 25mm bar that I believe will complement the 24mm front bar nicely heres a link to the cratenginedepot.
Cobalt Suspension - Crate Engine Depot
---
2006 LS coupe, manual, Victory Red
Sportlines, FE5 struts, shocks, front swaybar, Progressive 22mm rear swaybar, Airlift load assist rear airbags, TWM ST shifter, smoothed TB, LSJ exhaust, debadged, demudflapped, Yokohama AVID Touring P195/60R15's. Soon to come 17x7 Motegi Tracklight 1.0. Best to date 15.402 at 90mph

"No friend ever served me, and no enemy ever wronged me, whom I have not repaid in full."
Lucius Cornelius Sulla
i really wish i had the money for that exhaust but being a college student sucks thats why i am going the custom exhaust route to save me some $$
Hey Montecarlo, thanks for the link to Createenginedepot. As I said I got my cat-back exhaust from them (which sounds SWEET!!!). I'm gonna look into the full FE5 suspension package. The only problem is that the rules for autocross are very strict and putting on the entire SS suspension may bump me up into the next higher class. I'm gonna check on that but all I know is I don't have the horses to hang with the racers in the next class up. I'll tell y'all what I find out.
Posting Rules

You may not post new threads

You may not post replies

You may not post attachments

You may not edit your posts

---

HTML code is Off

---