AD Fail
---
The advertisements at the top of each page are blocking my drop down menus for navigating the site, not all but most do this. The menu list that drops down when I click goes behind the advertisement and I cant see what im clicking on, requiring me to refresh page until I get an ad at the top that doesnt block it. This has been happening for months but its getting worse because the newest advertisements I have seen are all blocking it. If I didnt make clear I can post a picture
---------- Post added at 05:45 PM ---------- Previous post was at 05:38 PM ----------
COMMUNITY LINKS FAIL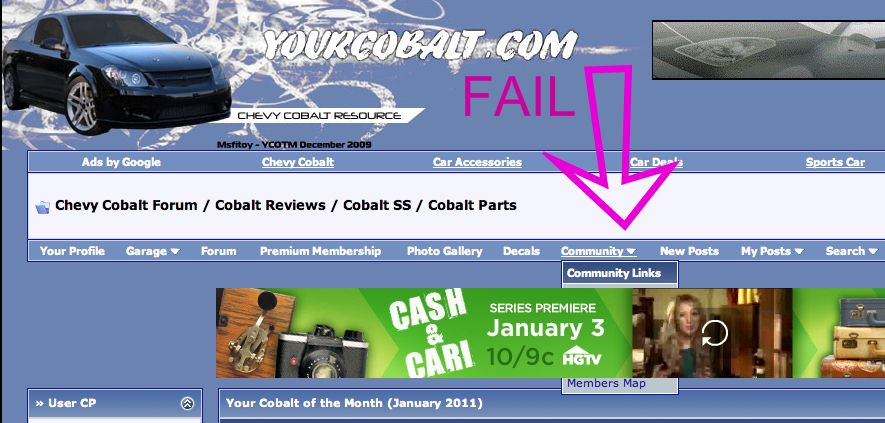 ---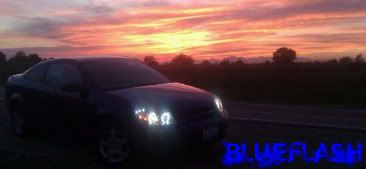 2006 Laser Blue LS -
Wrecked
Cobalt Specialist
Join Date: Mar 2010
Location: Ohio
Posts: 1,056
It doesnt always do that though, It works for me too sometimes... And lord no im not using internet explorer, that browser makes me want to cut myself. Im using safari on my mac.
---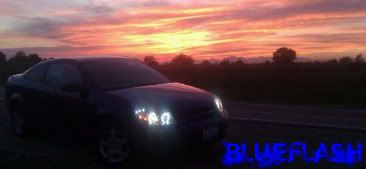 2006 Laser Blue LS -
Wrecked
Cobalt Specialist
Join Date: Mar 2010
Location: Ohio
Posts: 1,056
HA! the only computer I have ever used that has been better than my mac, Is the desktop I built that cost thousands of dollars. My macbook pro is 1000000000000000 times better than my old gateway, my sisters toshiba, and my mothers and sisters new laptops, whatever brand they may be....
---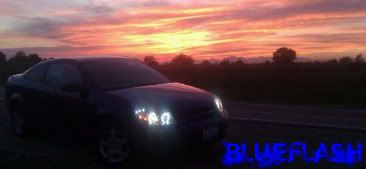 2006 Laser Blue LS -
Wrecked
No problems here.

---------- Post added at 07:13 PM ---------- Previous post was at 07:13 PM ----------

But I see no ads.




---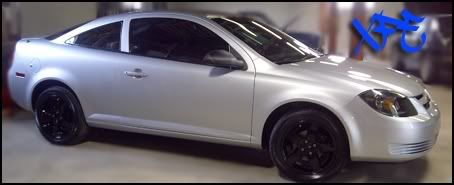 Quote:
No problems here.

But I see no ads.
This
---
1986 Chevrolet Camaro IROC-Z
- Wrecked/Sold
1998 Chevrolet Cavalier
- Wrecked/Donated
2007 Chevrolet Cobalt LT
- M62 Supercharger, Ported Throttle Body, 42 lb/hr Injectors, Intense 2.9" Pulley, Cobra Heat Exchanger, SS/TC Exhaust, TTR Engine and Trans Mounts, Trifecta Tune, ZZP Header and Downpipe, '08+ FE5 Struts/Shocks, SSC Springs, FE5 Control Arms, SS/SC Front Swaybar, Powell Hardcore Rear Swaybar, 18" MSR 045s, Dunlop ZIIs, Nightshaded Tails/Side Markers, Shorty Antenna, Black Bowties, Black Grilles, Black Headlights, Dual JL 12" w1v2 Subs, A/D/S Front/Rear Speakers, Pioneer 7" Touchscreen, G85 Recaros, Leather Rear Seats, 160 MPH Cluster.
2014 Chevrolet Cruze Diesel
- 17" MSR 013s, Black Bowties, Black Tails, UR Rear Lower Bar
1981 Chevrolet Camaro Z28
- JVC Ribbon Tweeters, SEAS Mids, Pyle Woofers, Kenwood Tape Deck, Zapco Amp/Equilizer, Ceramic-Coated Longtubes, 2.5" Pypes Stainless Exhaust, Bilstein B6 Shocks, GW U/L Control Arms, Hotchkis Springs Sway Bars, DD HDX Cluster
2017 Chevrolet Volt LT
- Black Bowties
Posting Rules

You may not post new threads

You may not post replies

You may not post attachments

You may not edit your posts

---

HTML code is Off

---