Newcomer
Join Date: Sep 2009
Location: Cincinnati, Ohio
Posts: 3
Ohio_Balt /2007 Chevy Cobalt LS Coupe / Cincinnati, OH
---
Not too many performance mods, just a custom Spectre intake
Everything was done by me some stuff isn't finished yet so feel free to criticize
Current Mods
-Pilot Underbody Neons
-Custom Intake
-Removed Engine Cover
-1000W 2 12" Visonik Subs and 3000W 6 10" Visonik Subs
-2.5% Window Tint
-Netami Racing Seatbelts
-Netami Colored Bulbs (Dome, Trunk, License Plate Lights)
-Switch Plate for Subs and Neons
-Red Pilot Shift Knob and Boot
-R-Racing Red and Black Floor Mats
-Removed Rear Headrests
-Removed Seatbelt Holders (thanks to Beam1229)
-Remove Stock Seatbelts
-Pioneer Head Unit
-Paint Interior Red and Black
-Black Door Panels
-Red Vinyl Door Inserts
-Remove Airbag Decals
Soon to Come...
-Eibach Sportline Springs
-10-15% Tint on Front Windows
-5% Tint on Back three Windows
-Driver Side Triple Gauge Pod
-Cat Back Exhaust
-Cobalt Third Brakelight Decal
-Gauge Overlay
-17 or 18 inch Rims
-Red Underdash Neons
-Red and Black Racing Seats
-SS Style Spoiler
-Paint Calipers Red
-Red Paint on Under the Hood Plastics/and Red Wire Covers
-Customize Rear Shelf
-New Speakers
-Debadge All Except Front Bowtie which is to be painted black
Nice list so far! GL! how did you remove the airbag warnings?
---

"A wise man speaks because he has something to say,
A fool speaks because he has to say something"

OBZ's showoff thread!
i can't see your pictures. it's showing them as little red x's
---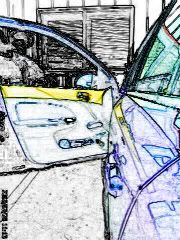 Banned
Join Date: Jul 2009
Location: Johnstown
Posts: 164
same little red x's for me too!
Posting Rules

You may not post new threads

You may not post replies

You may not post attachments

You may not edit your posts

---

HTML code is Off

---