Newcomer
Join Date: Nov 2009
Posts: 42
Utsadude/2007 Pontaic G5 GT/San Antonio, TX
---
Herro everybody.
I'm Chip. I drive a Performance Red Tintcoat Pontiac G5. And I love her.
I bought her August 30, 2008. She was used and had ~27K miles on her. She now is about to roll over 70K. I drive a lot.
Anyway, she is a fully loaded GT. Leather heated seats, Pioneer speakers, sunroof, the whole shebang.
Oh, and she's the only manual I could find in Texas at the time...
I have changed quite a few things on her since I got her. And here is my mod list.
Mods:
Performance/Handling:
Injen CAI/SRI intake (stays in CAI form)
OBX header
MagnaFlow catted downpipe (soon to be gutted and replaced with a custom pipe with QTP electric cutout)
Ingalls torque dampener
Prothane tranny mounts
TTR solid engine mount
Eibach Sportlines
BFGoodrich T/A KDW2s 225/45-17 wrapped on the stock GT rims (soon to be replaced by TC rims)
Trifecta tuned
Exterior:
Black vinyl overlays for the arrowheads
Debadged except for the front and rear arrowheads
SS/TC lower grille
Homemade shorty antenna
Tinted tail lights
First gen headlights with 6000k 55w HIDs
LED front turn signals, rear tail lights, reverse lights, and side markers
Interior:
Custom gauge face with LED swap
Black headliner
LED map lights and trunk light
LEDUnderglow 7 color footwell LED bars
Painted black door pulls/bezels(whatever they are called)
Shiftstyle black leather shift boot with purple stitching
Pioneer AVIC-D3 with XM, Nav, Bluetooth, and iPod adapters (love this headunit!!!)
35% tint on front two windows
5% on the back three
Piktar time!!!
The day I got her
SS/TC grille before I painted it black. Bought it from another forum member...
The KDWs!!!
The new gauge face!
The AVIC
The headlights
I had one of them installed a little wrong. Didn't get into the bracket correctly... Fixed now.
Random
Do you like what you see YC?
Will post more pictures after I wash her and find a nice place for a shoot.
Thanks for looking!
---
Looks Great! Very Clean ride sir!




---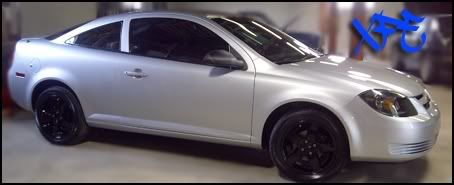 Newcomer
Join Date: Nov 2009
Posts: 42
Thank you. The only thing I don't like about her right now is the few scratches/dings I have from a few encounters.

My mothers dog climbing on my hood. Scratching it as she goes. And my buddy sitting on my hood. Leaving two nicely sized a$$ dents in it.
---
Rocket Power

Join Date: Jan 2010
Location: Southwestern PA
Posts: 711
Looks good! Love the color...should be called speeding ticket red cause it just looks fast sitting there! LOL
---

Yea, tho I cruise through the valley of the shadow of rice, I will fear no Turbo,
for Torque art with me. Thy rods and crankshaft, they comfort me.
Newcomer
Join Date: Nov 2009
Posts: 42
Quote:
Looks good! Love the color...should be called speeding ticket red cause it just looks fast sitting there! LOL
Haha. I have only gotten one speeding ticket in her so far.
Thanks. I love this color too.
---
nice car! good an subtle. i love the stock wheels for those!
Cobalt Specialist

Join Date: Sep 2008
Location: Huntington, TX
Posts: 1,306
very nice

my fav part is the gauge face, is that hte CF from black cat customs?
Welcome, nice ride...im jealous of your MPG's lol
---
2006 Cobalt: Bolt On's
Posting Rules

You may not post new threads

You may not post replies

You may not post attachments

You may not edit your posts

---

HTML code is Off

---