Forum Regular
Join Date: Mar 2010
Location: Ottawa
Posts: 113
2.2balt / 2008 Cobalt LT / Ottawa, ON *Updated 09/18/10*
---
UPDATED SEPTEMBER 18, 2010
Name:
2.2balt
Car Info:
2008 Chevrolet Cobalt LT
Stock Options:
XM, Leather, Pioneer, Sunroof, power stuff, chrome grill
Modifications:
Interior:
2007 SS/SC 6-disk head unit
GM Accessory pedals
Custom iPod integration (I rewired the AUX port on a second 6-disk deck I have so it sits under the radio, then a cable runs from there to near the handbrake, then I have a Griffin AutoPilot charger/remote (has track and play/pause buttons on it) and the dock connector goes from the ciggy lighter by the handbrake under the console and up and into the arm rest. As far as I know no one has actually run anything into the arm rest. Works MINT)
Painted door trim pieces (gloss black)
Exterior:
Painted trunk lock (gloss black)
Painted calipers/drums (gloss black)
Custom short antenna
Painted SS/SC headlights (gloss black, but hard to tell)
Chrome amber signal bulbs (look chrome when off, light up amber)
Pulled DRL fuse. I use the fog lights during the day as my DRLs as it looks more awesome with the black headlights
17" Fast Encore rims wrapped in 215/45/R17 Nexen N3000 rubber
Polished valve cover
22% tint all around
LED license plate bulb
Performance:
GMPP intake
Removed intake resonator....but doesn't really help/hurt performance haha
Future plans:
Maybe a catback
TC shocks/struts w/SSCs when warranty done
Rear sway bar (Powell or Eibach)
Maybe SC or TC aluminum control arms
Better tires (probably Yokohama S Drives
JP Vizage front lip
G5 GT rear lip
G5 GT/SS sideskirts
New pictures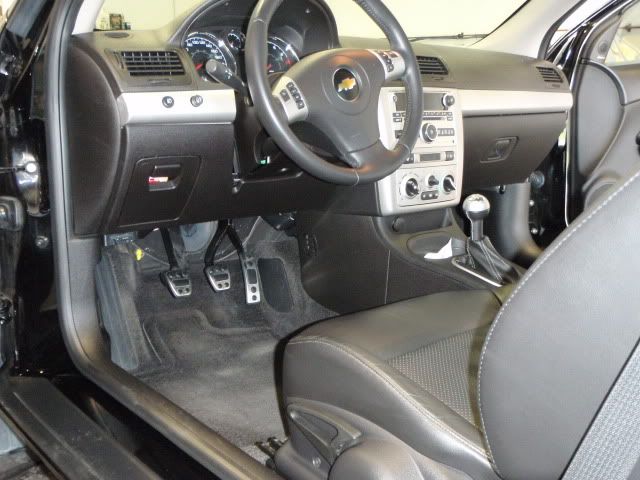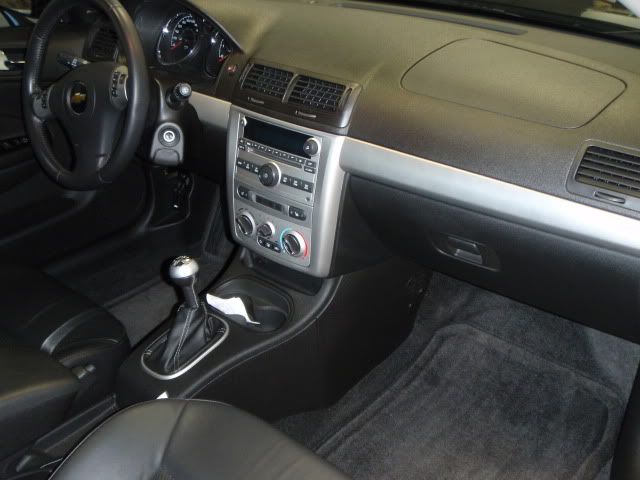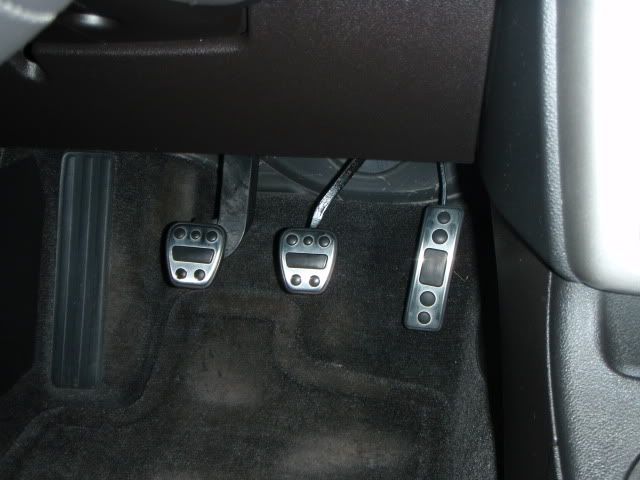 *6disc deck. Notice the lack of an AUX...the 4 wires that connect it to the radio have been lengthened so it can sit outside and under the radio*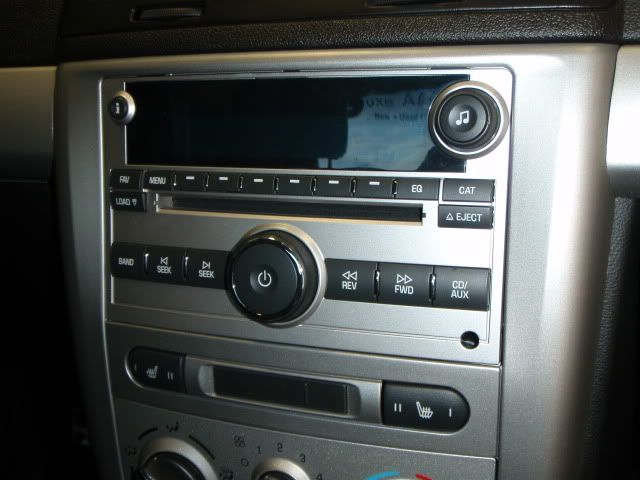 *Griffin AutoPilot charger/remote*
*The dock connector for the charger goes under the trim piece by the handbrake and up and into the arm rest. This was very difficult to do, there is a nice amount of metal structure for the damn thing...lol. That and I didn't have the right tools haha.*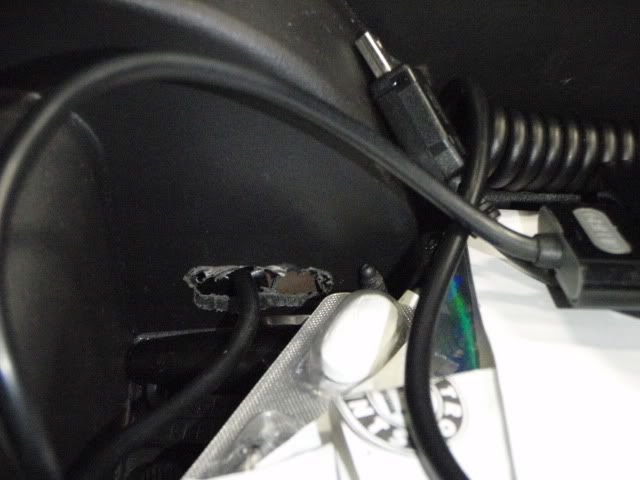 *iPod connected, but off*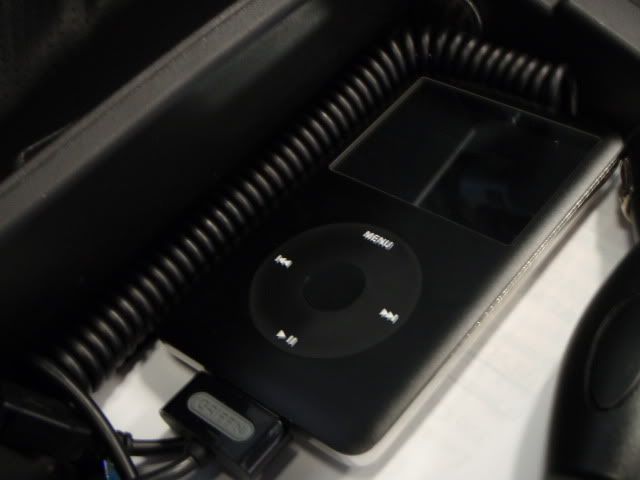 *How it all looks from overhead*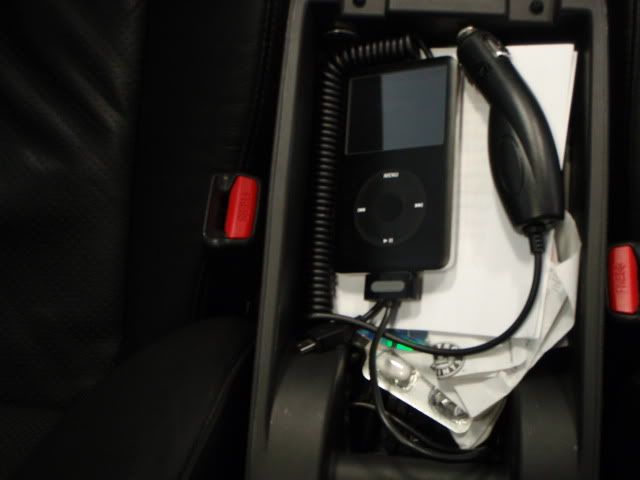 *At work*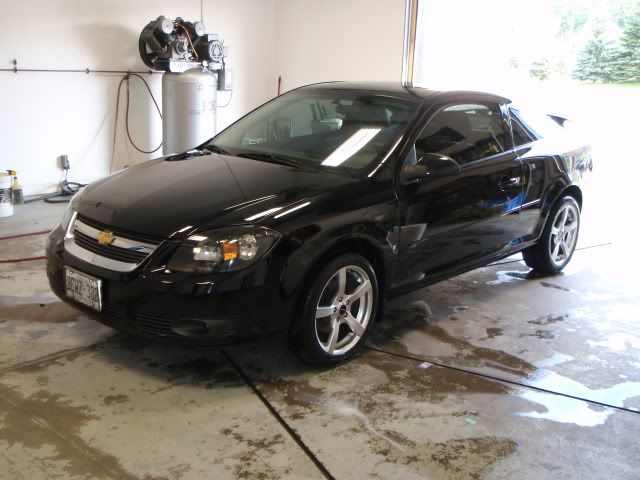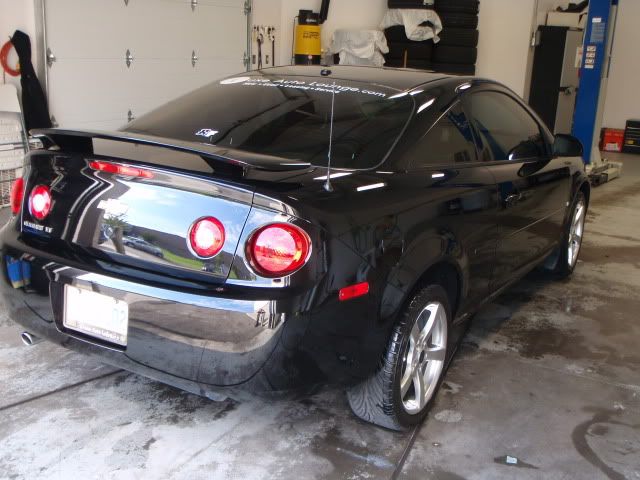 *At home*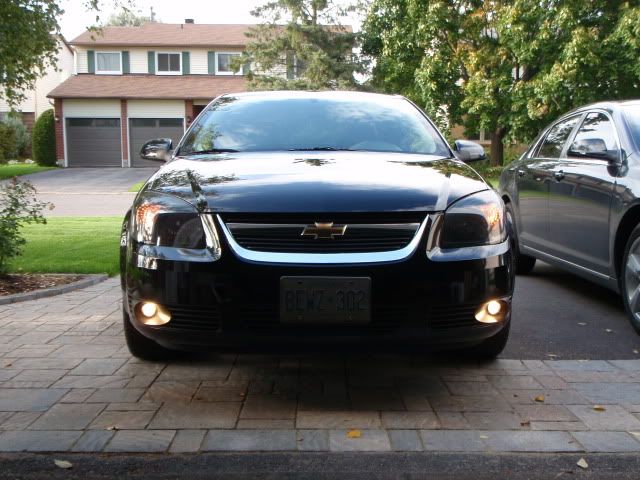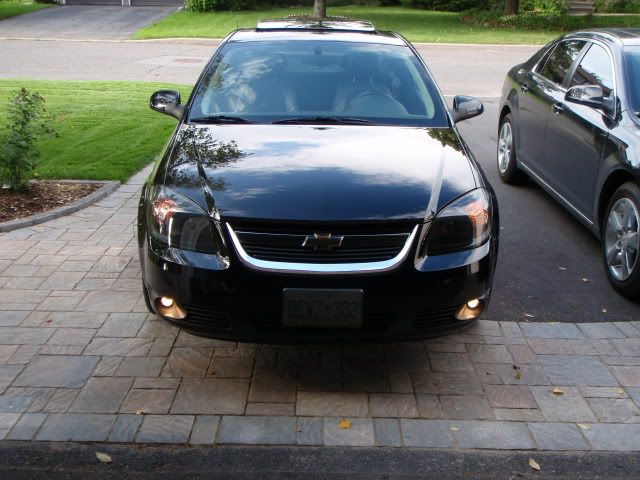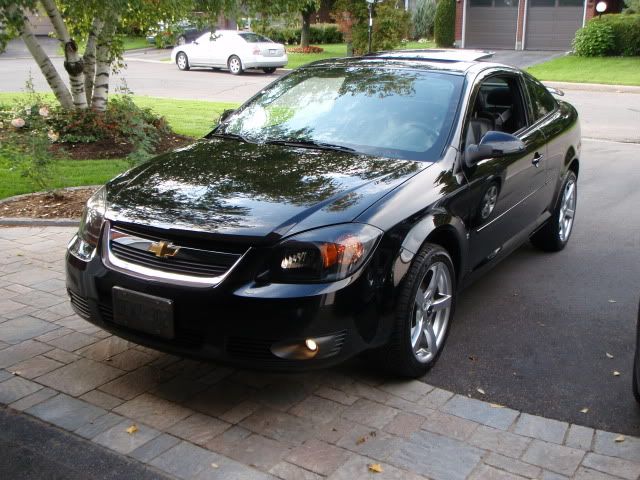 *The 'R7' is for my region in the Ontario Cobalt Club, and the Luxe banner is my work.*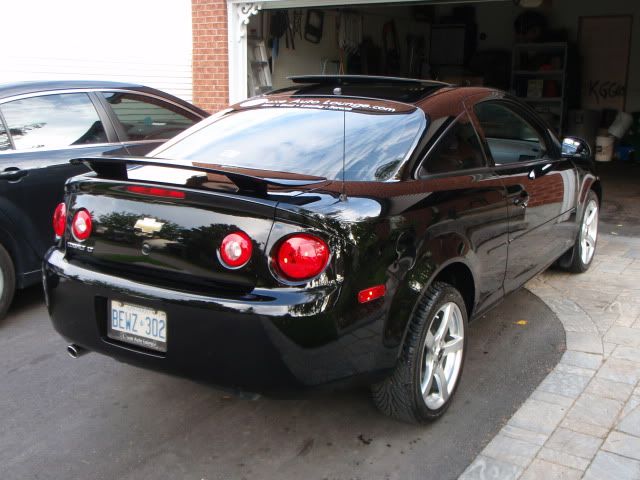 Previous pictures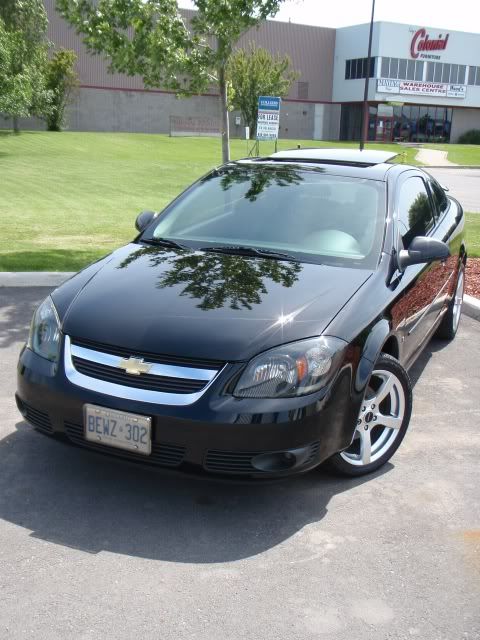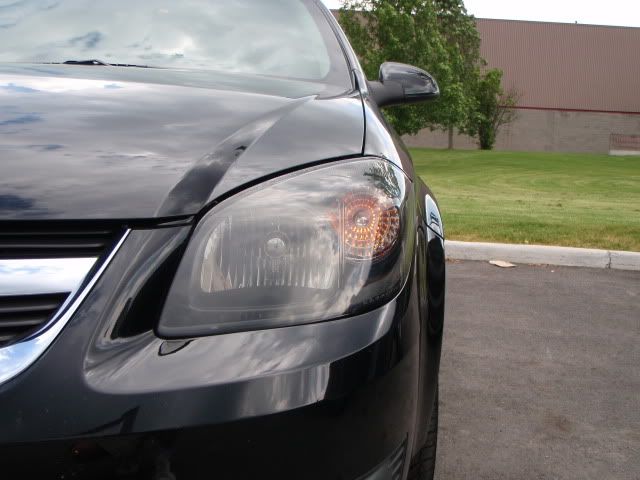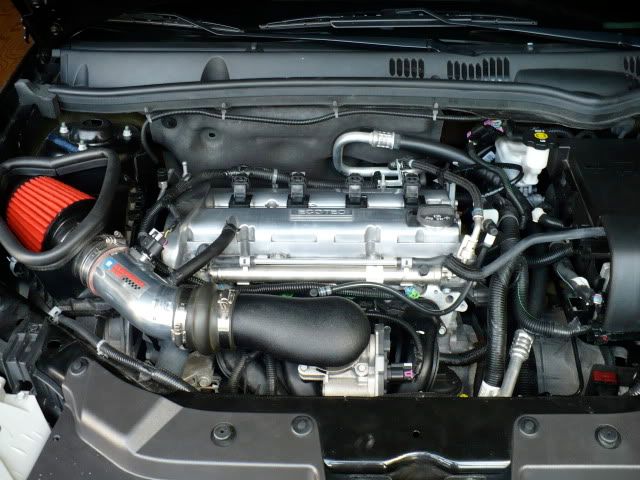 (*before any interior mods*)
---
Last edited by 2.2balt; 09-18-2010 at

02:44 PM

.
Veteran
Join Date: Aug 2009
Location: Hardyville, VA
Posts: 670
Contributor
Join Date: Apr 2010
Location: Chardon Ohio
Posts: 489
Black FTW!!!! Very clean love it!
---
LIVE LOVE BURN DIE

My Sig thanks PADLOCK
No one knows what is going on! Its just a simple answer with a complex conclusion
Forum Regular
Join Date: May 2009
Location: Eden (Buffalo Area), NY
Posts: 187
how much hp/gas mileage does the GMPP intake give you?
Forum Regular
Join Date: Mar 2010
Location: Ottawa
Posts: 113
Doesn't add anything really. It sounds nice, and looks good, but aside from slightly better throttle response, it doesn't do much. I still recommend it though. lol.

I need to get a picture of the interior as it sits now with the pedals, stitching, and whatever else haha
Forum Regular
Join Date: Jul 2010
Location: Fayetteville,Georgia
Posts: 140
Good looking Balt. Lower it though.
---
2010 Cobalt 1lt sedan. Mods: tinted tails, Mandrel Exhaust System 2.5 inch catback, LSJ exhaust manifold and downpipe.
Forum Regular
Join Date: Mar 2010
Location: Ottawa
Posts: 113
Yeah yeah yeah I know hahaha. I'm thinking maybe next summer or the one after. SSCs should do nicely.
---
2008 Cobalt LT // 2.2L Supercharged w/3.1 GM stage 2 pulley
Looks real good!!!
---
1986 Chevrolet Camaro IROC-Z
- Wrecked/Sold
1998 Chevrolet Cavalier
- Wrecked/Donated
2007 Chevrolet Cobalt LT
- M62 Supercharger, Ported Throttle Body, 42 lb/hr Injectors, Intense 2.9" Pulley, Cobra Heat Exchanger, SS/TC Exhaust, TTR Engine and Trans Mounts, Trifecta Tune, ZZP Header and Downpipe, '08+ FE5 Struts/Shocks, SSC Springs, FE5 Control Arms, SS/SC Front Swaybar, Powell Hardcore Rear Swaybar, 18" MSR 045s, Dunlop ZIIs, Nightshaded Tails/Side Markers, Shorty Antenna, Black Bowties, Black Grilles, Black Headlights, Dual JL 12" w1v2 Subs, A/D/S Front/Rear Speakers, Pioneer 7" Touchscreen, G85 Recaros, Leather Rear Seats, 160 MPH Cluster.
2014 Chevrolet Cruze Diesel
- 17" MSR 013s, Black Bowties, Black Tails, UR Rear Lower Bar
1981 Chevrolet Camaro Z28
- JVC Ribbon Tweeters, SEAS Mids, Pyle Woofers, Kenwood Tape Deck, Zapco Amp/Equilizer, Ceramic-Coated Longtubes, 2.5" Pypes Stainless Exhaust, Bilstein B6 Shocks, GW U/L Control Arms, Hotchkis Springs Sway Bars, DD HDX Cluster
2017 Chevrolet Volt LT
- Black Bowties
Forum Regular
Join Date: May 2009
Location: Eden (Buffalo Area), NY
Posts: 187
well better throttle response is huge with the cobalt since it really sucks right now. thats the biggest thing i hate ab it
Posting Rules

You may not post new threads

You may not post replies

You may not post attachments

You may not edit your posts

---

HTML code is Off

---