Mike Fuder / 2005 Cobalt SS/SC / PA
---
Whats up guys. Figured id make a showoff thread and see what people think.
Exterior:
Suncoast Creations Ram Air Hood
Carbon Fiber wrapped Roof
Carbon Fiber TJIN edition trunk
BYT's Retrofitted headlights with Demon Eye
"Evo" Mod
30% tinted rear windows
Bunch of Stickers
Performance:
ZZPerformance 3" Catback with magnaflow muffler
ZZPerformance Longtube header
ZZPerformance Stage 3 H/E
2.9" pulley
60# injectors
AEM CAI with K&N Filter
Ingalls Stiffy
Interior:
Carbon Fiber Wrapped Trim
AEM Wideband
Aeroforce Interceptor
Crown Royal Shifter boot
ZZP Triple Pillar
Wheels and Tires:
Foose Df-5's 18 x 8.5
BF Goodrich KDW's 235/40
SS/SC stock rims (Painted Black and Red)
Goodyear Eagle GT's 225/40
Suspension:
Stance Gr+ Coilovers
Coming Soon/Future Plans:
ZZP turbo kit with S256
MSR's or Custom Drilled Volk TE37
Wrap my hood or Custom Carbon Fiber Hood
Pics: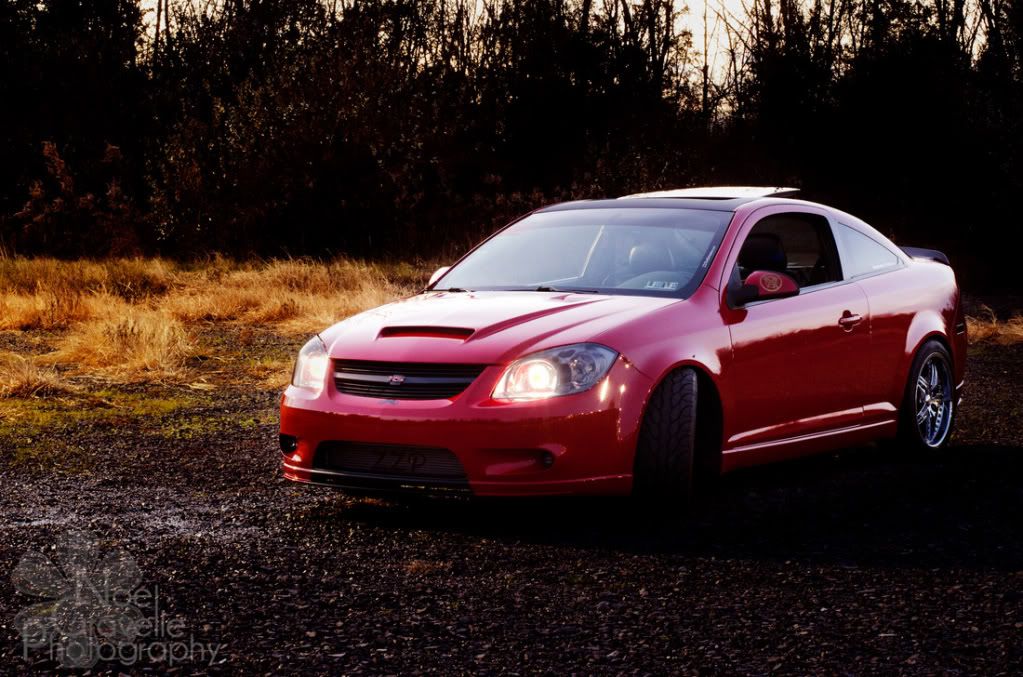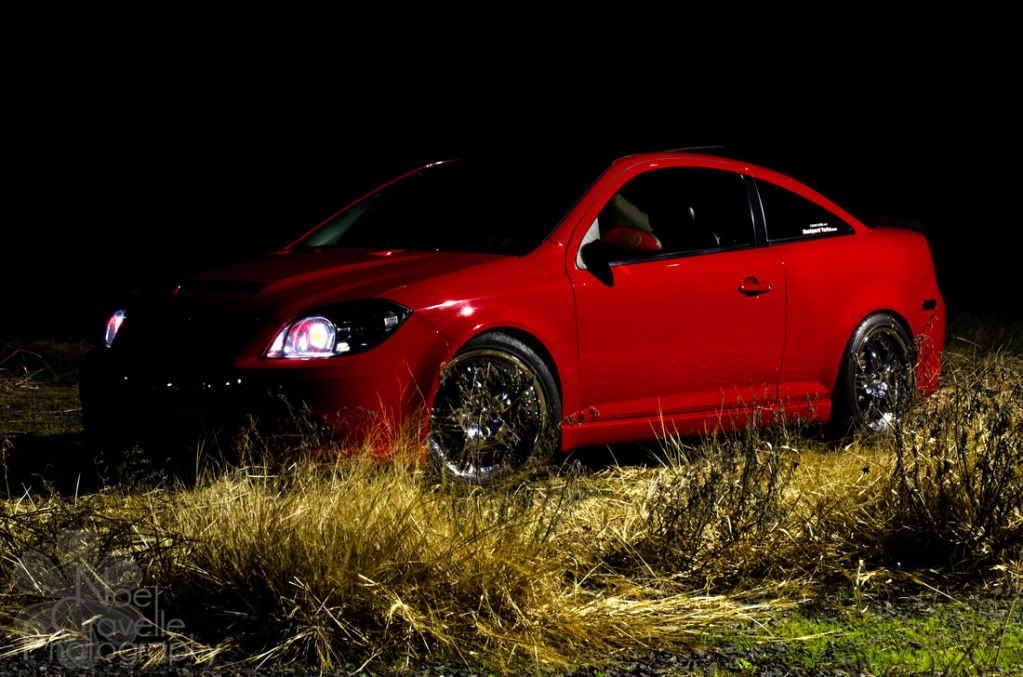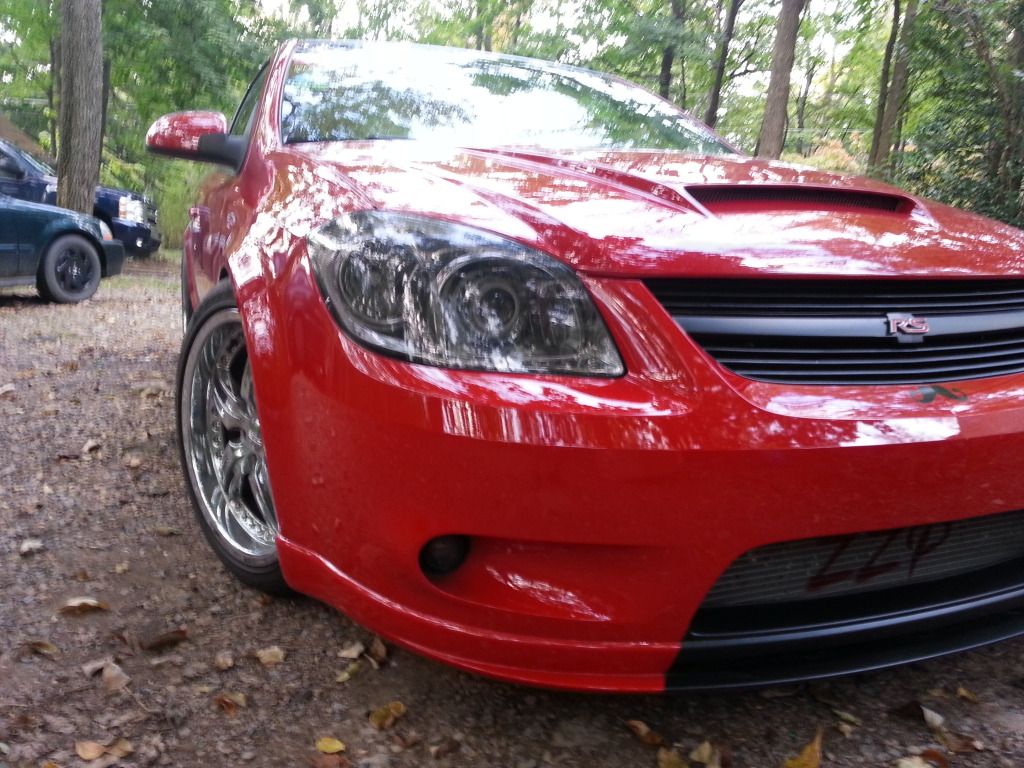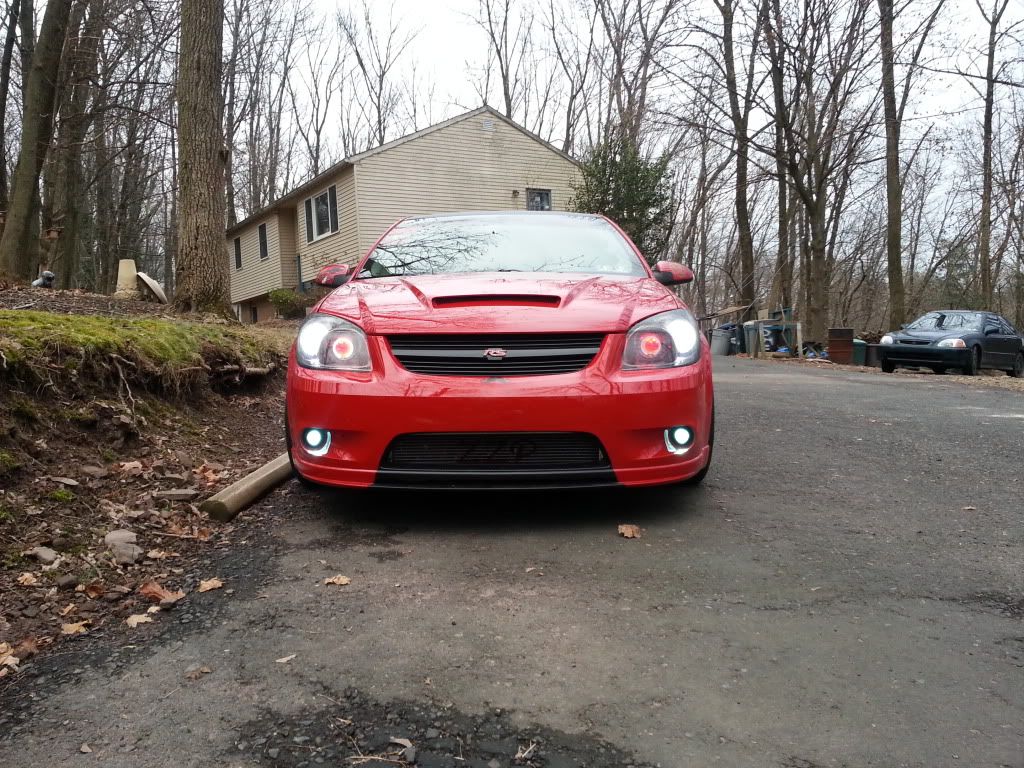 Thanks for looking
---
Levee

Join Date: Aug 2009
Location: Battle Creek, MI
Posts: 3,210
Clean! I'll give ya that. Like the Red Halos, not really feeling the hood tho. Not my thing. But none the less, very nice!
---
'09 SS/TC - Stolen
Mods
- Injen CAI, CIA MAF Relocate CP's, Dejon FMIC,
Custom 3" DP, 3" Exhaust, GT3076R, Pioneer AVH-4100DVD, Hurst STS, ZZP triple pod, Autometer Cobalt boost/DPIC/WB gauges, Nitto NT05 245/40/18's, H&R Springs, 80:20 Meth Spray
Future - KSport Kontrol Pro Coilovers, 10% Tint, FMIC spray
538whp/501wtq @38 psi on meth and 93 oct on stock ish motor
06 EVO IX MR/SE - Sold
Mods
- *Updated 10/6/13* AEM TRUboost EBC, 4in custom TBE, SD dual 93/e85 tune, ETS 4in Race Core FMIC, Dual Aeromotive 400lph Fuel Pumps, T4 Tubular Manifold w/ dual WG's, FP Super99HTZ DBB Turbo, GSC 274 mivec cams, ARP headstuds/rod studs, FIC 2150cc Injectors, Aeromotive FPR, Aeromotive Fuel Rail, catch can, Mini Battery Kit, Slim Coolant Fan, Kiggly Racing high pressure valve Springs/Titanium Retainers, Supertech Stainless Steel Valves, Dual VTA Tial 44mm WG's, 4g64 Stroker Manley Pistons, 155mm 2.4 LR Manley Turbo Plus I Beam Rods with ARP 625 Studs, 100mm forged non-billet Manley Crankshaft, Full H/E PNP with Port Matching, Kiggly Racing Girdle, Dual Tial 50mm BOV's, Excedy Triple Disc Carbon HD Clutch, AEM EMS
'95 Ram 2500 Diesel
Mods
- 5in TBE, Boost Elbow set to 28psi, Adjusted fuel pump, Open Turbo.
Future Mods- Super Street Clutch (rated @1400ftlbs tq), 67mm turbo, 160lb valve springs, added timing, tubular exhaust manifold, larger injectors, possible 6 spd swap.
Master ASE Certified Gasoline/Diesel Technician since 2004
Speed Junkies Social Group
Yourcobalt Official Facebook Page!
Syndicate of Tuners Official Page! Up and going again as of 1/11/13
Click here to PM me if you have questions or issues!
Quote:
Clean! I'll give ya that. Like the Red Halos, not really feeling the hood tho. Not my thing. But none the less, very nice!
thanks and yea not many people like it but i do and i like being different hahaha. But i have other retros with purple halos and red shrouds that i still have to put together and finish
---------- Post added at 08:48 PM ---------- Previous post was at 08:47 PM ----------
these are what i have now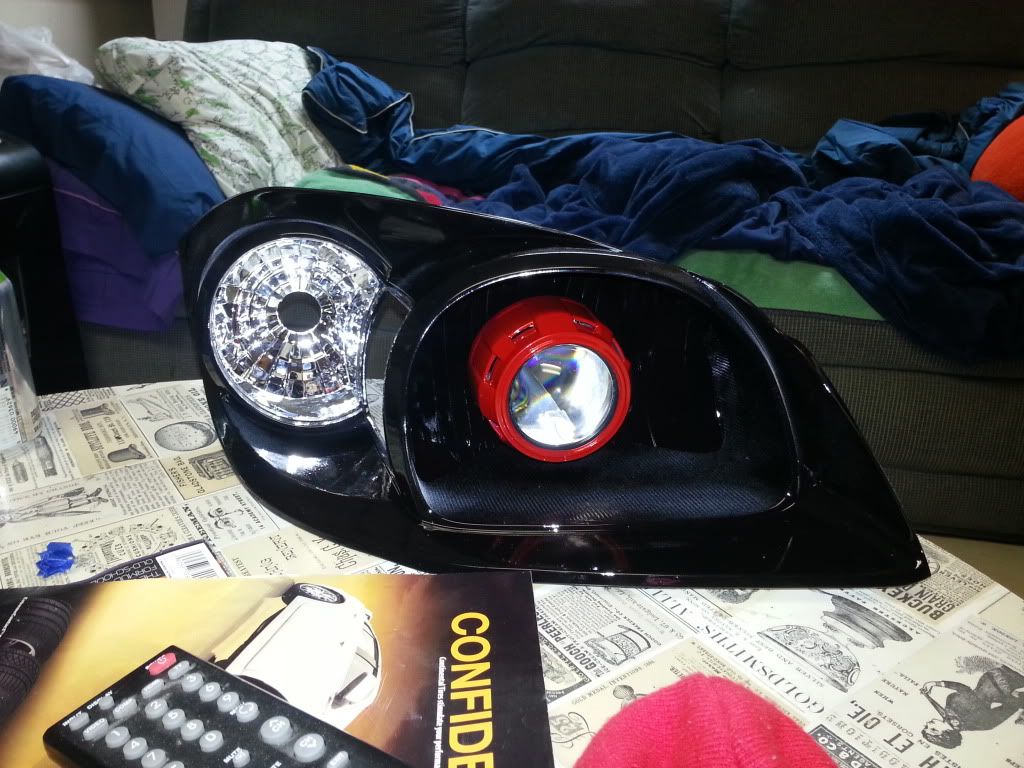 ---
Re: Mike Fuder / 2005 Cobalt SS/SC / PA
---
Sweet looking ride!
---
WA636R - Switchblade Silver Mt
09 Sedan LT 2.2L LAP......Auto!
MODS:Fe5 TC Shock + Struts\Moog Endlinks\YYZ V1 Springs\SC Gunmetal Wheels. Badmab Shorty Header\GMPP Performance Exhaust\ZZP 2.5 Catted DP\K&N Drop-in filter\High Flow Intake Tube. Gen4 Headlights\6K Low Beam HID\LED 3rd Brake Light\LED Turn Signals,Plate,Trunk, Dome, Reverse, Side-marker\ Debadge "LT" & GM fender badges\Shorty Antenna
Join YC.com on Facebook!
Like YC.com on facebook too!
Forum Regular
Join Date: Apr 2012
Location: St. Louis, MO
Posts: 168
Nice car. That hood might not be for everyone but I think it does a lot for the car.
---

Newcomer
Join Date: Jan 2013
Posts: 4
Those lights are pretty sweet
That pic against the sunset is just too sick man! The Foose wheels are too chrome for me personally. But what do you care? Sick car bro!
Edit: I just saw the deck lid, and came!!! I can forgive the chrome. LOL
---
Last edited by scagnetti76; 02-02-2013 at

01:47 AM

.
Re: Mike Fuder / 2005 Cobalt SS/SC / PA
---
Yea the pic with the purplish background would make a sweet calendar pic or desktop
---
2009 Ford Escape Limited - 3.0L, 6 speed auto, 4x4, 25/33 city/hwy imp mpg.
2017 F150 XLT-XTR - 5.0L, 4x4, 3.55's, E-locker, xtr chrome package, fx4 off-road package.
20/25 imp mpg
Posting Rules

You may not post new threads

You may not post replies

You may not post attachments

You may not edit your posts

---

HTML code is Off

---