Just bought a not running 06 SS/SC.
The previous owner claims that he was driving along when he heard a knocking sound. Car was turned off and towed home. At home, the car still started and it ran for a brief moment before dying on its own. Each time however, the car would run for a shorter duration than before, before dying.
Right now, the car is to the point where it will not even fire. It does crank but does not turnover.
What I have checked so far:
-Fuses all appear to be good. I pulled each one out and visually inspected them.
-The car is getting fuel. I undid the big 24mm nut on the fuel rail and pointed the line into a can. Fuel came gushing out at an appreciable rate (in my opinion). In addition, the cylinders stunk of fuel when I pulled the plugs out and the plugs were wet with fuel as well. Perhaps it was flooded?
-There are no codes being thrown according to my OBD scanner. I might have done this wrong though as I scanned it immediately after the battery was unplugged for 12 hours. I did not crank motor after connecting battery, only turned key to run.
-I popped off the valve cover. Everything looks good. Engine is very clean and I don't see any bent valves. Timing chain had a good amount of tension in it and it does not look like it slipped.
-Ran a compression test when it was outside in -10 deg. C weather. Cylinder was low at 140 PSI compared to the others at 165 - 180. Put car inside heated garage (20 deg. C), re-did compression test, and got between 170 - 180 across in all cylinders.
-I jacked up the car and removed the lower splash shield to access crank pulley. Tried turning engine with a ratchet by hand in a clockwise manner but it was extremely difficult, got maybe 5 degrees before i couldn't turn anymore. Sparkplugs were out during this time. Accessory belt was still in tension though, so that could be why.
-Throttle body looked good. Responded to the pedal.
-Sparkplugs look like this: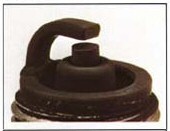 which corresponds to a condition called dry fouling.
-Had the cobalt connected to a corolla with its engine on. + on corolla battery to cobalt's remote + and - on corolla battery to strut tower nut. It sounded like this while cranking:
VID_20130227_230249 - YouTube
Not too sure, but compared to my LT, it sounded a bit weak.
-I tried roll starting it on an incline but that did not work. Popped clutch while car was in 2nd, didn't hear any intention to turn over from the motor.
Any help offered is greatly appreciated. I will grab fresh sparkplugs today and check for spark.