Discussion Starter
•
#1
•
My girlfriend smashed up her 07 cobalt lt and I had to replace the trans and the engine oil pan. Everything has gone back together pretty well but I have run into an issue, and the problem is that my source material is gone.
I took pictures of my work as I disassembled everything on my phone and well those pictures have now since gone "poof". Keep in mind I had to replace the starter. When I removed the small connector the stud on the starter snapped off flush and with 140K on it, figured a newer used one couldn't hurt.
~I believe I got 99% of everything together, but the battery cables and grounds (basically everything that is not a connector) I fear may not be correct. At the moment I had it hooked up to my 9-3 to jump it but I get nothing, not even a click out of the starter. I checked the starter by moving the solenoid and making sure it wasn't stuck (stupid me... I didn't stick it to a battery tho check and see if it jumped... fear this will haunt me now...) I do know that it is getting power properly as all the electronics are on, fans work everything. And the battery has begun to recharge. I left my car charging it for a good 15 mins almost and sadly no success. I also tapped the started a few times and no difference.
~I have no check engine codes except for me having pulled the fuel pump relay
~Nothing appears to be stuck. When I put the drive train back together I spun the engine a few times by hand and heard no horrible noises and observed the axle joints spinning.
Figured I would make sure I have it wired up correctly. Also can anyone tell me how many cables are indeed attached to the grounding point on the front of the auto trans? I used wiring diagrams to figure it was 2 but I am not entirely certain. Thanks for any help you guys can give me.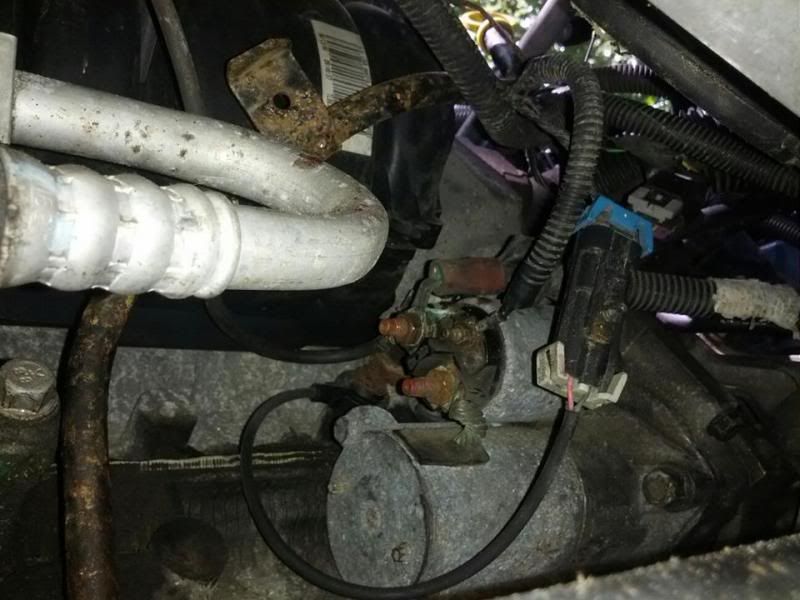 Picture of how I have it wired up.
2 lines to the large connector from the top. 1 from the battery post and 2nd from the alternator.
Then one small connector from a wiring harness that travels between the starter and cooling fan.
I have a haynes manual but the wiring looks different and if I swapped the wires according to how they look in the book the one end would not fit so I think I have it right and they are showing a different model yr.
Thanks again.