Discussion Starter
•
#1
•
my jeep may 10 years old and shabby, but it's still my baby and favorite toy. It's no garage queen either- I take it rock crawling/trail riding every few months. There are a lot of bigger, badder Jeeps out there, but this one is built just the way I want it and it is a happy medium between on-road handling and offroad ability.
2003 Wrangler Rubicon (a REAL Rubicon, not just poser stickers) Lovingly known as "Mr. Toad"
when I got it 2 years ago: worn out tires, 2 inch budget boost (coil spacers), no-name winch, beat up aftermarket fender flares, and some funky aftermarket rims. Was towed behind a motorhome by one of the 4 PO's so multiple rock chips on the hood and grille, but fairly unmolested mechanically. Nice hardtop with tinted windows, wiper and defrost in near-mint condition. Factory soft top in such good shape it's still almost too tight to get on.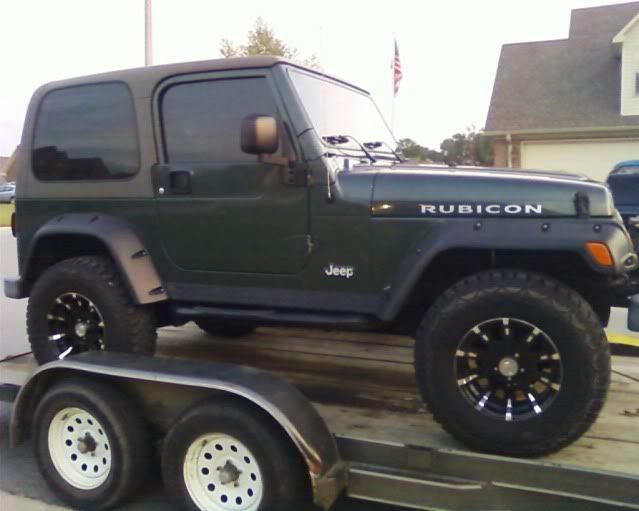 Now: 4 inch longarm suspension, 33inch Goodyear Duratracs, cheap offroad rims I don't care about scratching, rock sliders, tummy tuck, motor mount lift, safari top, tonneau cover, LED taillights, hi-lift jack, fully armored underside, homebrew bumpers, half doors, and vinyl suspension seats. He's come a long way, baby!
my boyfriend has a well-modified '95 Grand Cherokee with a lot of the same types of mods as mine. It is actually a lot more capable offroad than mine, but it's pretty much an offroad-only vehicle:
video:
DSCN3978.mp4 Video by DirtyRat | Photobucket
anyone else got a Jeep...or other offroad rig?