Discussion Starter
•
#1
•
Figured I'd give you guys an update here as well...this is the post I yanked from my facebook page about what happened today...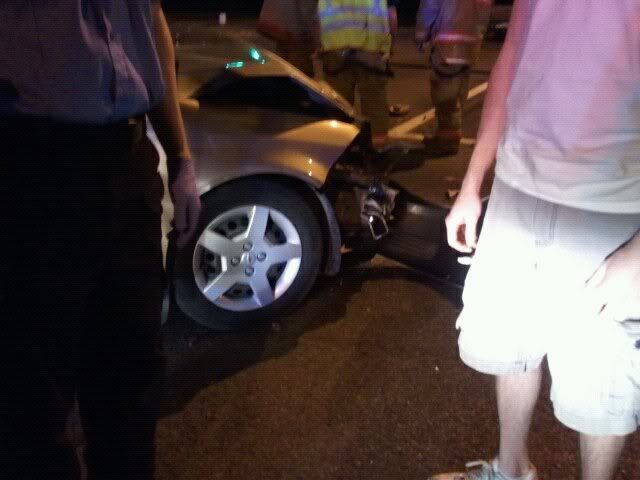 Thanks everyone...I just got home, it happened just before 9. I was in the left hand lane on 291 coming down the hill right before Kentucky traveling around 55mph...there was a mid '90's Silverado Ext. Cab sitting inbetween the lanes which I found odd and as soon as I got about 30 feet from the intersection he creeped right in front of my car...I literally had about 2 seconds to stop the car and it wasn't happening. I collided right into his passenger side tire area which apparently is the worst place to hit since I got to meet the motor and transmission of the truck...the guy is lucky he was by himself or there would have been a body bag for that person. Kim and I both got some nasty lacerations from the seat belts...we also both got some nice jacked up knees from slamming into the dash on impact. I've got some nasty burns on my arms from the airbag/steering wheel and some cuts/bruises galore along with Kimbo. Kicker is...3 things:
1) I have a neck brace that I get to wear the next few days...classic. They want to make sure nothing is seriously damaged as nothing showed up on the x-ray but my neck/upper back are bruised pretty good from whiplash/airbag/etc...not to mention my splitting ass headache I've had since 9.
2) I didn't even get to eat my damned Lays Kettle Cooked Jalapenos Chips that we just picked up at the gas station in Independence...bastards.
AND...
3) FOR ANYONE LOOKING FOR A SAFE DAILY DRIVER...here's your proof you wanted ...I thought this car was a tin can POS all in all...horribly un-refined...but I hit a Extended Cab, Long Bed, Silverado @ 55~mph...while he was around 5mph...If that...Cobalt saved mine/Kim's lives...I'd buy another in a heartbeat now...Seat Belts, Air Bags, and for once some quality engineering on GM's part. Also, goes to show ANYONE who ever thinks getting behind the wheel for a beer run (which his guy had a full case of beer in the truck)...think twice...you might just take the lives of some innocent people who were just on their way home from visiting some friends and enjoying a nice night.
Nick Seaton = praying tonight; that is for DAMN sure.
So....
Going to see tomorrow whats up with the Insurance companies...and....
I'm going to punch this drunk **** in the dick.