Eibach Sportlines and Rims (Gopi's Car)
alright guys lets talk springs first, when my car was stock (2008 LT sedan) it was from the ground to the top of the fender it sat 26" in the front and about 27" rear. i did have a rake a inch difference, here is a picture of my stock springs installed in the rear...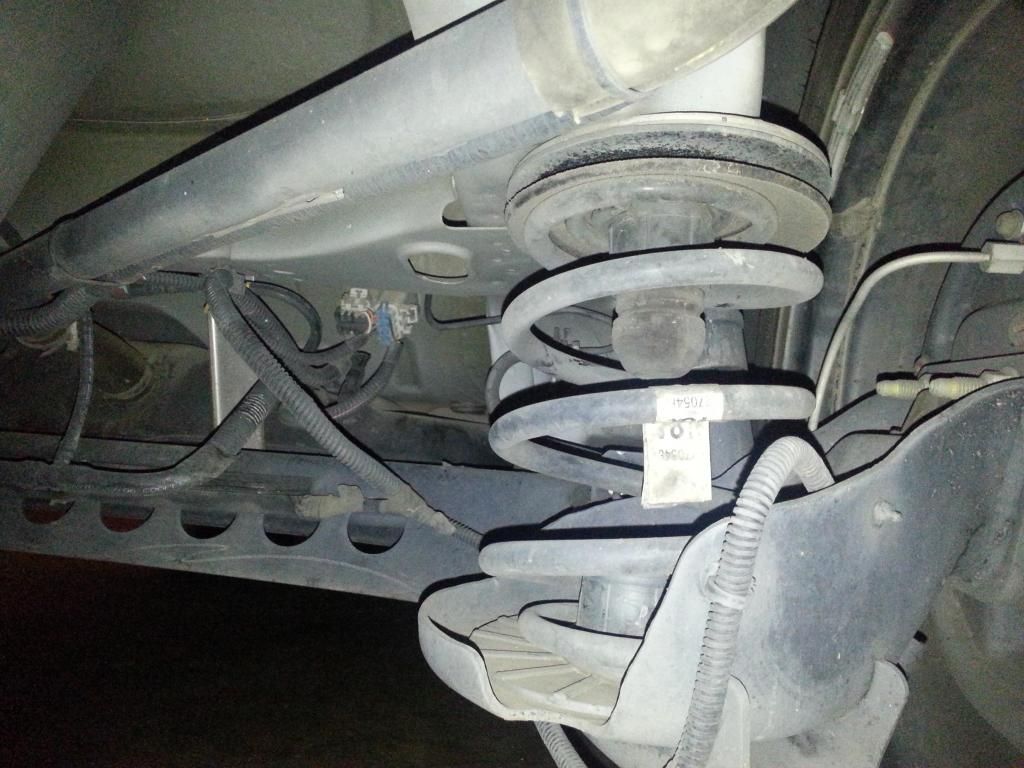 (hopefully the link works).... okay so i decided to get eibach sportlines for a drop and crossed my fingers that the ride would be decent for a lowered car since they are progressive rate springs...so i bought struts/shocks as well..dont bash me on this i wanted struts right away so i bought Monroe Sensa-trac struts (autozone) front...they came with a lifetime warranty so if they blow i can swap for new ones, ill let you know how long they last, i live in California and in the valley (Yuba City),l the roads are not bad. okay here is a picture of my sportlines not installed
by looking at the springs you can see that they are progressive from the distance from each coil, i did some research and the rate is 97 and 220 spring rate...closer coils are 97 and 220 is the bottom for the rears..fronts i believe are the same but less 97 coils..and more 220 coils...hopefully that makes sense... ...but once installed with weight they look like this....REAR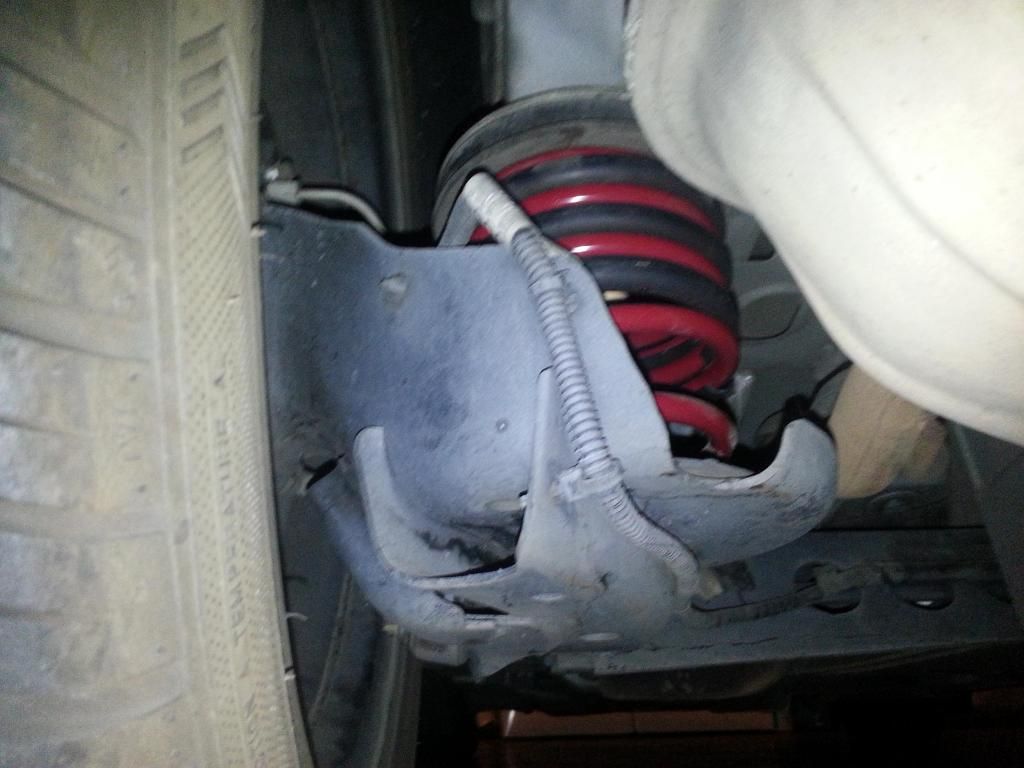 ....the shorter coils have collapsed completely! that i was not expecting..FRONT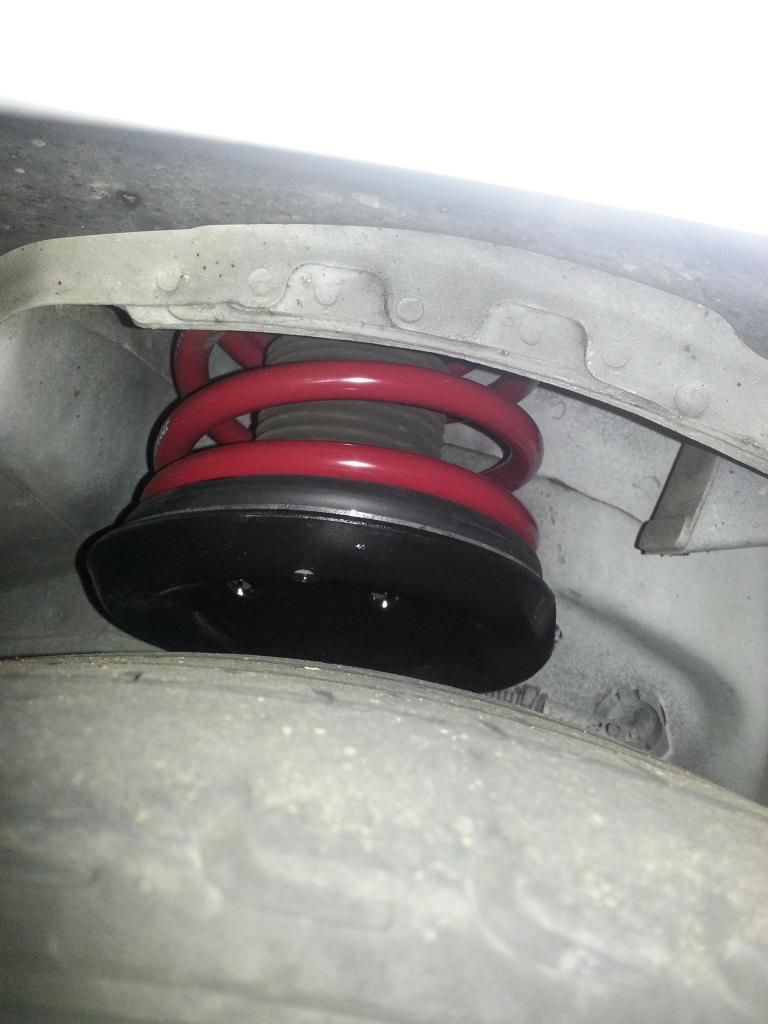 .okay in all honesty i went from 27" rear stock to 26" slightly more..i can take pictures to show you after but i did not take pictures of the measurement before, and my front went from 26" to 25" slightly less but not a half an inch. i was measuring by 1" or .5" i didn't care about numbers in between. the ride was rougher that i expected probably because the dead coils in the rear...front is perfect i have no complaints, the rear is stiff i cut bump stops according to the instructions. so my overall rating for sportlines is a 6/10 because of the dead coils...i assumed id have 97 rate before going straight to 220 rates...which is disappointing. okay anyone have other lowering springs installed that could take a picture of the rears and post it...id appreciate it.....that was my rant of springs lolll
picture installed rear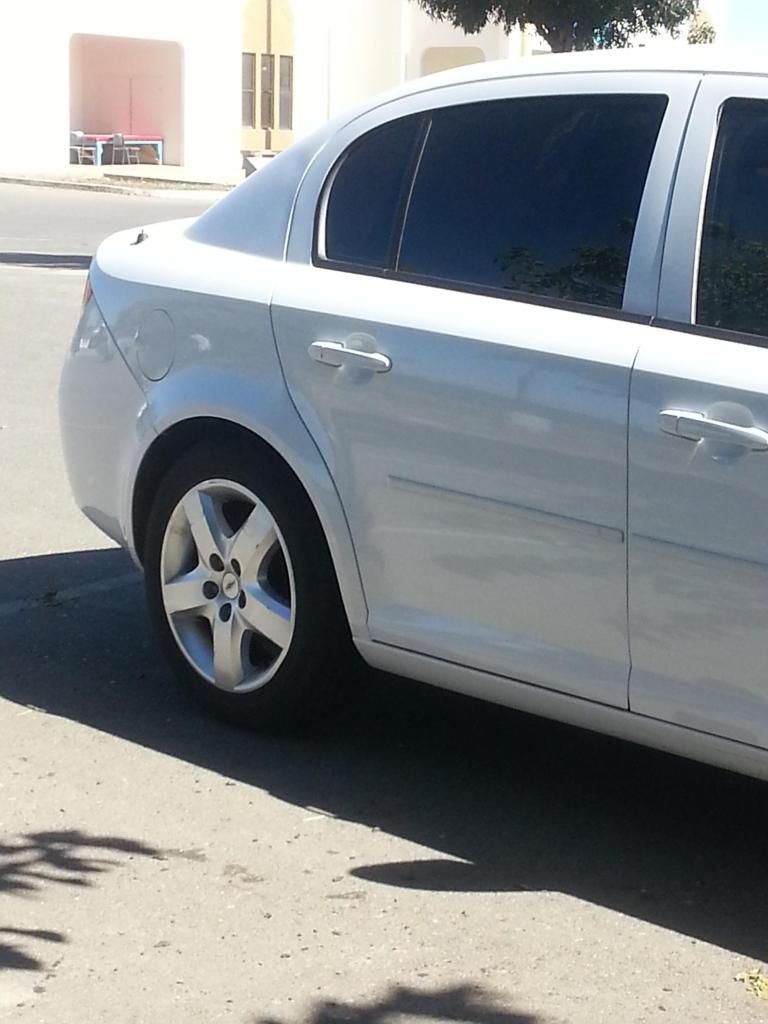 okay now onto RIMS!!
i bought RAGE R20 rims they are 17x8 and 40+ offset they are a 5x110 and 5x114 they fit i tried them on the rear lugs...my questions is for the front, will 8" wides hit the struts in the front? ill go get it checked out soon and ill let you guys know if i dont have a answer by then...here is a picture of them...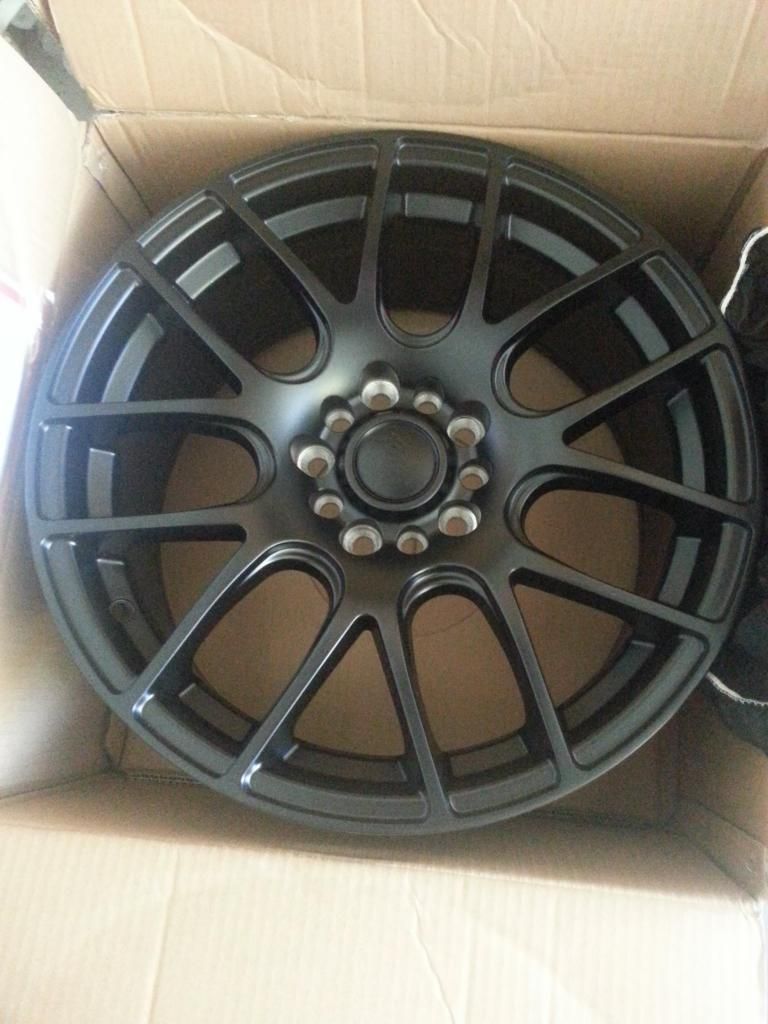 okay my question is what size tires should i run on them and will 8" wides fit in the front with tires...or will i hit the strut? thank you for all your help...my end goal is make my car look like this but with a less of a sever drop...im sure he/she is on coil-overs anyways loll
---------- Post added at 01:09 PM ---------- Previous post was at 01:02 PM ----------
oh yeah. also these rims will clear brembos for the SS's out there loll i saw it on Google search up "Rage R20 cobalt" heres the link to the actual posting
http://www.*************/forums/wheels-tires-96/just-fyi-new-17x8-wheels-311267/
and they are not hub centric..you have to buy hub rings i bout them from ebay aluminum ones for 10 bucks they are 73.1mm (wheels) to 65.1mm (cobalt) also you have to buy aftermarket lug nuts because stock ones are too fat...ebay as well (about 15 bucks for all 20 with a key) in total its about 25 bucks extra...i just need tires loll theyre sitting in my garage
and after that just the front bumper to go with the evo mod
then im done with it.
UPDATE
Almost a week later (6 days) and my .10 cents: alright lets start to anyone who is thinking about buying these...in the description from any website makes it sound like it will ride stock "excellent ride quality" "progressive rate" blah blah..that is why i decided to get these and truth be told with these you wont be a civic with the appearance of cut springs hoping around, you will NOT ride anywhere close to stock... or remotely. they do recover well after a bump..usually a dip and a rebound back, so get good shocks, bad shocks with these you will be bouncing a lot more. i have cheap shocks Monroe sensa-trac(for turbo/SS model) i checked no leaks or anything and they are riding pretty good! ...but i will update you if they die out quickly or start to leak..if you read this and theres no update...they are doing good!
(if update it will be here)
City driving: the first 3 days i was off work so i only drove city, and you will feel everything, i mean everything...there are roads that i avoid all together now because i know there's a nasty bump in a spot..so know your city well...i have yet to bottom out on the rear, bump stops are cut...i have yet to rub i doubt i will either...with stock 16s and at the moment i am sitting with a two finger gap all around (i will include pictures later on and update if they have settled or not) city driving 5.5/10
Highway Driving: compared to city driving highway driving is great! we usually have small bridges and they dip a little, nothing massive. i drove 180 miles (60 miles round trip x 3 days) and my assumption was 'ahh crap! city is this bad; on the highway ima be that one guy thats going 55mph because his car starts going "pogo" on anything above' i drove between 63mph (55 speed limit roads) and 75-80mph (65 speed limit roads) *this is california no one does the speed limit loll* and it handled very well... didnt bottom out on a deep decline after a bridge,the only one that made me cringe when i drove above it...i knew it was bad even with stock springs i would take the opposite of the tire tracks from other cars because it was slightly higher loll 8.5/10
Overall: these springs have grown on me..im starting to like them...i think my expectations were to high; in my mind i was compairing them to stock and i wanted it to be like stock because of the descriptions about them (Progress, excellent ride) so when i drove in the city i instantly thought "these are not like stock!" and after having them for 6 days i have gotten used to them..i road in my friends 350z on tien springs and thats when i realized mine are not that bad loll his drop. they do take some getting used to..i was always a alert driver i would memorize bumps in the road even on stock springs...so if your careless driver dont get them..and i would not get them if i lived in the mountains or had really bad roads...i know for a fact i will not take this car to napa valley because of the rain ruined mountain roads. this will be my commuter like it always has been, they are eibach so they have a 1 million mile warranty so save your recepit and buy from a reputable dealer even from online...
i rate these springs 8/10, dead coils are there for a reason..during rebound so your spring does not fall out...(i showed them pictures to ask whats all this about! n they told me had a few friends whos fell out after a bump so im glad i have more dead coils loll) they honestly have grown on me and i like them now. i guess it was just a 'freakout' in the beginning because my expectations but you know how it is...expectations can kill a simple man loll
hopefully that helped someone decide! thanks for all your help
Update about the car:
(From Work in progress reply)
alright guys im a few steps closer so i thought id just make this thread into my main car thread...so check it out since the springs i did the brakes bought them online with 11" diameter rotors drilled and slotted, does it have a performance increase? i dunno i bought it for looks to be honest loll...bought the rotors and ceramic brake pads in front here is a picture...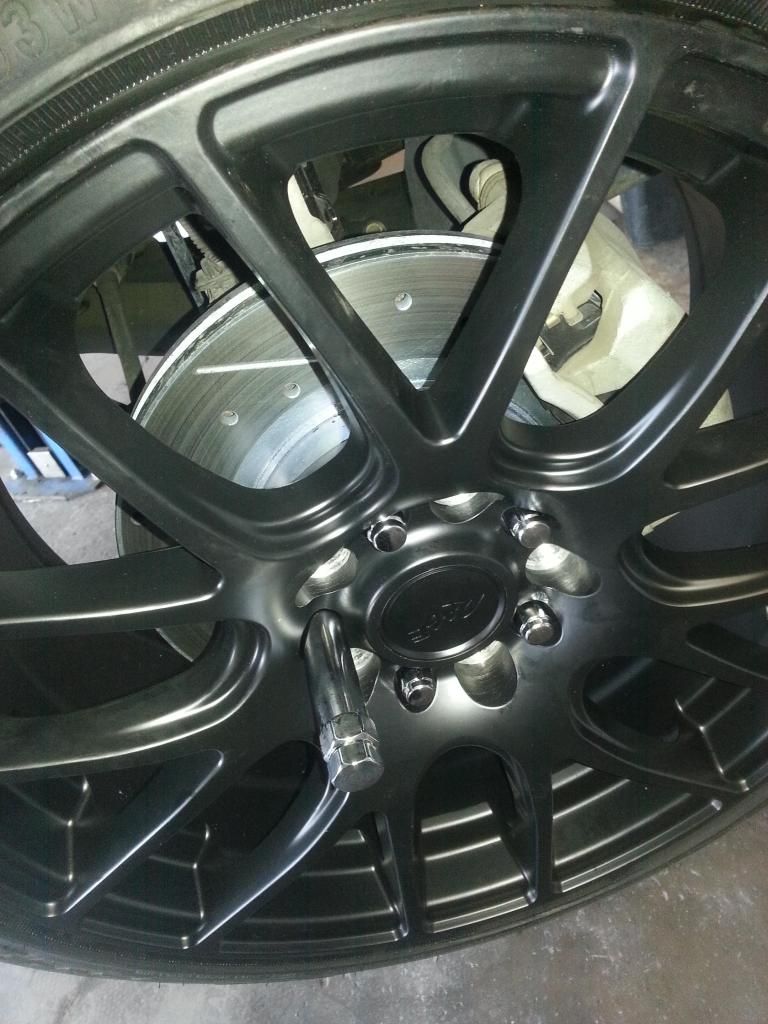 2008 TPMS sensors look like this ...(maybe it will help someone out) ...i am not sure if all years are the same;someone can confirm...the valve stems need to be replaced as well i had to...i did not try swapping older ones over....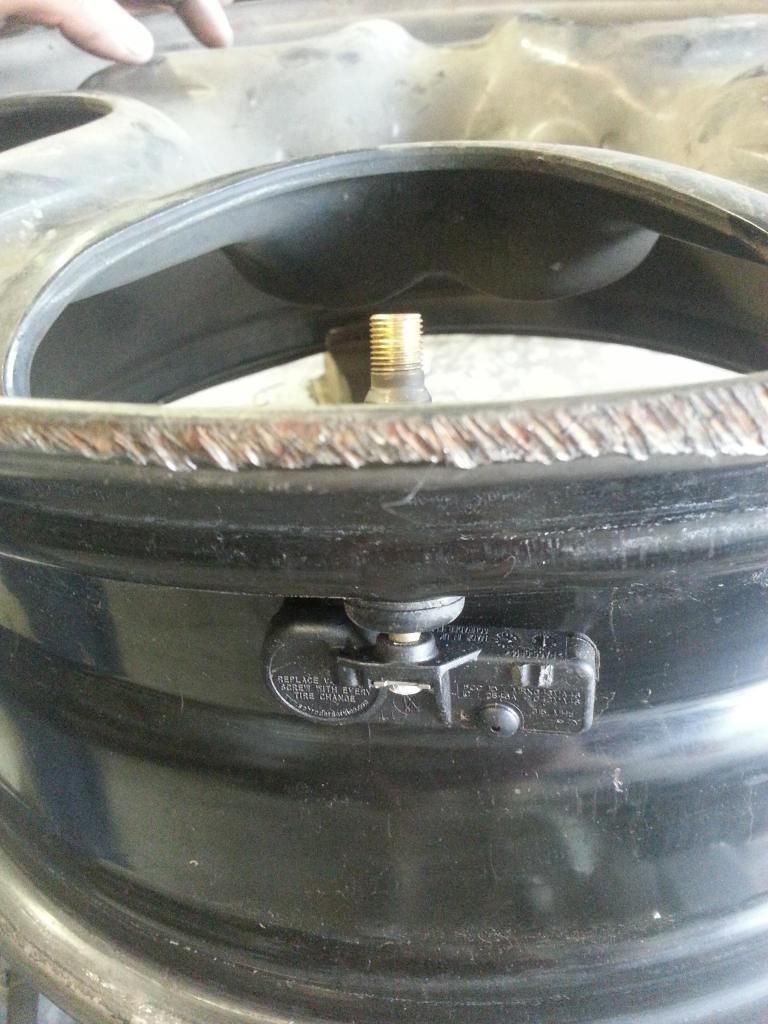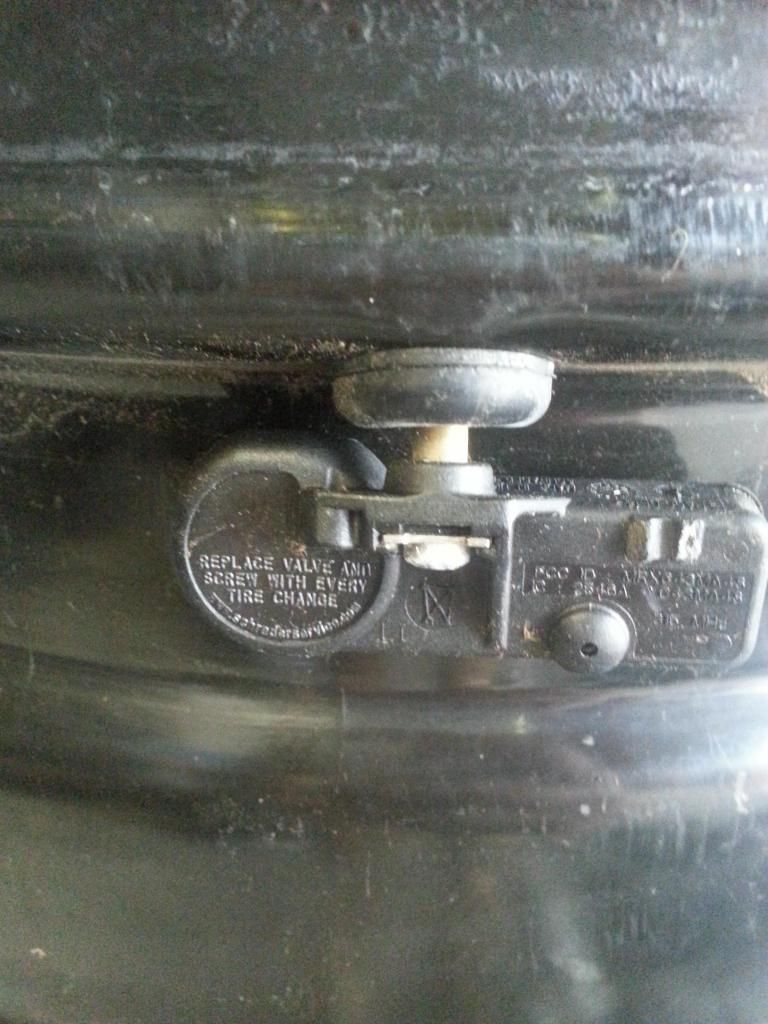 okay wheels and tires...i have rage r20s like i said (specs: 17x8 w 40 offset) tires i decided to run were (205/50r17) for a tiny stretch not major or little pictures will show so you can decide, went with 50s instead of 45s to prevent a bent wheel) okay pictures of the car so far...
Stretch....nothing major but did require a cheetah bead-seater! loll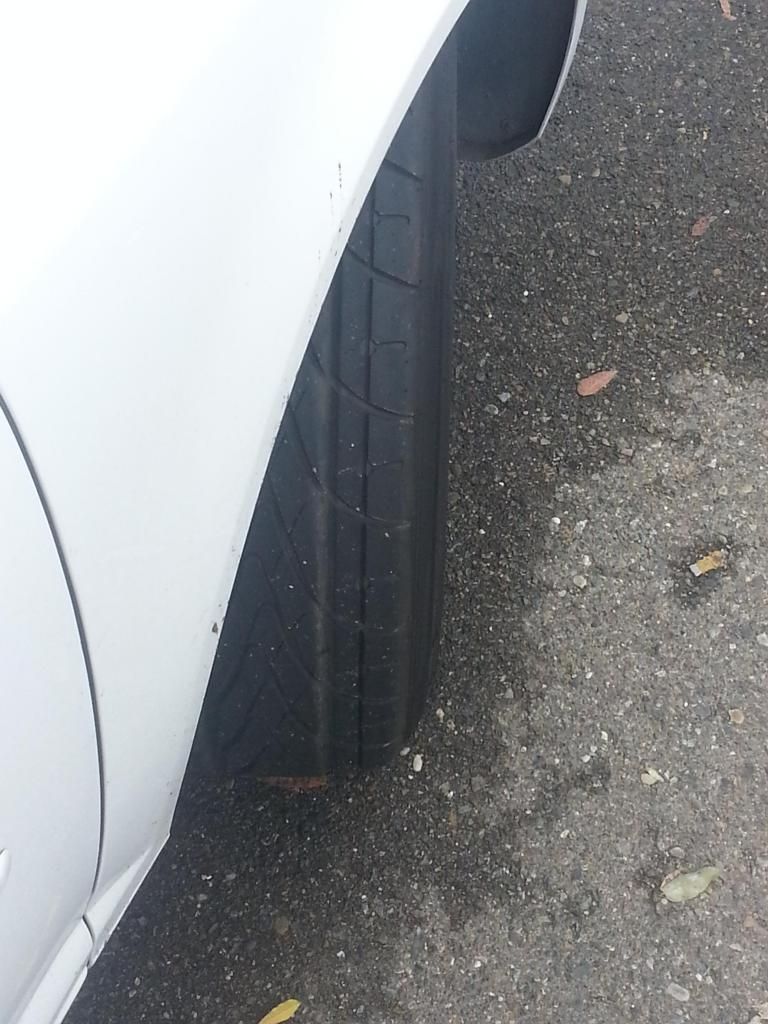 wheel clearance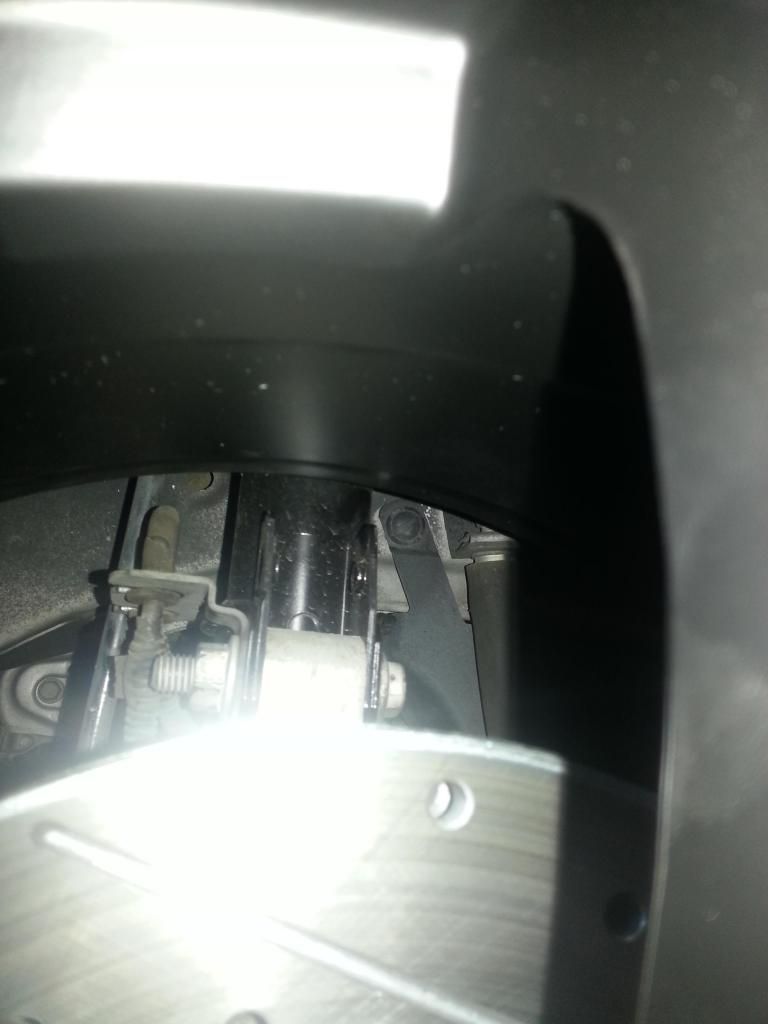 i dont think running 16x8 will work you would have to grind your strut i barely cleared them 18s would work but smaller tires to avoid the top....okay more pictures!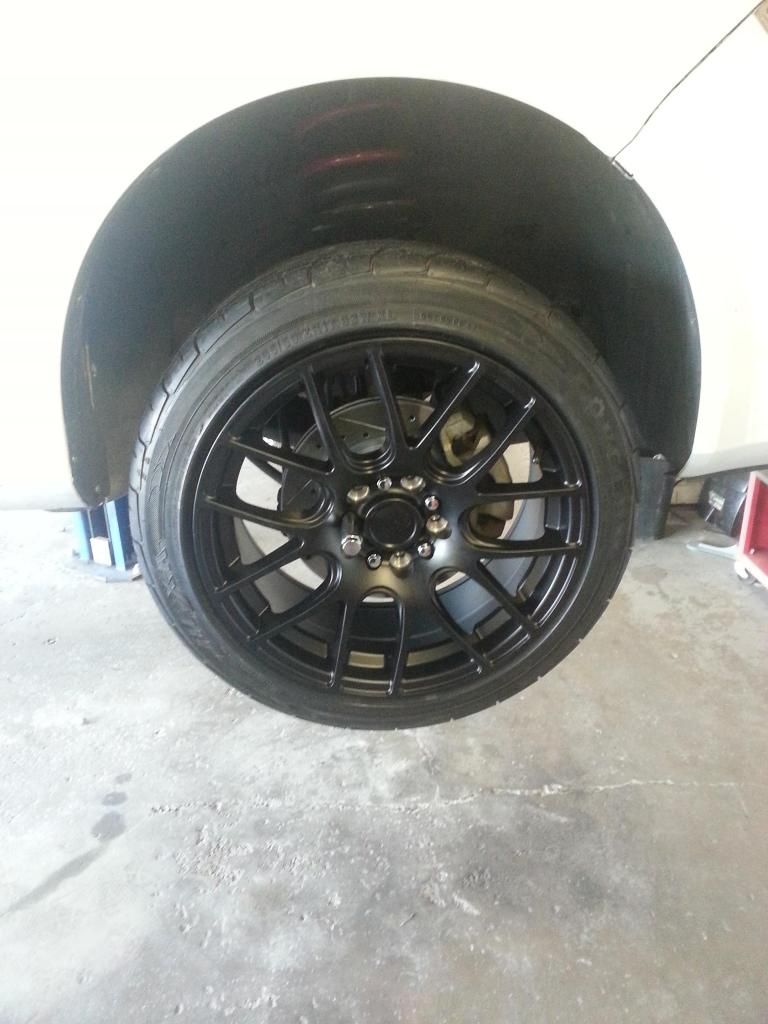 Before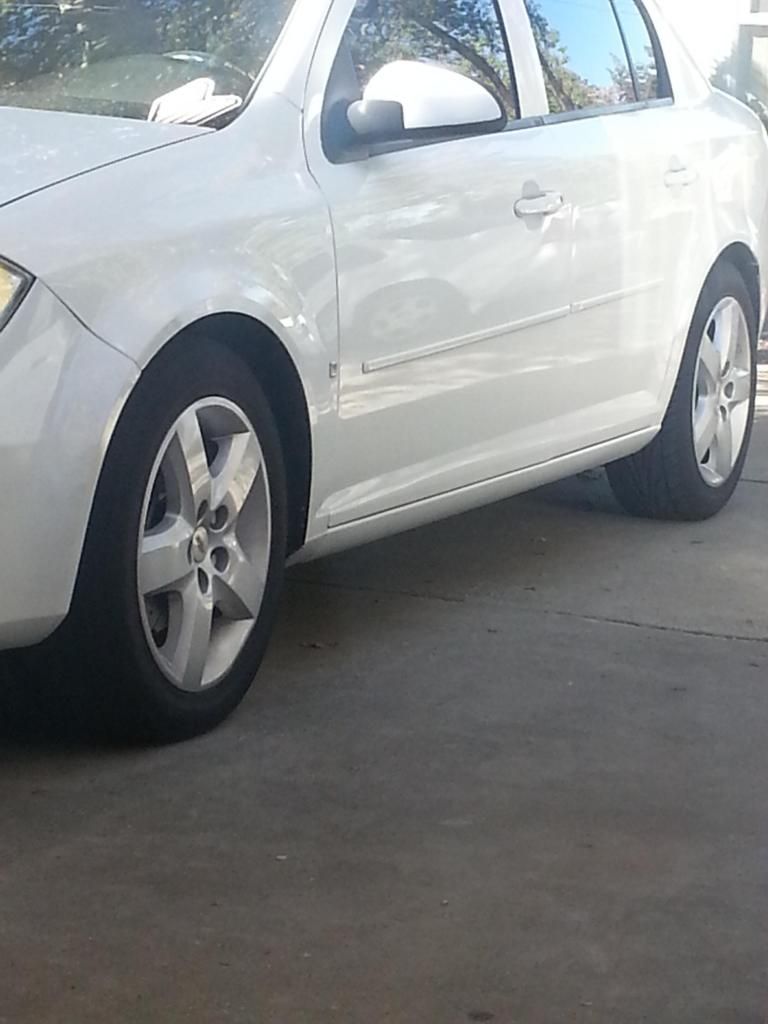 After
From snapchat loll
Flush with fenders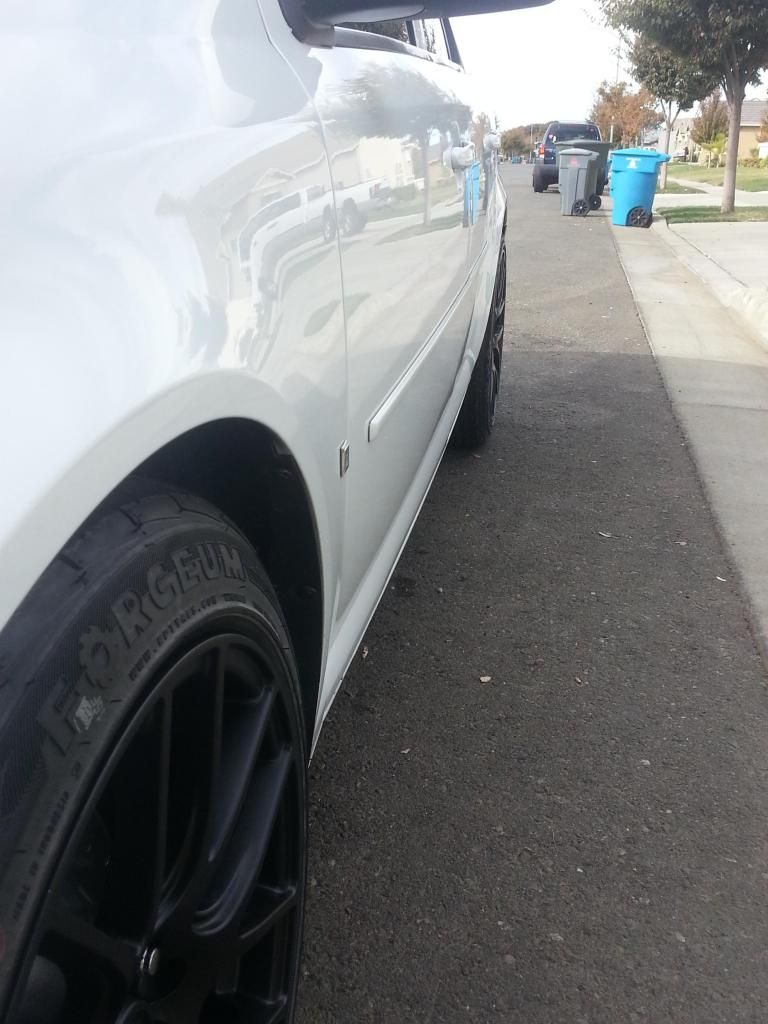 thats all so far next up front bumper loll
will update with that as well any questions feel free to ask away
alright guys n gals front bumper is finished!...here are the pictures and problems i ran into....total time about a hour n half....difficulty pretty easy just a little time consuming task to get it perfect...i was able to finish without losing a single tool!...lost a little blood (fingers hurt) but that's tradition working on your car loll
okay it was raining outside so pictures are all in the garage :/ excuse the messy garage...
before:
progress...
only issues i had were the fender brackets...since my car was in a little wreck long time ago the body shop decided to use rivets for the brackets! so i had to drill those out which took about 20 mins! fml and insert bolts and nuts to replace them...
the bumper brackets were perfect fit for the LT fenderwells above the tires...in other posts DIY it shows a gap between the fenderwells and the bumper...maybe they changed the style or shape but the bumper brackets i bought accommodated for the fenders as well...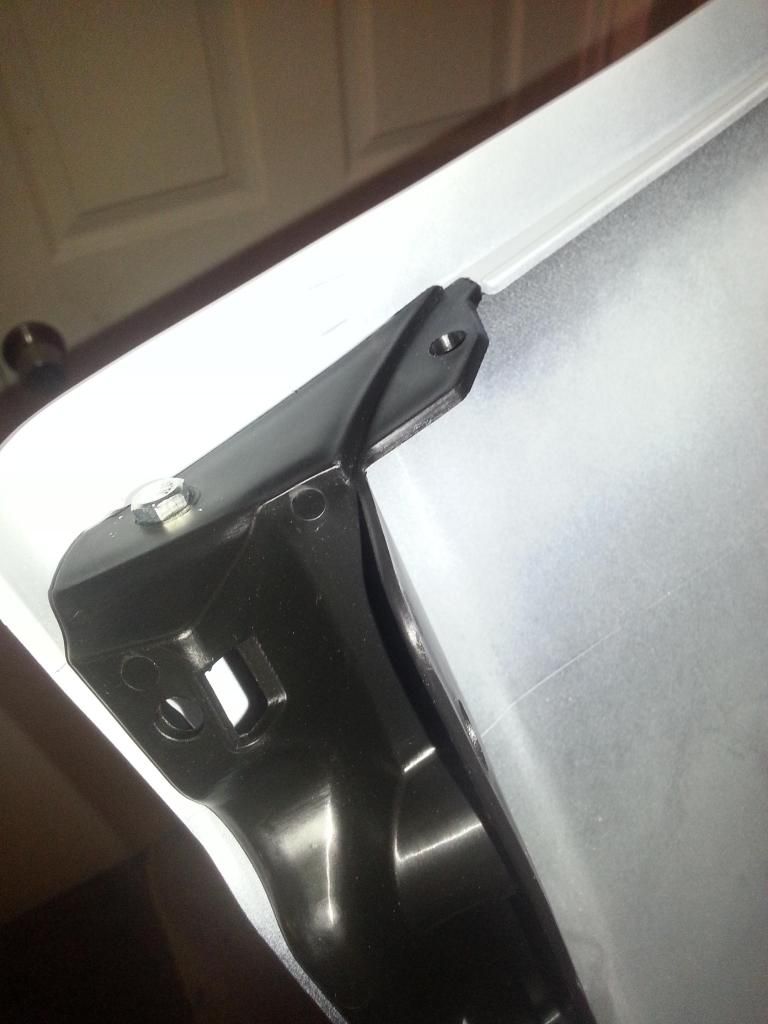 above the slash is where the fender stops and the bumper falls below it....
these are the fender brackets additional pictures...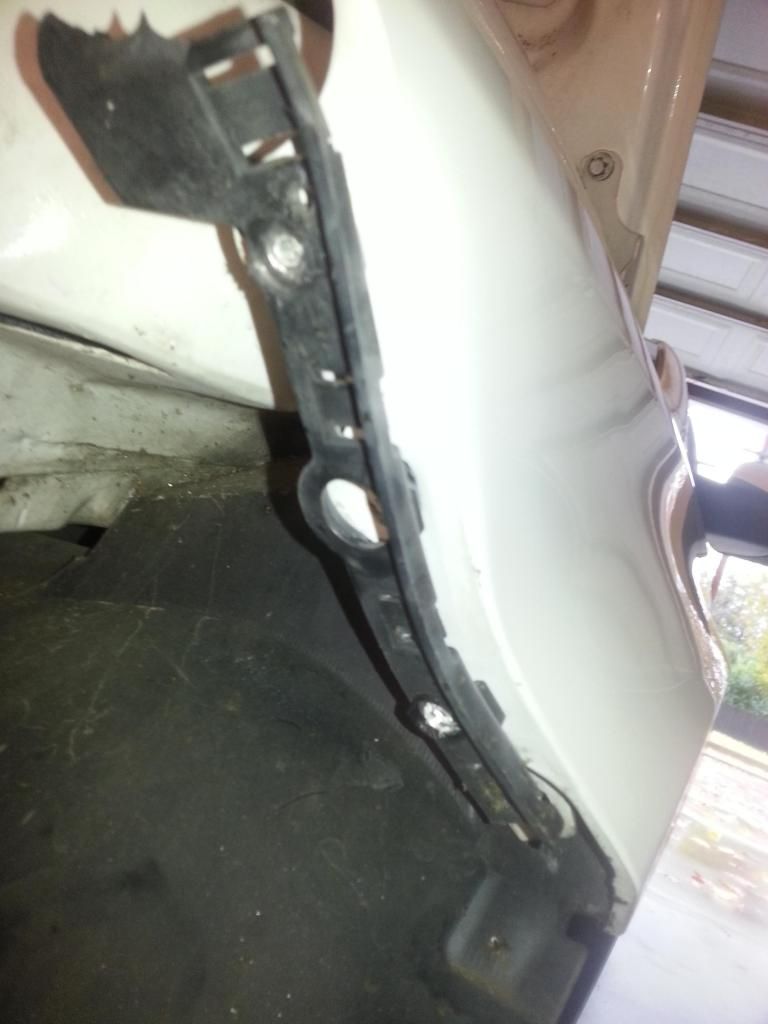 you do not have to remove them(fender brackets)...its a snap in place set up...just press the bumper into them and it will attach...
here is another picture...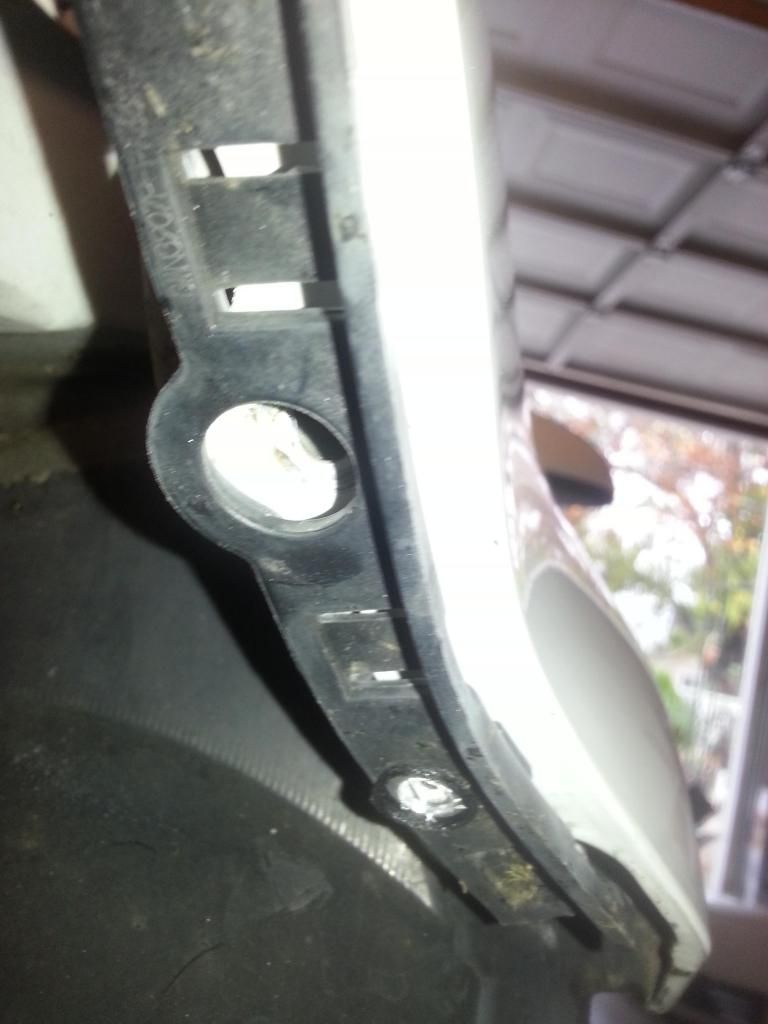 when both bumpers are off just swap over the top grille to the new bumper and the chevy emblem as well...i decided to plastidip mine white and the bar that runs across the top grille black...to have a floating emblem...
finished product! only problems i ran into were the rivets from the autobody shop...
let me know what you guys think...