Phoenix: 2006 Chevrolet Cobalt LT2, 2.2L ECOTec, 5 speed.
Exterior:
RK Sport Cobalt Ground Effects Kit
Custom Two-Tone Satin Black Paint (Body kit, spoiler, hood)
Smoked LED Taillights
Niteshaded Sidemarkers
Retrofit Headlights w/ 6000K Bi-Xenon HID's
Debadged
Color Matched Trim
Full LED Lighting
Custom 1/8" Stainless Wire Mesh Grills by TBI Fabrication
Custom Foximus Motorsports Stainless Steel Skid plates
Interior
Color Matched Interior Trim
Hurst T-Handle Shifter
Impact! Racing Harness Pads
Custom Black Suede/vynal Interior w/ Orange Stitching by Asylum Custom Interiors
-One of a kind seats, boots, package tray, headliner, armrest, doors, visors
Sparco Piuma Pedals w/ Custom brackets
1-1/2" Chromoly Harness Bar
4 Point Impact! Racing Latch and Link Harnesses
Entertainment
Eclipse 5030 Headunit
Memphis Audio Speakers
Orange LED Lighting in footwells
Engine
GMPP Short Ram Intake
GMPP "Agressive" Touring Exhaust
LSJ Header and Downpipe
Custom painted Valvecover
TTR Prothane Engine and Trans mounts
Foximus Motorsports Short Throw Shifter Kit
2.4 Intake Manifold
2.4 Throttle Body
Currently: 130hp / 130tq at the wheels (April 2010)
Suspension
FE5 Shocks / Struts
Eibach Sportline Springs
GM Addiction Billet Strut Tower Brace
TTR Rack Spacers
Prothane Lower Control Arm and Sway Bar Bushings
TTR Rear Sway Bar
SS/TC Front Bar (23mm)
Moog Endlinks
Ingall's Camber Kit
Rollers
GM/Enkei 16" 5 Star Wheels, Semigloss Black
Sumotoyo Tries, 205/55/R16
The Story
I bought this car October 5, 2005, 5 days before I started my new job in North Carolina, because while I loved my 87 V Dub, I didn't trust it on a 500 mile highway trip. The fact that at the time I was on the "GM Deal" and got the car out the door for $15,000 didn't hurt either. The car was purchased from Chevrolet of Hershey with 91 miles on the odo. I made them goto Baltimore to get the car, as I didn't want a black one, it "had to be orange." First thing I did when I got home was take off the GM badges, and all the "Chevrolet of Hershey" stuff.
Its so wierd, looking back on the car as it was stock. But she was my second car, and my first new, non beat car. I have a lot I want to do to this car, but keep checking myself by reminding myself that "it still has to be a daily driver"
The first winter in North Carolina wasn't bad. While I still worked at Joe Gibbs Racing they jokingly put a set of Tony Stewart #20's on my car one night, sadly I don't have the photos anymore. I left Gibbs in Feb 06 and moved on to a better job in Thomasville, NC and the car came with. I was car chief on the #72 NASCAR Nationwide car in 2006, and this is where those "NASCAR RACECAR" decals came from. Coworkers put them on my windows as a joke, and it stuck. This was also about the time I learned I had the only orange Cobalt in NC and that plus my out of state tags had me pegged by the cops....
September 2006
I finally start to work on her. After racking up 32,000 miles in one year, she gets a K&N Performance air filter. 2 nights later, I'm doing 80mph on I-77 thru Charlotte when one of the stock Michelin tires blows a sidewall, and I get it sideways and slow it down on the side of the highway. There was a half dollar sized hole in the tire when I got off the highway. The next day she gets a set of Goodyear Assurance Triple Treads, since it rains like Seattle down there.
November 23, 2006
Its wet and raining, 3 am, I'm just leaving work, and on the phone fighting with my then girlfriend..... I wind up driving way to fast in my pissed off mood and loop the car on a sharp 90 degree turn. I broke traction and i remember the car going sideways and just sliding across the road.... right before plowing into a drainage ditch.....
Upon being tow'd to the nearest dealership (which was a disaster, but thats another story) I find out I need a fender, wheel, tire, axle, spindle, and most of the pieces to put the left front back together.
After a month in the dealership, wrong parts being ordered, things not being fixed right and going back, etc etc. I get the car back three days before Christmas, 2006. On the 500 mile trip North, I discover they never put the CV boot on the side and spend all of Christmas day scrubbing grease off my car. More fighting goes on with the dealership, and the car is "fixed" but still makes a clicking noise when I turn....
July 12, 2007
Clutch and flywheel get replaced after the slave cylinder breaks a spring and stops working. GM covers it under warranty after I ***** enough. The car has just over 50,000 miles at this point.
March 2008
I join *************, meet alot of cool people.
I wind up playing "tag" with a Ford Focus in Lebanon. Phoenix heads to my fathers friends body shop for work. He makes a hell of a deal to do it on the side. New hood, bumper gets fixed and cleaned, new grill, new hood latch, and I decide its time for a change. I was the only orange Cobalt in NC. but damnit, there's a ton of them in central PA. I like flat colors. and a Satin Black is picked to do some work to the car with. I also swap out my broken stock headlights for a set of "Halo" Gen 2 Cobalt Projectors.
July 2008
I find a stock Cobalt wing for $20 off a local guy, and get it painted, as I need more accents.
November 11, 2008
Remember that clicking noise every time I turn? Turns out its that CV joint that was half assed replaced 2 years ago.
December 29, 2008
I start buying "go fast parts" for the car. I pick up a GM Short Ram intake and install it at about 3 am after I get off work. haha. Also about this time I add the orange LED's i hard wired to a switch in my interior and I change my broken plastic shift knob over to a suede boot and a Hurst T handle.
May 2009
I buy an Exhaust off a guy on CobaltSS. I drive to Winchester Virginia for a GM Performance stainless cat back system. And I install it the next day. It looks and Sounds soo much better. And Phoenix seems to run a little better. She also gets Dyno'd at Performance and style. 128 hp at the wheels, 131 pound of torque.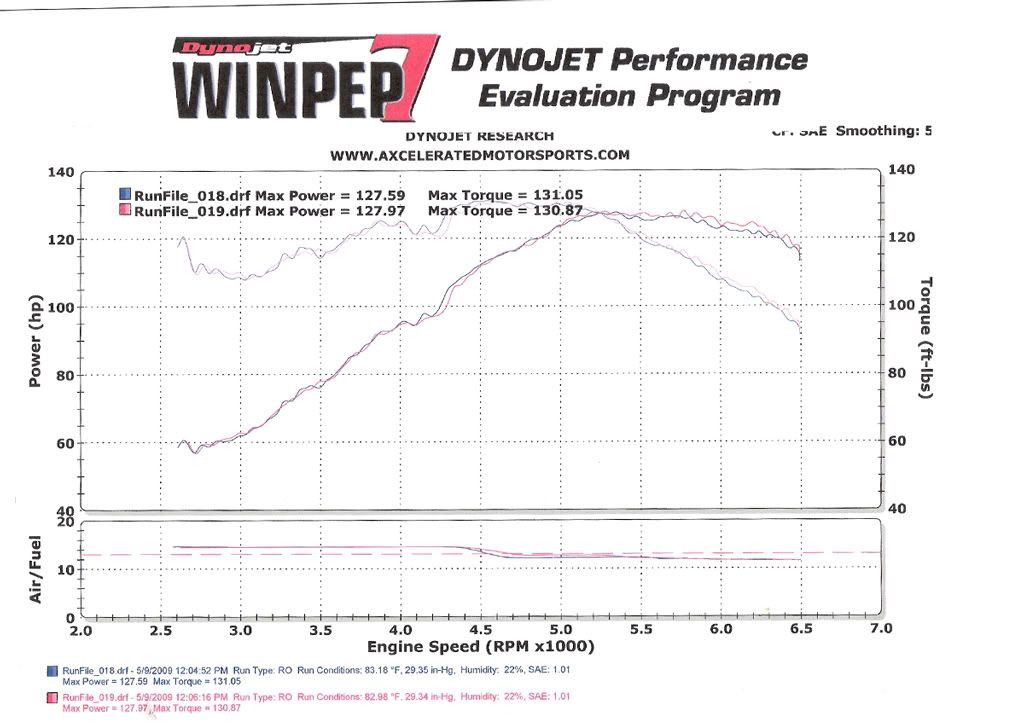 June 2009
Rk Sport side skirts get painted and installed to cover up damage from ex-roomate slamming my car into a parking curb. GMAddiction Strut tower bar goes on, I paint my valvecover, and do some other odds and ends.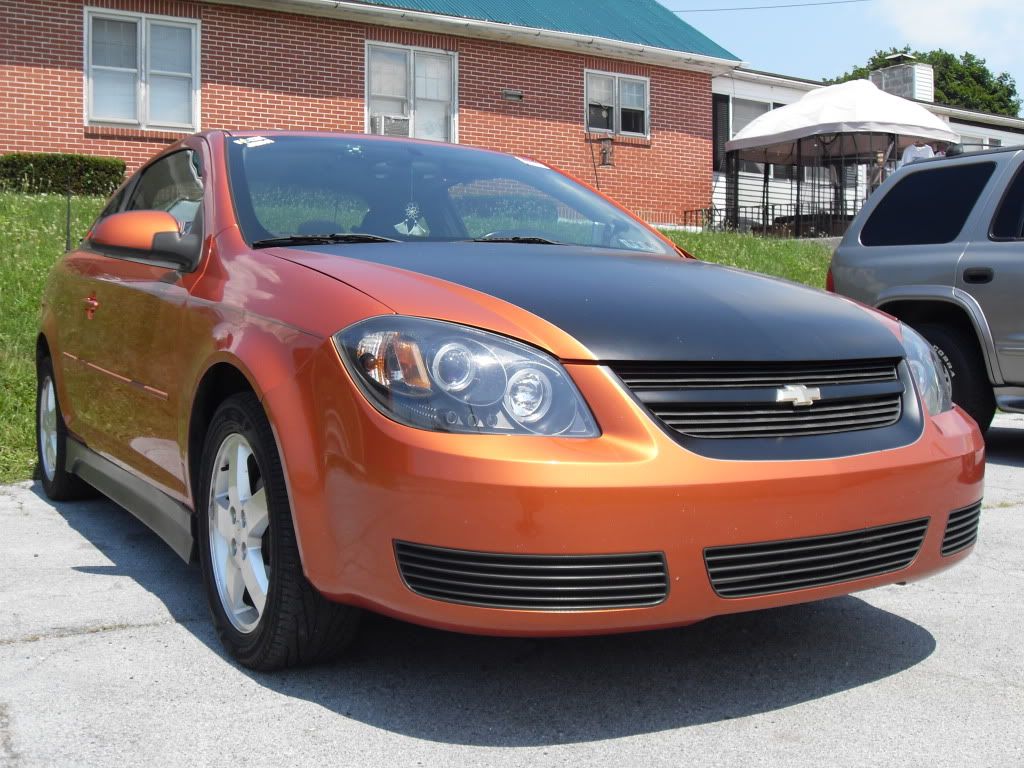 July 2009
New Black powdercoated rims go on, wrapped in Hankook Ventus HR2 rubber. Smoked out LED tailights go in to give the back of the car a darker look, and I also paint my interior trim and start hanging out with
PATuned.com
August 2009
After all the heckling I get about being a 4x4, I finally get springs, dropping the car a good 3 inches and making it run better.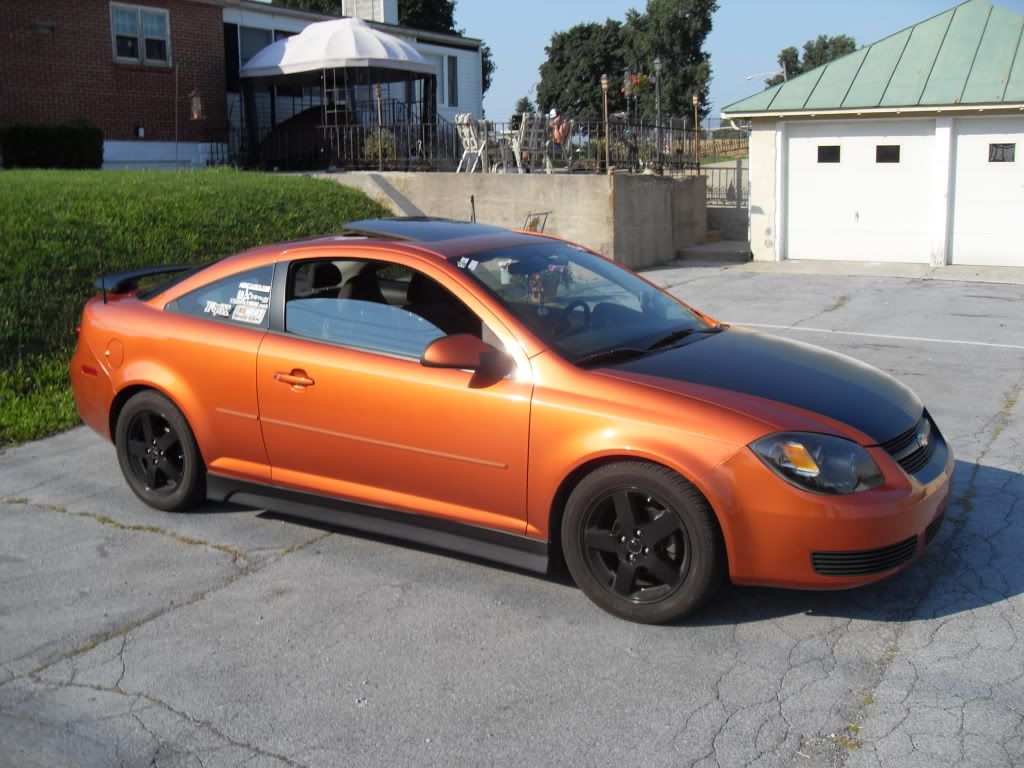 September 2009
The great staff of Creative Car Tunes in Harrisburg installs a new Eclipse head unit and memphis audio speakers in the cobalt.
November 2009
Silver HVAC unit swapped out for black, front emblem painted metallic orange, rear emblem painted flat black, 6000K HID's ordered from Mod Express, and RKSport Front Lip acquired.
December 2009
6000K HID light kit installed.
January 2010
Remove Rear Headrests, Install new short throw shifter
April 2010
Rack Spacers, RK Lip on for Good, debadged, painted trunk lock.
Summer 2010
Back Lip, Custom interior, stereo finished, sway bars, new rims