Discussion Starter
·
#1
·
Hi folks.
I was driving a med size pickup truck, a 2005 Chevy Colorado with a topper on it when my brakes went out on me around a curve and I flipped the truck many times. Thank God I was fine and my seat belt held me like I was in my mother's arms, even as the truck was upside down spinning like a top. Seat belts really can work, I very well could of die otherwise. With my insurance settlement I decided I was sick of 4x4 pickup trucks when the only time I needed it was on heavy snow days, which is rare in Kentucky.
So I went to a dealership that knew my father very well because of all of the cars he has bought from them. I knew what I wanted. A previous sales guy at a closer dealership was very rude, treated me as if I could not afford the car, and I caught him in 2 lies in teh first minute of talking to him. I had much rather work with people I trusted than to deal with the likes of people like the rude sales guy. So we went to the RIGHT Dealersho, where they knew us, and they always treated ya right. But when I mentioned "XFE" to the sales guy, who I truly trusted, he had no idea what I meant and none on their lot. Next I had to train him on how to search for Cobalt XFEs as he waited for Chevy to return his call- I showed him to search by Manual Transmission for XFE, and Automatics for other Cobalts. He found me one in my color with a spoiler and a spare tire in another state. The other dealer was offering another $1,000 to take the car because he had the car on his lot too long (I guess Indian is not green??) and my sales guy was honest enough to tell me and pass the $$ over to me! I got a few discounts, $2,00 cash back from GM, $1,000 from the dealer in Indian, and almost another $1900 in a General Motors family discount from my dad, a Chevy retiree. The car was fairly stripped, but counting for all expenses, taxes, registering, it cost me about $13,000 out the door fully paid off! Yahooo!
I knew the window said the car could get 37MPG on the high side. Just imagine the shock on my face when I see this picture below just yesterday- which is an average of MPG since I first bought the car: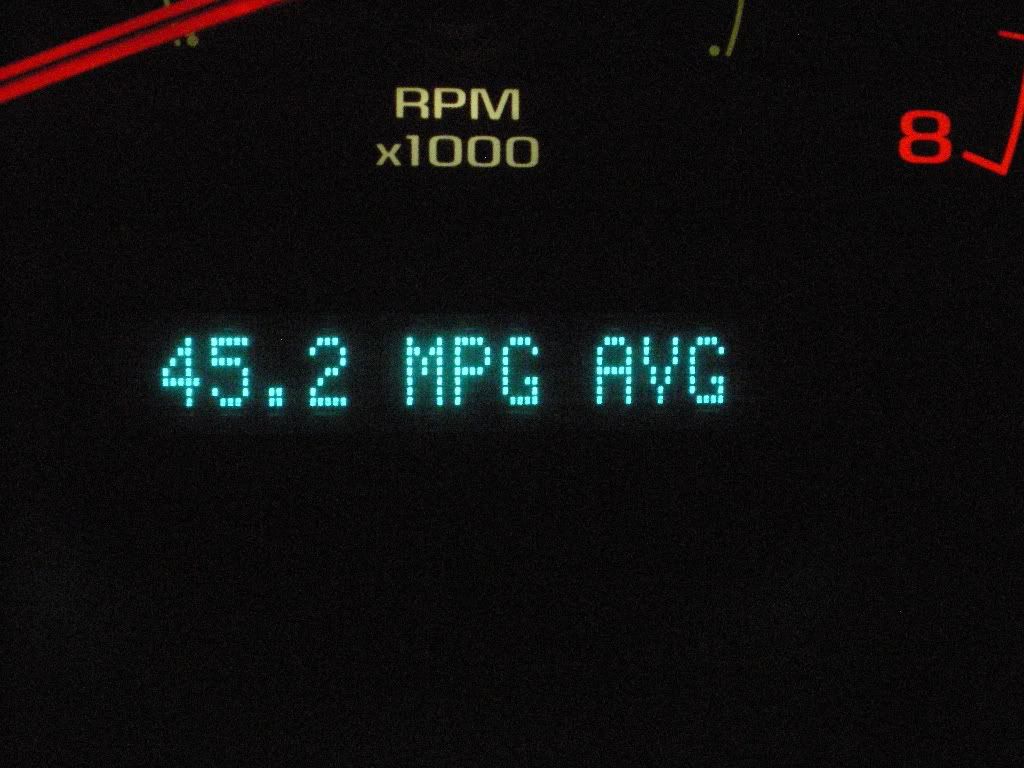 And another driver on another site has a pic of his dash of a 72 mile trip he made in which he averaged 57.8 MPG. I don't think word is out that these cars can do this well. A Honda Insight Hybrid is said to get 44MPG- So, are we not in the same ball park with the hybrids with our all gas cars here? For $13,000 total- out the door with tags, and avg mileage this high in a car that does 0 to 60 in 7.5 seconds and easily goes over 110mph, I love this car more than I ever have owned in my life!
Nice meeting the group here!