Discussion Starter
•
#1
•
I had a excuse to write this as a essay for collage, i dont have much pics but from what i have u should get the idea.
I dont have the part numbers right now but later i can look them up but they are the same part numbers as the custom CAI with the addition of 2 additional 90 degree bends.
. First thing you want to do is build 2 halves of it outside of the car, this will make things easier down the road. You want to put the filter on a 90 degree pipe using a coupler and bolt it up with the hardware that is included in the couplers and then attach that to another 90 degree bend. The other half of this will be a 90 degree bend attached using a coupler to the MAF sensor adaptor and make sure the MAF adaptor is facing towards the motor because otherwise it may read wrong and throw some codes on the computer and illuminate the check engine light. Then on the other side of the MAF adaptor you want to connect the long pipe with the 45 degree bend in it with the 45 degree bend being closer to the MAF adaptor. Now you will want to put the second half of the intake on the throttle body, the 90 degree should be on the throttle body and connected with a coupler. Then bolt the MAF sensor to the MAF adaptor. Loosen the couplers and adjust as necessary. The longer part of the pipe after the 45 degree angle should be heading towards a hole in the body just below where the stock air box sat. Now this next part you may want to lift the car up with a jack and jack stands. During this step you will want to undo the plastic pieces on the bottom of the car on the passenger side. Then you will place the other half of the intake through the underside of the hole that the top half is heading towards. If you can get somebody to bolt it up with a coupler for you as you hold it, it helps a lot but you can do it yourself. Then loosen any of the couplers to adjust as you need so that the filter is facing the front of the car.
Here is a pic of the final product,again sorry for the lack of step by step pics,as soon as i get a camera ill edit and place them in.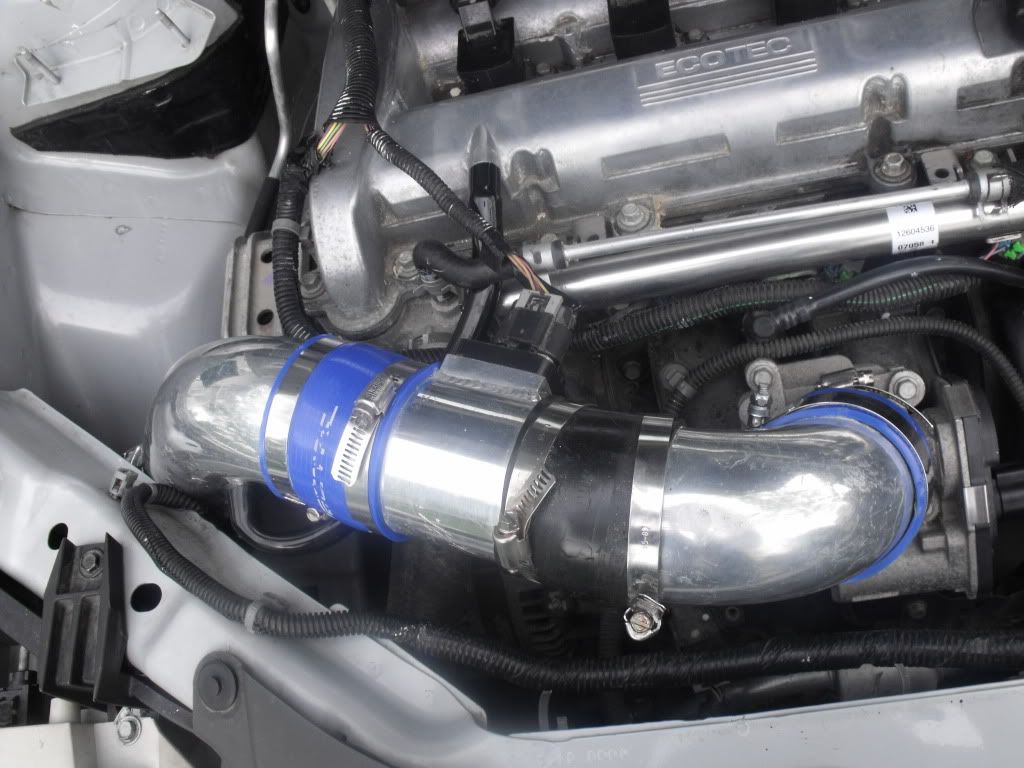 The 3rd pic isnt correct due to where the MAF is placed but that is the idea that you want behind it, I had to place the MAF in front of the motor due to it throwing CELs