Discussion Starter
•
#1
•
Hey guys,
So i recently installed the Injen intercooler piping and thought I would put some pic's up to show how its done. Before I did this I could not find any install info on it so hopefully this will help others looking into it. This install will take about an hour to do. The instructions they send with the package are good enough but it looks like they removed the bumper. I installed my piping with the car just on the driveway. If you got ramps it will make it easier but if you don't it can still be done...you just need small hands.
Step 1- Remove old piping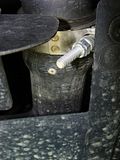 This one is under the driver side front bumper. Its a small hole but as you can see you can access the bolt from there. Un-tighten the bolt all the way. If your small, you can do this with the car on the ground. If your not, ramps or a small friend will be needed.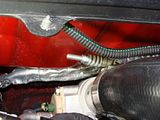 This is the bolt on top of the turbo that must be removed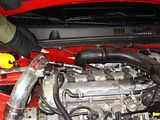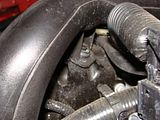 This is the last bolt that needs to be removed.
Now that the 3 bolts are removed, you can pull the old piping off. Let me stress one thing, it takes some good force to remove the piping from the turbo end and the other end. Pull straight up and wiggle it back and forth and it will come off...just don't be surprised with the amount of force it takes. The turbo end its easy, the other end is not so much. I found that the best way to remove it is to follow the piping down, grab firmly after the 90 degree bend and pull from there. If your built like a brick house, your going to need a friend with smaller hands and arms to do this.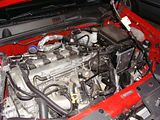 old piping removed
Step 2- Install of new piping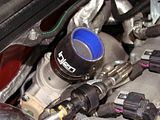 Install the coupling on the turbo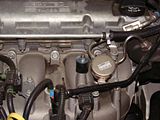 Install the bracket on the engine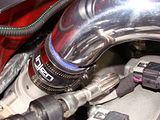 Install the pipe into the turbo coupling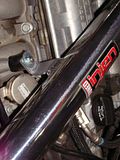 secure piping to bracket
First part of the piping is now installed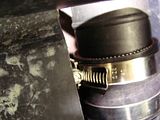 To connect the new piping on the bottom end, here is the best way. Secure the coupling to the new piping first, send it down through the engine compartment and THEN connect it to the plastic pipe. You will not have enough room under the car to do it other way.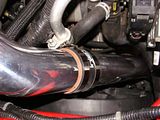 Finally connect the 2 piping sections and your done.
Its an easy upgrade and cost efficient. The hardest part will be removing the old piping but within a hour you should be done. If you have any questions fire me a PM.
Cheers,
Tog