Discussion Starter
•
#1
•
This thread is a combination of installing a block heater and installing oil/tranny pan heaters. LoneWolf and I have come together in making this thread.
I will start with installing a GM block heater on the 2.2 ecotec motor.
Here is an example of what it looks like. Note this is not the exact one that I have, there is a difference in how the cord attaches to the heater, otherwise it's all the same...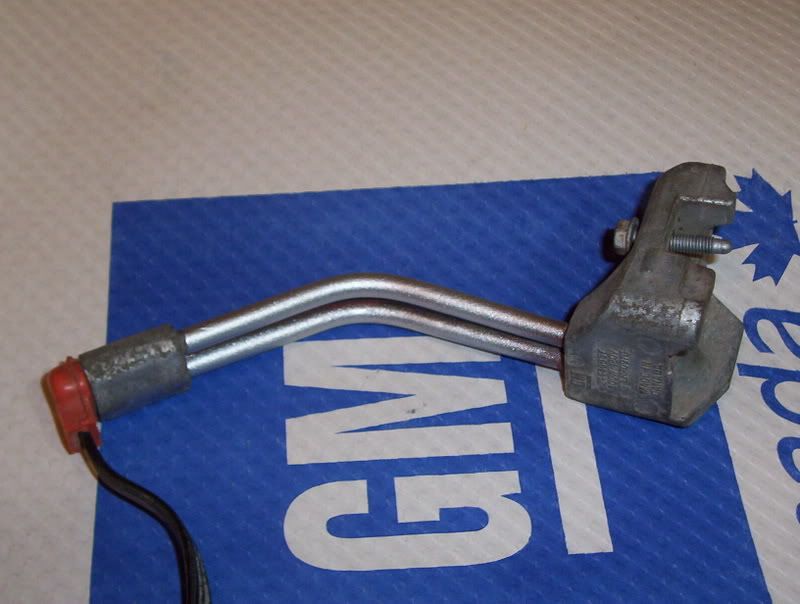 tools needed to install the block heater:
- 10mm socket in 1/4 or 3/8 inch drive
- socket extension
- 1/4 or 3/8 inch drive ratchet
- jack/jack stands or hoist or ramps to put the front of the car up on
Once you are able to crawl under the car, look at the back side of the engine just below the exhaust manifold towards the passenger side.
You have to snake it in to fit into the spot it goes. It would help if you remove the heat shield above the exhaust manifold but it's not needed.
Once you get it lined up with the bolt hole just tighten up the single bolt that holds it on and then you can connect and rout the cord.
The cord has some clips and retainers to help mount it along the way.
Here are some pics to help better understand where everything goes...
This pic shows the routing of the cord and gives and idea of where the block heater is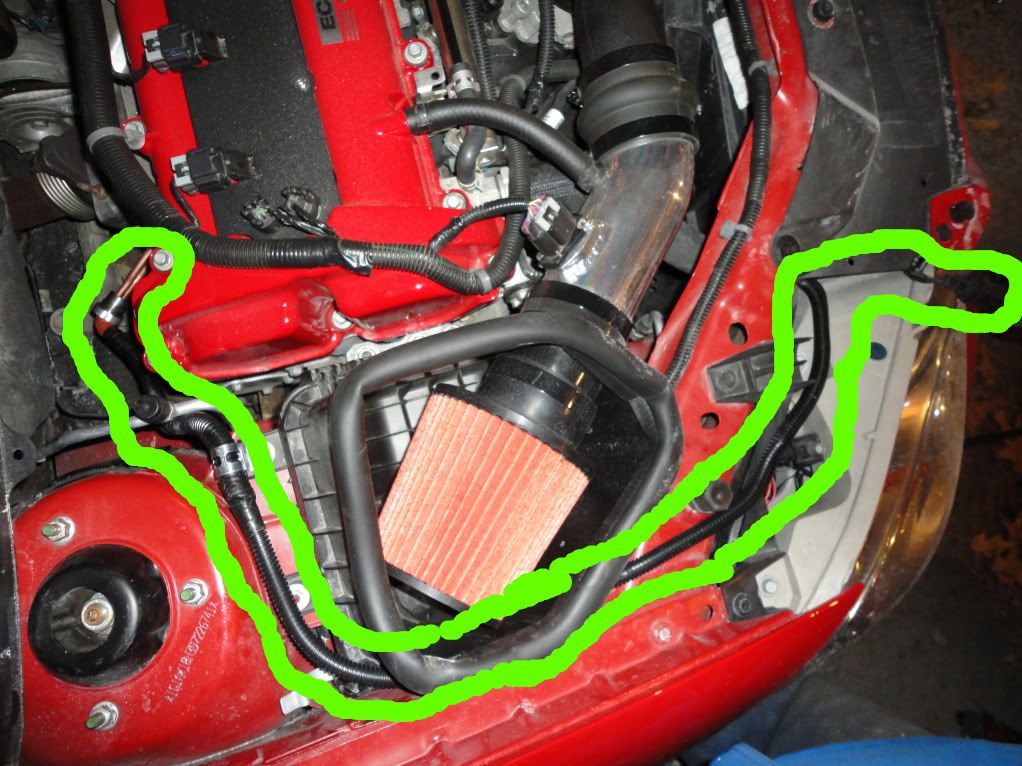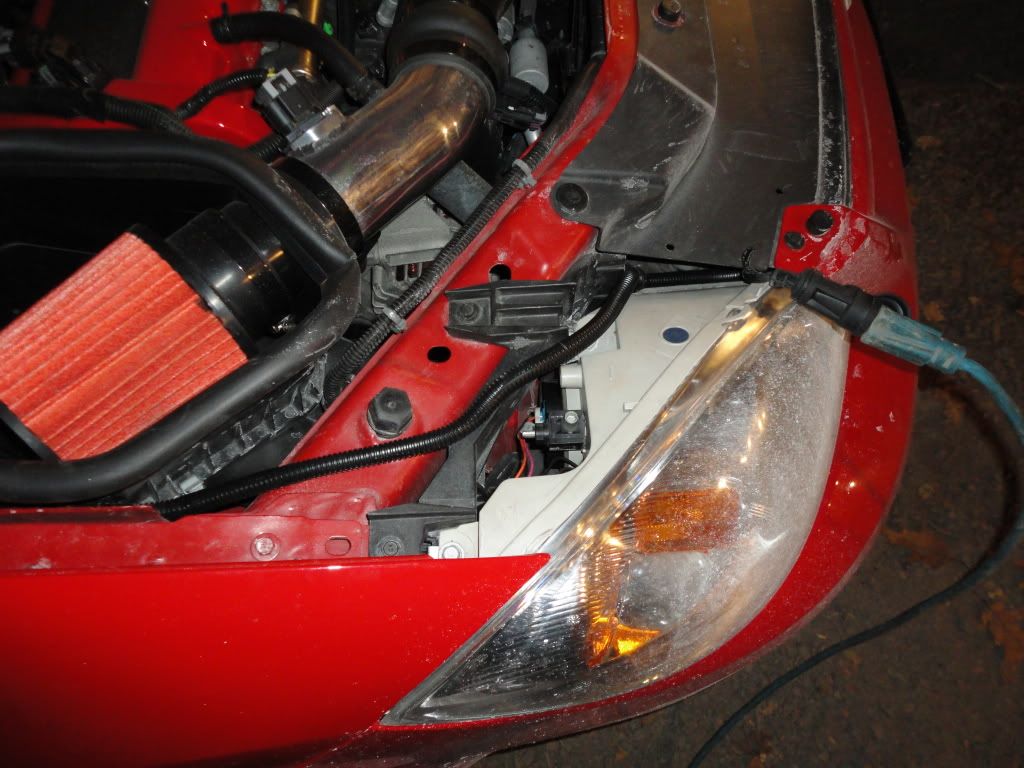 This pic is looking up from under the car showing part of the block heater. The red arrow is pointing to the bolt that holds it on.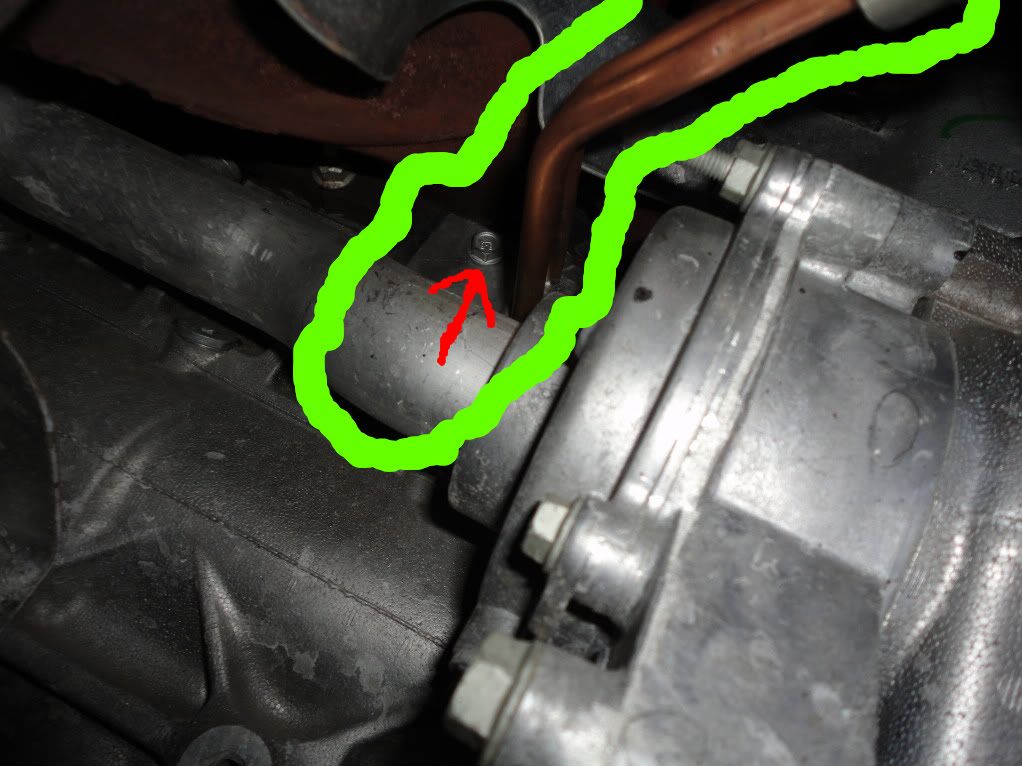 another view of it from under the car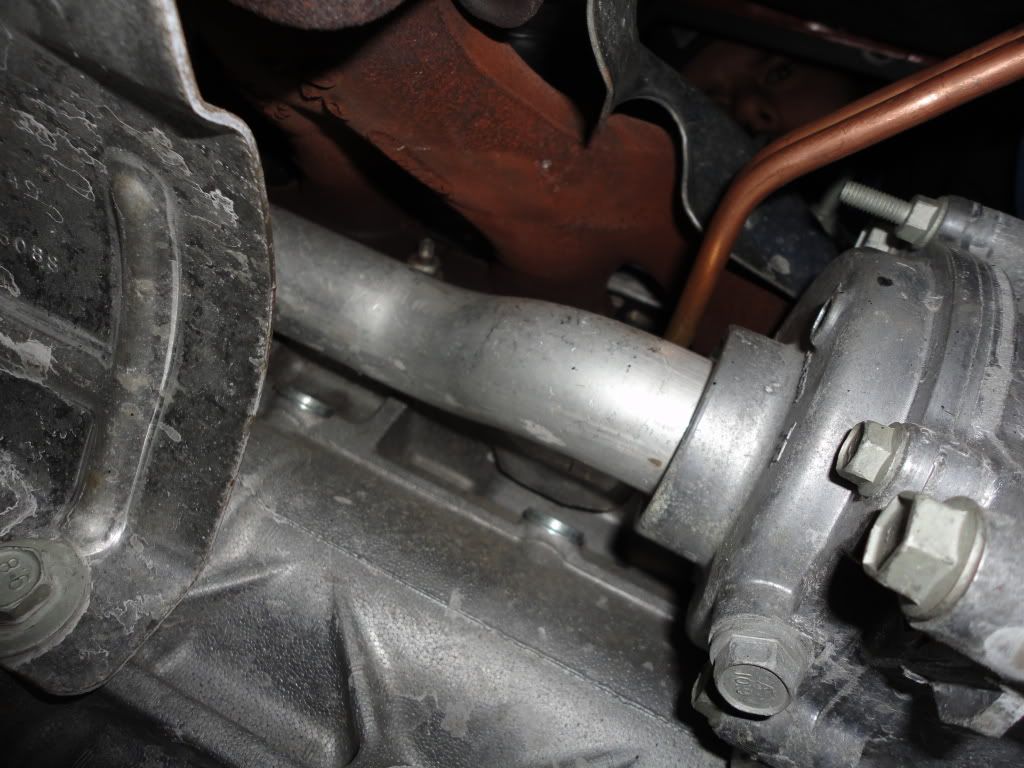 Also: These block heaters have a built in thermostat in the cord, they will not run unless the temp is 0 degrees or lower. Not the best design IMO but oh well, it still works good. It keeps my coolant at 40 degrees in below zero weather.
Another thing is that I did not route my cord exactly how it's designed. I routed it very close to how it is designed but I chose to leave it hidden under the hood instead of hanging out.
I hope this is a clear enough description of how to install it. It's hard to get good pics being that it's in a tight place.
Now for LoneWolf's part of this how to. I am pasting what he sent me in here so all credit goes to him for the rest of this post.
Parts needed
2 Kat's by Five Star hot pad heaters P/N 24050
2 3 oz. tubes of Permatex RTV sealant I use the black because its best for extremely cold temps.
1 Old credit card (like the fakes ones you get offers for in the mail)
1 2x4 doesnt need to be too long maybe 1 foot at the most
1 car jack
1 2-3 ft. tri tap extension cord with the clear outlets and tips Kats sells these also P/N 41300 but you can find them at all hardware stores
Dish Washing Rubber gloves you dont want to do this with bare hands because you will get sealant on you and it wont come off for weeks
Zip ties
I dont have any pictures of while I was doing this but I do have pics of were things need to be place for best functionality.
Step 1 First you want to plug in your pan heaters to make sure they work correctly and produce heat.
Step 2 Raise your car up onto jack stands so you have space to get under your car.
Step 3 Clean the surfaces of your transmission pan and oil pan, you want the sealant to have a nice clean surface so it seals to the pan correctly.
Step 4 Give it one more quick clean up before you go at it. It will give you a chance to determine where you want to place it. Dry it after you clean it if there's some hard gunk on there you may need to sand a little bit to get to bare metal.
You will want your pan to be warm so run you car for a little bit so its hot to the touch but doesn't burn you. It helps the sealant do its job.
Step 5 Many of these pan heaters claim to have a self adhesive but i never sticks as well as it should. I prefer the ones with no self adhesive and let the Permatex do its job. So spread the permatex in lines about 1" apart on the side of the heater with no print on it.
Step 6 Never thought that old junk mail was useful well it is so grab that fake credit car you got in the mail and smear the permatex all over the side you put the permatex on until its all equally spread across the heater pad(be careful to do this with clothes your willing to sacrifice because this shit does not come off of clothes)
This is Where I place my first pan heater
Step 7 After you have smeared the sealant find where you are placing the pad and hold it on the pan and put pressure on it with your hand to squeeze out all excess sealant and air bubbles until it starts to stick.
Step 8 Now you get your jack and 2x4 and jack up the 2x4 until it is snug pancaking the pad in between the 2x4 and the pan without crushing the power cord, clean the excess sealant you have squeezed out , and wait for about 30 minutes to an hour until it is fully sealed. Then move to put the other heater on the pan here
And follow steps 5 through 8 again.
Routing your power cords.
This is an easy part you need to route your power cords so they dont get caught on any moving objects or hang down and get dragged on the road. if there is any excess cord tie it up with some zip ties and get your tri-tap extension cord. Mine was placed here
You want that ziptied also so it does not move or fall down etc. etc.
Then route your cord through your lower front grill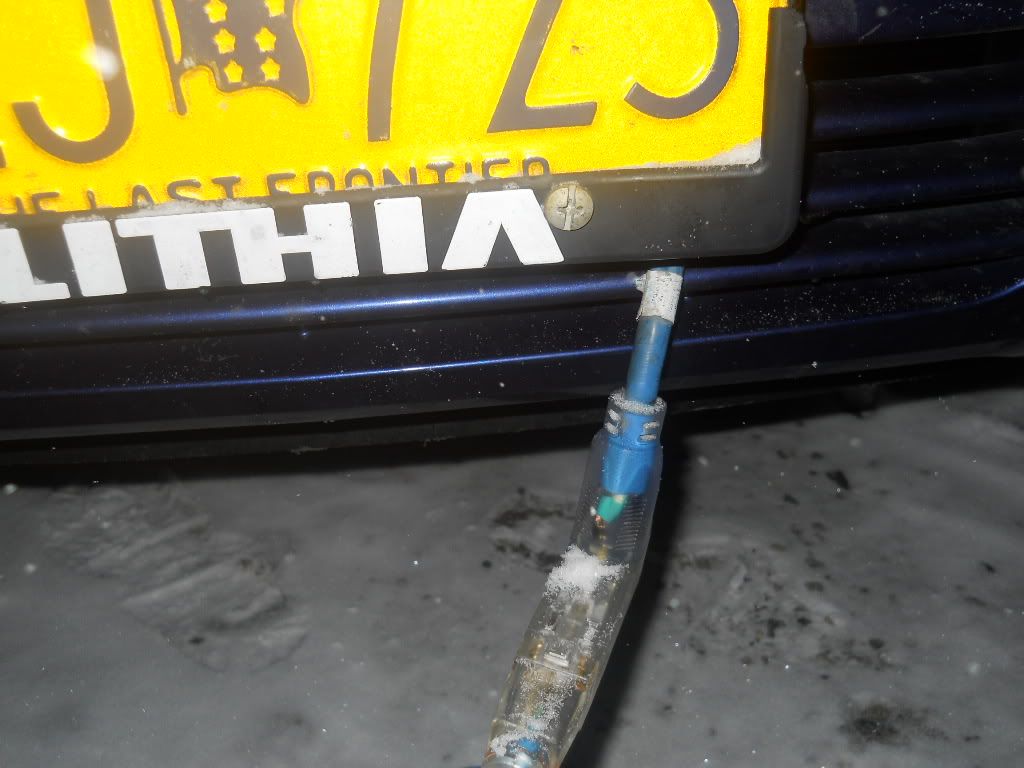 Zip tie it there if you would like. I choose the clear tipped extension cords so you can see when there is power going to the heaters and when there isnt.
Then the last step would be plugging it in and making sure all of you pan heaters generate heat.