I have had many request for me to do a carbon fiber write up so hopefully this write up will take the mystery out of carbon fiber. Really carbon fiber is pretty easy if you know what to do and take your time doing it. There are three types of ways to do carbon fiber: the first and easiest is wrapping, which is what we are going to do. Next is vacuum bagging. This is a little more complicated and involves making a mold and some specialized equipment. I won't get into it here however if you'd like PM me or if there is enough interest I can do a write up. The last is infusion. This is how industries do it but can be done at home. It is the most involved and takes a lot of specialized equipment. It is also the best way to get the most strength/weight for a part. However do to it's complex nature we won't get into it here. Again PM me and I can walk you through it if you really want to try it.
Ok carbon fiber wrapping.
What you need:
Carbon fiber - Many composite companies are not taking new orders because of the alleged world wide shortage of carbon fiber. The truth is there is plenty of carbon fiber around but I think this is an attempt drive the price up. If you call around or even look on ebay you can find reasonably priced carbon fiber. A year ago carbon fiber cost something like 50$ a linear yard, I bought some recently for 30$ a linear yard. Obviously the more you buy the better deal you will get, but for starters a linear yard (36 in x 56 in) will do. For cosmetic applications 2x2 twill is what you are looking for.
(insert pic of carbon fiber here)
Adhesive - You only need one of these, pick what works for you
Spray adhesive- found at home depot for about 10$, it allows little time to work.
Epoxy resin – you can use this instead of adhesive, it allows longer work time, but also takes longer to cure. You can also use this as your laminate. If you choose this route make sure to get clear drying resin!
Surf board resin - this is what I use. It dries clear, cures quick, and doesn't bubble much.
Laminate- again you only need one, pick what's best for you.
Epoxy Resin - make sure to get clear drying, it has a slow cure time and tends to bubble.
Surfboard Resin (ding all) – clear drying and UV resistant, medium cure time, tends to bubble less then epoxy resin
Kleer Top – this is what is typically used for counter tops at bars and resturaunts. It works well and has minimum bubbling. However it's expensive, and has a long cure time. It is also very runny which can create a challenge on slopped projects.
Misc
Resin roller (optional but recommended)
Paint brushed (foam or bristle will work for a simple project)
Mixing containers
Stir stick
1 oz measuring cups (you will need several)
Sand paper (150 grit, 320 grit, 400 grit, 800 grit, 1000 grit, 2000 grit)
Clear coat (personal preference)
Spray gun (optional depending on your clear coat)
Shears
Dremel or grinding or equivalent tool
Car wax (pick your favorite)
Respirator or mask
Protective goggles for sanding and trimming
my supply cart: as you can see I've chosen spray adhesive, sponge brushes, and surf board resin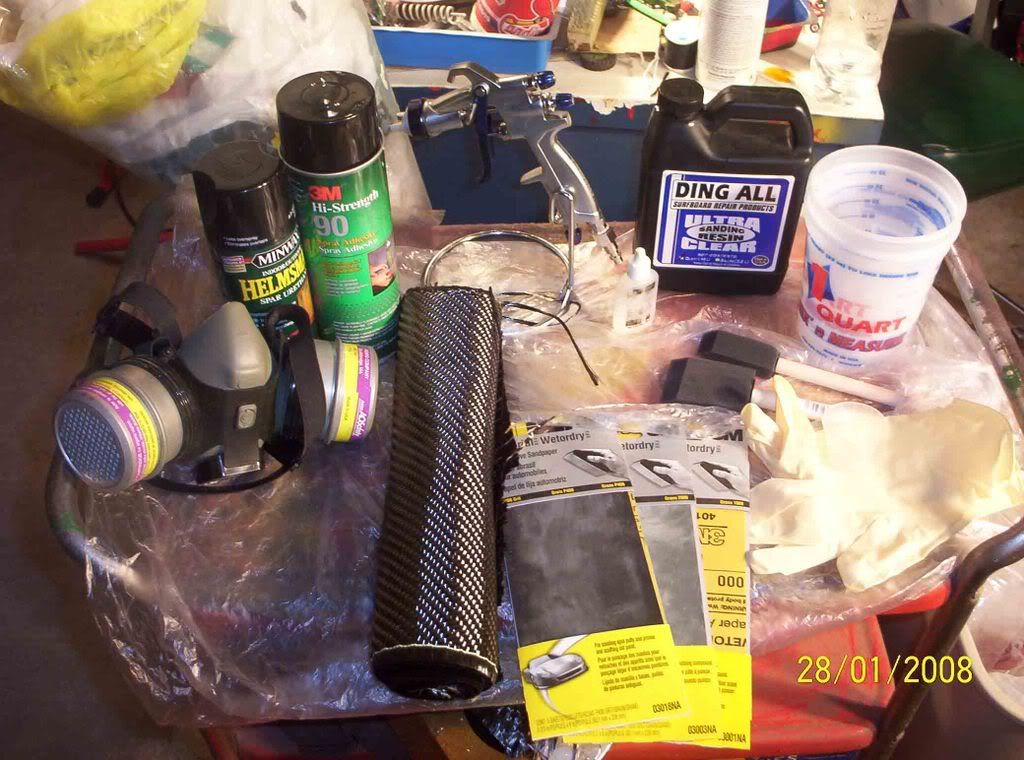 Ok let's get started. For this demo I've decided to do the surrounding piece on the glove box. This is a simple piece that has a few curves in it to help get the idea of how to work with curves. I had initially planned to do B pillars for this, but the weather is awful outside and has been for a while so I didn't want to brave the elements to measure and fabricate to do them so I choose this piece. Once you get the idea of how to work with carbon fiber all projects are basically the same.
The first step is to make sure the piece you are going to wrap is black. If not the underlying color will show through unless you plan to lay up multiple layers. I didn't show this step in a picture because I think we all know how to paint. If not PM me. 
Test fit
Once that is done it's time to test fit your carbon fiber. Use this time to test mold the carbon cloth to the part and cut away excess cloth. You want to leave a fair amount left over the edges to ensure you cover the entire part.
test fitted
adhesive
Now that you've test fitted the carbon it's time to apply adhesive. Get out your respirator because this stuff is not good for your lungs. Safety first! Now pull the carbon off the part (incase that wasn't obvious). Depending on your method for adhering you either brush on the epoxy resin and let it get tacky before applying the carbon fiber or if you are using spray adhesive like I have here you can instantly start applying the carbon fiber.
The trick here with the spray adhesive is to do very small sections at a time. I started in the middle of this piece and did only about a square inch. Once you have initially stuck down the middle part slowly work your way outward a little at a time. Take your time here because this will make or break the project. The idea with carbon fiber is to get a nice even weave across the entire part. This can be very tough on a part with curves like this but if you take your time you can do it. Once the carbon is laid you can run over it with the fiber glass roller to push it into the adhesive.
If you are using epoxy resin to adhere the carbon this is where your fiberglass roller comes in. Once the carbon fiber is laid on the part use the roller to make it as flat as possible, this is necessary to get the air bubbles out and ensure good adhesion. This step will have to be done with the epoxy resin to get a good adhesion and is not optional like it is with a spray adhesive.
In both cases be sure to wrap the carbon fiber around the edges of the part so that it can be trimmed out of site behind the part.
This is what your part will look like at this point. It's important to try and get it to stick to all the corners of the part.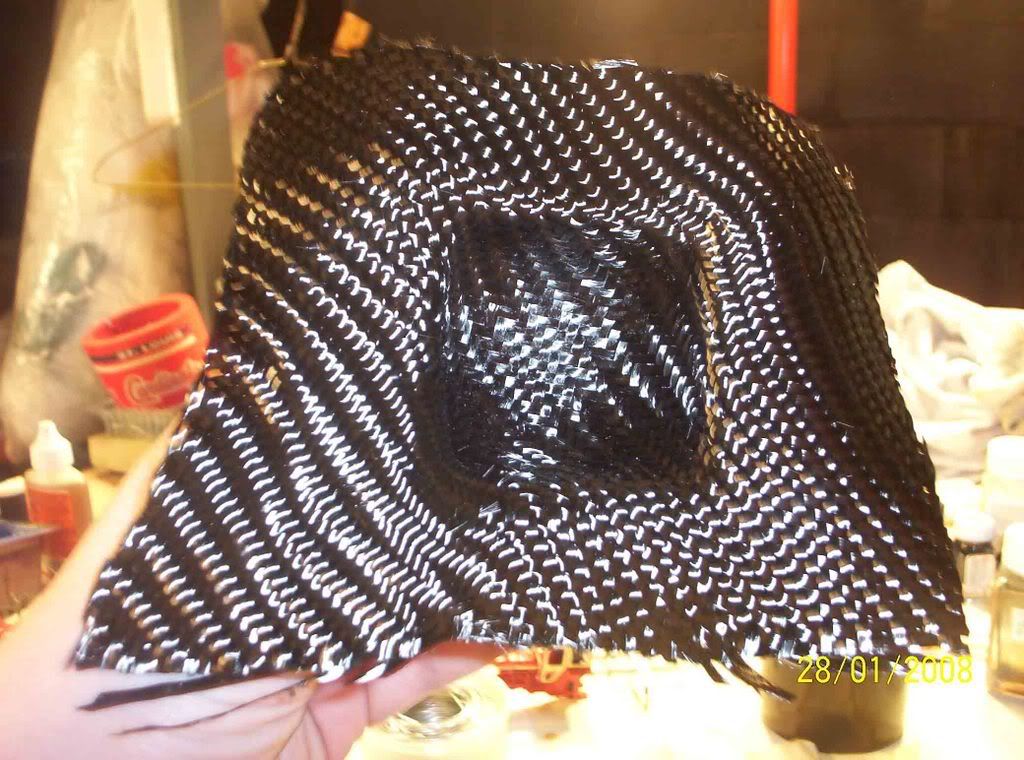 another view showing the corners tucked.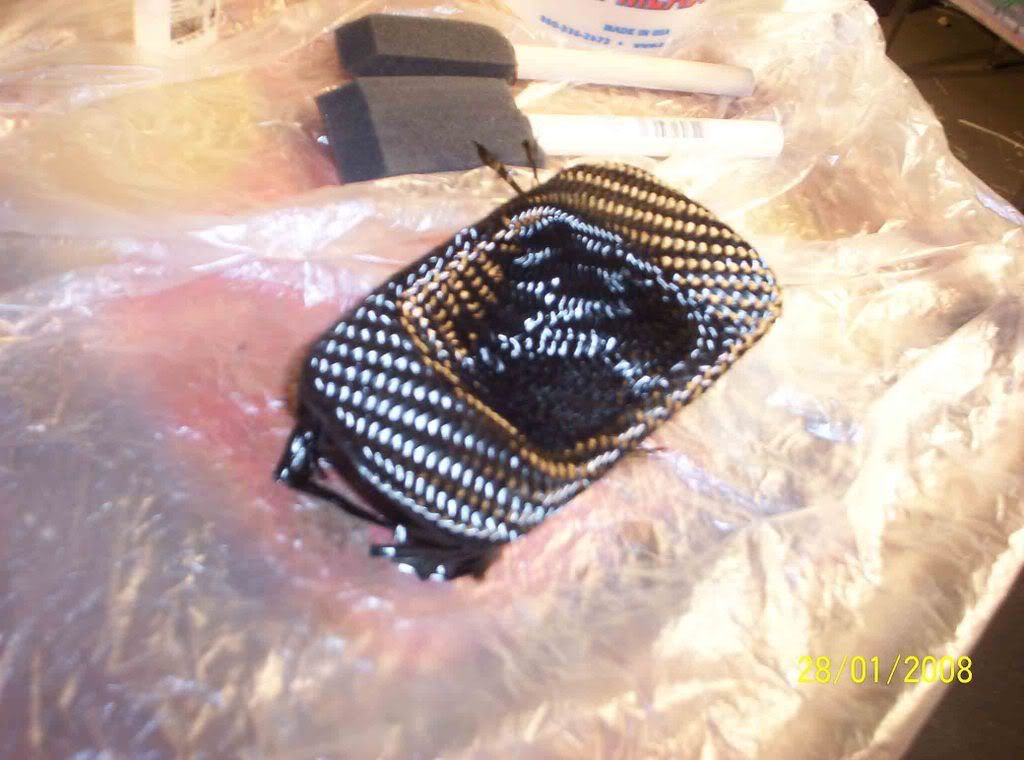 Wet out
Next up is wetting out the carbon with resin. It's important to accurately measure here otherwise you may not get a complete set up of the resin. Surfboard resin is at a slight advantage here in that the harder does not need to be as accurately measured however it's important to be close. Once your resin is mixed with the hardener it's time to apply. Note: only mix a small amount of resin because you can only apply one coat at a time and if you mix too much you just waste it.
For this first coat of resin you want to apply it with a dabbing motion. This will keep from disrupting the weave of the carbon fiber and will help to push the resin into the cloth. If you are using a bristle brush be careful to not let any bristles that fall off to set up in the resin. Remove them immediately. After your first coat of resin is on and set up you can apply subsequent layers with a brushing motion. I suggest applying a minimum of four layers of resin. This insures that when it comes time to sand that you will not hit any of the carbon cloth.
after one coat.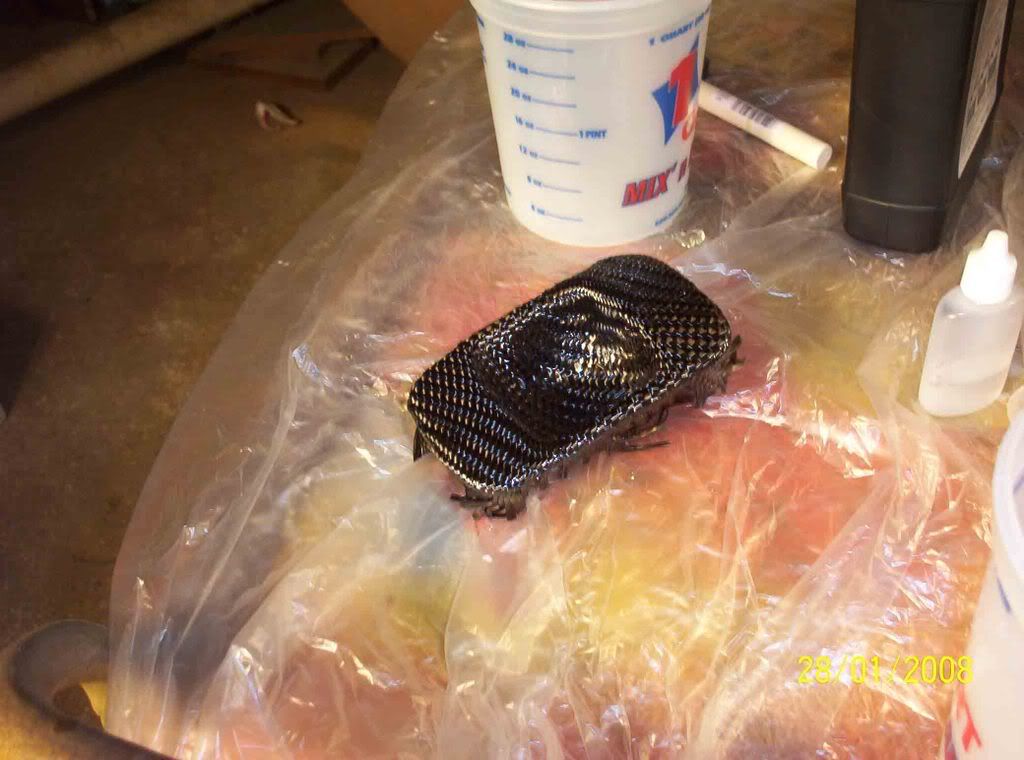 after several
Trimming
Now it's time to trim the excess. I use a dremel with a cutoff wheel. It works very well IMO. Just go slowly and let the dremel do the work. The idea here is to cut off all the overhanging carbon fiber to reveal the final shape of the part.
The backside trimmed up
Sanding
Once you are satisfied with the depth of your resin it's time to sand it. The idea here is to even out the surface of the resin. Start with your 150 grit and sand until you can no longer see any shiny carbon fiber. If you can the surface is still not even. As a heads up this is going to look horrible and you will think you have ruined it. You haven't so don't worry. Once you are satisfied with that step move to the 320 grit, then 400, 800, and 1000. This will ensure a nice smooth surface. The resin will still look awful but it's ok.
It's now time to wash the part. You can do this several ways, soapy water then rinse, acetone, or alcohol. You just need it nice a clean.
Clear coat.
Now it's time to clear so get out your favorite clear coat of choice and apply to the part. Whew that beautiful shine is coming back now and it should look like those nice shiny carbon fiber parts you see on TV and in my car.  After your clear has dried it's time to wet sand with 2000 grit paper. Once that's done apply your favorite wax and enjoy your newly made carbon fiber part.
Final pics
All done
Notice the horrible job I did of keep the weave consistent. This is a good example of what not to do. lol This part will be redone.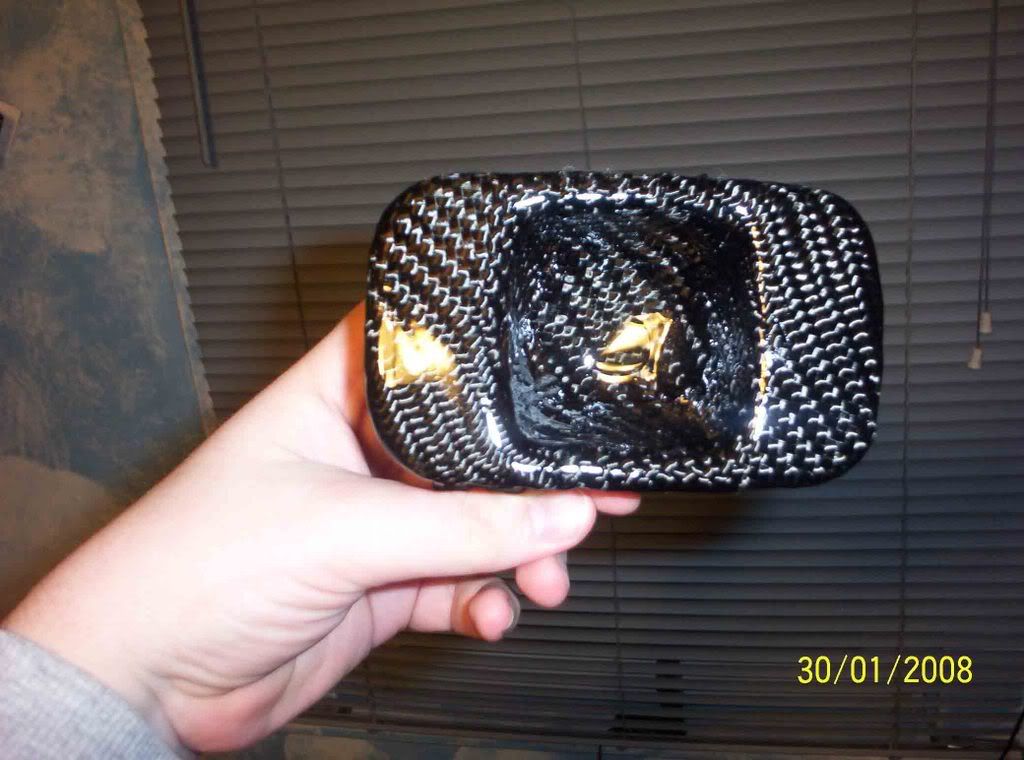 IMADreamer added 0 Minutes and 31 Seconds later...