Discussion Starter
•
#1
•
Well I have officially almost have had this thing for 2 years and I still love it to this day. Picked her up for only $1150 bucks! I have done soo much work on this thing but really haven't spent all that much money on her and I wouldn't be afraid to drive her across the country and back.
When I first got her( After Deep Cleaning the heck out of it)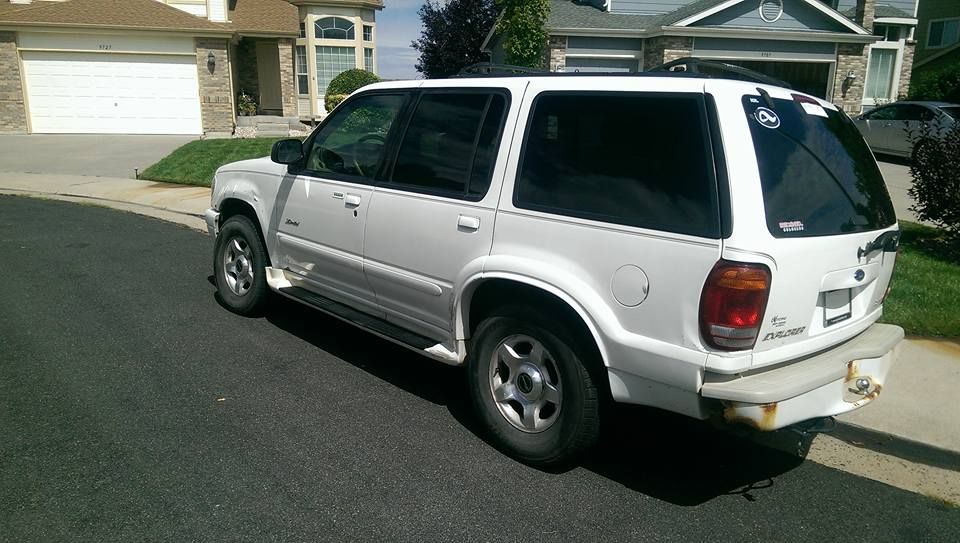 Offroading fun!
How She Sits Now!
---------- Post added at 01:22 PM ---------- Previous post was at 01:07 PM ----------
What I have done to her since ownership!
Replaced front fender with fender flare (OEM)
Replaced rear carpet (OEM)
Rear carpet cover (OEM)
New instrument cluster bulbs (phillips)
New blend door Actuator (motorcraft)
New alternator
Replaced rear bumper (OEM)
4 New tires (will get brand later)
Paint work
New Passenger mirror (Ebay special lol)
Upper and lower intake gaskets were replaced
New spark plugs (iridiums think AC Delco idk)
New spark plug wires (champion)
Helicoil and JB Weld (because one spark plug seized to head and broke inside......)
New Moog Swaybar endlinks
Replaced Auto Climate control unit (didnt have to was trying to hunt down ac/heat problem OEM)
New front shocks (Motorcraft)
New rear shocks (Motorcraft) (Went with xlt cuz didnt want the air ride system)
Transmission filter (Oriellys special)
Transmission fluid (Motorcraft)
Rear Diff gasket (idk brand but cost 1 buck)
Rear Diff fluid (Royal Purple synthetic 145)
Air filter (Got at Walmart)
New radiator (OEM got for $20 bucks!)
Coolant (Oriellys brand)
Thermostat and seal
Vacuum hose for a/c (Not made anymore luckily found a guy near me that had one)
Rear brake pads (Ceramic)
New rear brake rotors
Emergency shoes (still need to do and fix ebrake)
New wheelspeed sensor for rear axle to fix abs light
O2 sensor passenger side upstream
Oil Pressure Switch (so on cold starts it would read oil pressure correctly)
Belt tensioner
Power mirror switch
Main ECU relay
Still not done with her but all in got her for $1150. $650 bucks for the tires and Around $1200 for everything else. All in at $3,000