So I painted my bowties today and I think they turned out real nice.
I have been thinking of painting the gold part black and leaving the chrome around the outside being that my cobalt is black.
So yesterday I checked out the box of spray paint that we have and I found some rustomleum automotive plastic primer and some automotive clear coat. I didn't have any black paint, just some white, purple, and a textured sand stone........ I Figured that none of those would look real good so I made a trip to Menards on my lunch break to pick up a can of black.
I had the can of black in my hand when I seen all the automotive metallic paints they had.......... aaaaahhhhhhhh SPARKLY..... LOL
So I picked up a can of metallic black, I figured that it would look good, and if it looked like crap after the first coat I could always stop there and get a can of black.
I pulled them off today, taped them off, and scuffed them up a little with some 400 grit sandpaper then put a coat of the plastic primer on them, then sanded with 800 grit to get rid of the orange peal. Next was the first coat of the paint, then sanded with 800 again. Then the 2nd coat of paint, it looked real nice and the can said to clear it after 10 minutes so I waited 10 minutes and cleared it. After that dried I sanded again with 800 grit and put 1 final coat of clear on them.
They turned out nice and glossy and smooth, I am very happy with them, and they looked sharp too... :bigsmile:
Finally I put them back on the car and I think they really look nice. I think with the metallic black there's just enough differance that they don't get lost in the rest of the black........
Let me know what you guys think.... It was starting to get dark out so I'm sure in the sunlight they'll look even better, that and my car is due for a good bath...
I'm thinking of going with a black and silver/chrome theme on the interior eventually.......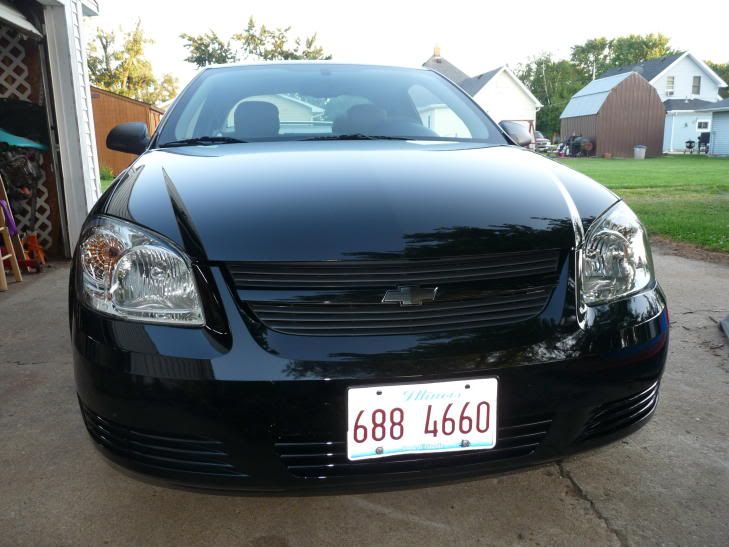 Talk to you all later