Discussion Starter
•
#1
•
I was looking around on craigslist and I found these rims
20" chrome wheels COBALT SS - NO RUB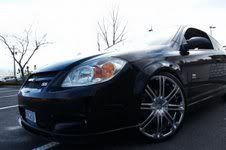 Anyways the rims are 20 x 7.5
offset is +45
bolt pattern 5 x 110 but he also thinks its universal???
Rims are MKW M51
Tires are
225/30R20 BF Goodrich G-Force T/A KDW Tires
80% tread or whatever
SO i have an 08 LT 2 Dr and well I want to know if these will actually fit my car like he says they will and how would they not actually rub being so big and also is this a good price for these rims and tires, I'm still pretty new and I looked into them on the internet and it seems like $1600 is a good price, OH AND IM PLANNING ON PUTTING ON SPORTLINES this spring so would they still fit?
PLEASE HELP!!!!!!!!!!!!!!!!!!!
_______________________