I bought this car as commuter when i was living in Montana. I took a job as an elevator mechanic apprentice. Needless to say, they're aren't that many elevators in Montana. So i needed a cheap car that got good mileage, and had a warranty. i was commuting at least 150 miles a week one way, usually about 360. so i picked up this lil LS so i could drive it into the ground. Well, after about a year, that got job old. But the car didn't. I fell in love with this car, and found a community of people who had too. I started modding it, and the result (so far) is what you see here...
Mod list....
styling mods
35% tint
De badged, fenders back
Mirror caps
Gen 4 projector headlights w/ 12,000k HID'S
Yellow bowtie and trunk lock
Door vinyl delete
Nite shaded tails
Yellow dash trim
MPX shorty antenna
Bad fuse box paint job
Plasti dipped dipped drums(flat black)
Chassis
Sportlines
Rack spacers
SS/TC struts and shocks
LSJ control arms
LSJ 24mm front sway bar
Moog SS endlinks
Powell 25mm rear sway bar
17" Silver Enkei RPF1's
Hankook Ventus V12 EVO's-215/45/17
R-1 Concepts premium blank rotors
Hawk hps pads
Russell stainless lines
ATE super blue brake fluid
ENGINE MODS
K&N SRI
2.4 Intake mani
2.4 Throttle body
Depot catch can
Badmab shorty header
ZZP catted downpipe
GMPP performance version exhaust/angle tip
Trifecta tuned
Turbo Tech Racing solid upper engine mount
Future mods
LE-5 front fascia w/ hids
M3 style lip spoiler
White plasiti dipped wheels
anyway on to the pics....
Ahhh new wheels...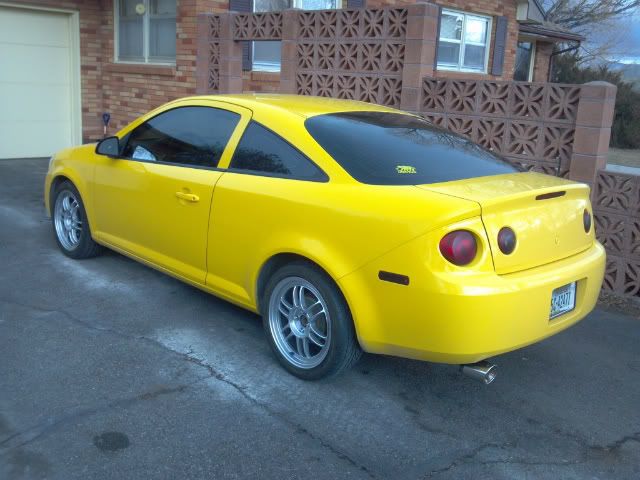 Thanks for looking!