well i know its not a cobalt but....
so my GF crashed her car in December... went under a pick up. she was pretty rattled up. so i went to a frew junk yards and got the parts i need... fender, headlight, and mounts. her hood was folded, fender was wrecked, bumper was cracked, driver headlight was smashed, and left fender core support was pushed in a little.
my junk yard of choice is the Pick and pull in wadsworth IL.... you go and get your own parts off the cars and they have one day a week that you get half off of everything they have... so i got her parts for $40!
then i went to GM and had her paint mixed up, and primer, and clear coat, with the hardener and thinner. about $75
you will also need sand paper, (80, 220, 380, 600, 1500)
you might need body filler, and or apoxy
painters body work tape and masking paper.
i had all that stuff so i didnt have to buy it all.
so the project is at about $115
first i took pics of the car...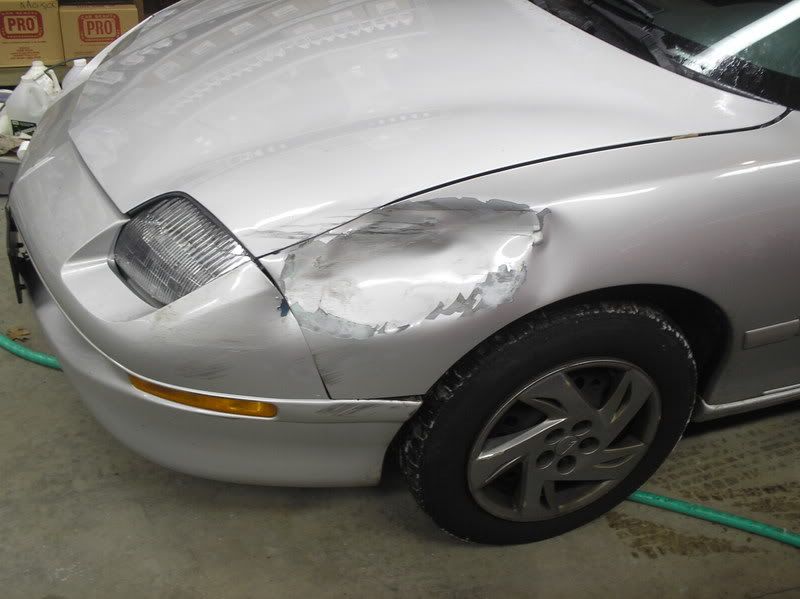 then i took off the finder and test fitted my new fender (i had already started sanding the fender this pic)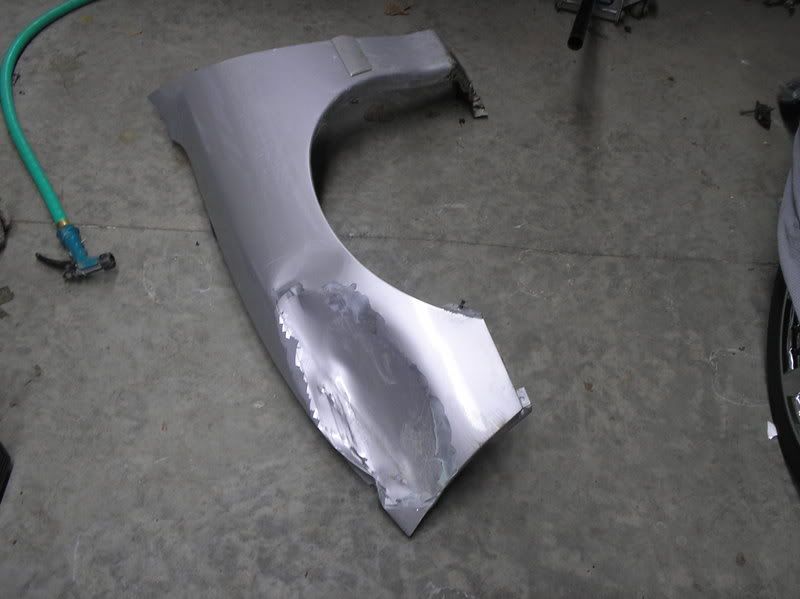 i also picked a body line to work above on the bumper and masked it and sanded... (to save paint so i didn have to repaint the entire bumper)
i took a hammer and pounded out the dented part of the hood and pulled out the fender support as best as i could. i then sanded the damaged part of the hood and added body filler to fill in the ripples left from the hammer. after it dried i sanded that down and smooth. then scuffed the entire hood, finished sanding the front bumper and fender.... i also had to apoxy the cracked front bumper and then i started mixing paint... and cleaning the car of dust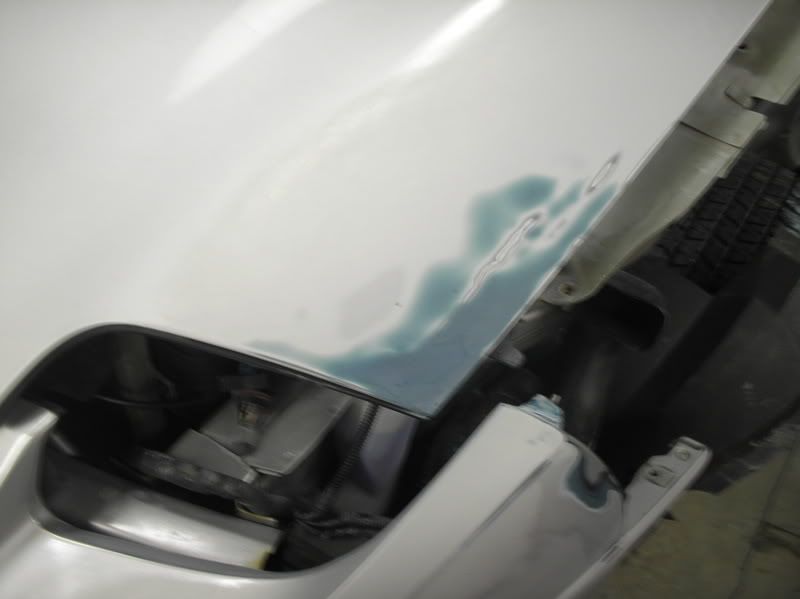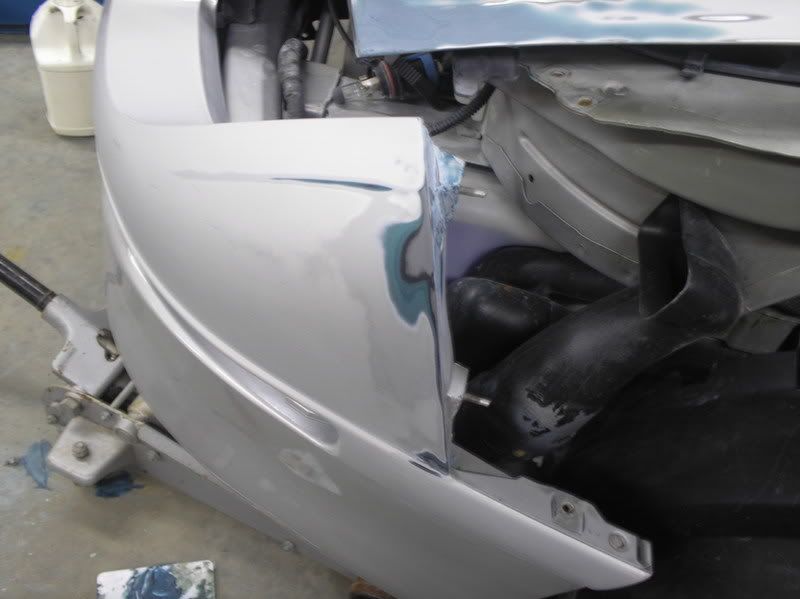 i covered the entire car and sealed it all down to stop over spray, and i covered everything around the car and wet down the floor to keep dust down.
before a painted i took body prep solvent and rubbed all the surfaces down with it. it dries pretty quickly like brake cleaner but let it all dry before you do anything. and after it has been cleaned dont touch the panels as the oil in your hands can screw up your paint.
note i did not have the fender on the car for paint....
i mixed the thinner and the primer 50/50
i put down 2 thin coats of primer then sanded it down with 600
then another coat of primer (clean the dust before adding paint again)
then lightly scuffed it with 600.
let it dry and then started with the color. the color was pre mixed and ready to go.
i put down a light coat on all the edges (like around the wheel well, on the ends of the fender and hood.) then went back and applied an even coat over the entire car (only the parts i didnt mask haha)
let it sit for 15 minutes then added another coat of paint
let stand another 15-20 minutes and added one last coat.
checked it for any mess ups or runs....
then cranked the heat up and let it sit for a good 45-60 minutes. (i did not leave the area cuz i didnt want to disrupt the dust and get it in the paint, so i sat and drank beer haha.)
once the paint had got good and dry but still a little tacky i mixed the clear, 1 part hardener and 4 parts clear.
put it in the gun and lightly dusted the entire car with it, let sit for a few minutes then added another good coat. waited 20 minutes and added my 3 coat.
keeped the heat about 85 degrees and left it for 24 hours.
came back and un masked the entire car and checked it over. i waited another 12-15 hours before sanding it so the clear was good and hard and easier to work on.. i used 1500 and wet sanded it al down. then used a bdyshop safe glaze and buffed it all and then used a bodyshop safe polish and polished it
easily over 1,000 in damage to a 1,500 sunfire fixed for about $115!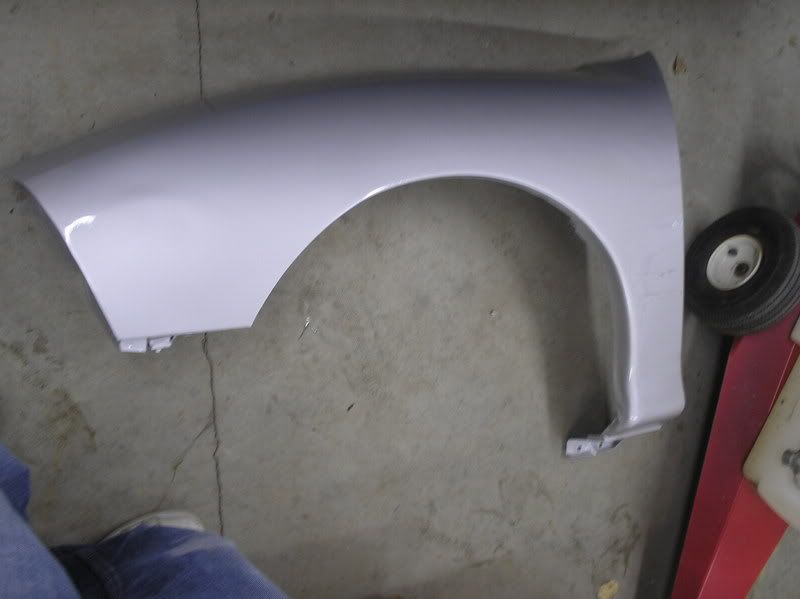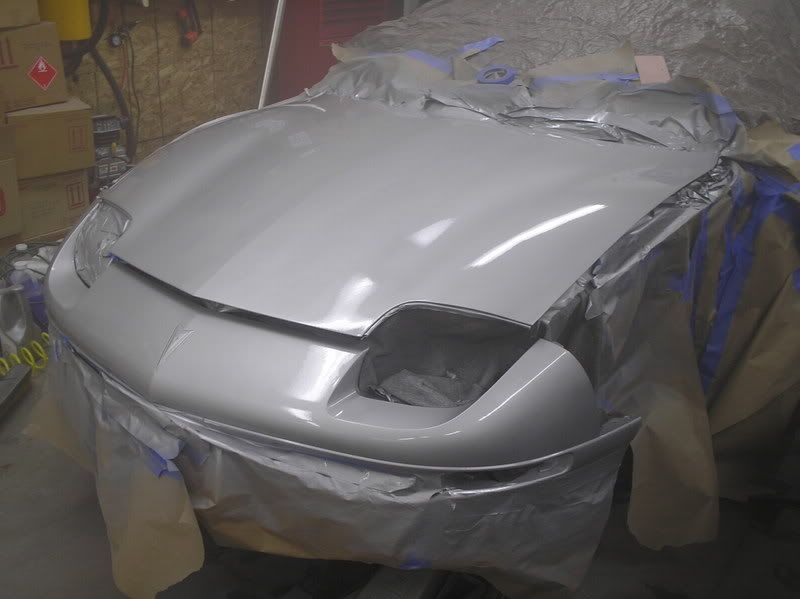 Recarobalt_RLC added 1379 Minutes and 45 Seconds later...
well i was proud of myself lol